Week 1 of running in the books, and I have officially started week 2! I would think that the runs would be getting easier, however they are getting longer, making them more challenging. This week will be difficult as I am running for 5 mins by the end of this week. EEKKKK! I'm powering through the workouts and I have been thinking about taking my runs outside in hopes the fresh air will help energize me more.
I found I have been lacking energy and I wanted to research some meals that would help fuel my runs. I was reading an article on what is best to eat before and after running. I realize that I am eating too much processed food at lunch and that by the time I get home from work, I feel extremely sluggish.
Water is another important piece of this puzzle. I don't normally drink a lot of water, and I have always struggled to get my recommended daily intake of water. I am working on drinking more water throughout the day and rehydrating after my runs!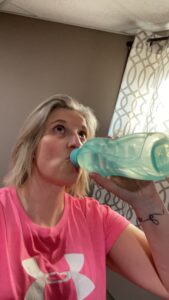 Hydrating after a run!