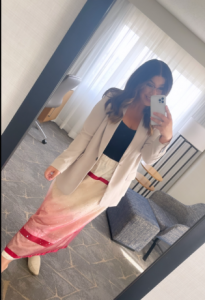 Kwey (hello) and welcome to my introduction blog post for EC&I 834!
My name is Chantal Stenger and I am of mixed descent, part European and part Wolastoqey First Nations from Bilijk (Kingsclear) First Nations. I am a graduate student at the University of Regina taking the Masters of Indigenous Education program. In my professional career, I am the Academic Initiatives Coordinator for Strategic Initiatives at Saskatchewan Indian Institute of Technologies (SIIT). I oversee the Go Where Eagles Dare (GWED) outbound mobility program and engage in internal and external initiatives taken by the institution.
In my professional career, I have had the opportunity to create, develop, maintain, and review asynchronous and synchronous online courses and blended learning courses. Previously, when I was a Secondary teacher and Post-Secondary instructor, I created synchronous and blended learning courses for students in my classes. In my current position, I assisted in the revision of the outbound mobility program by creating a new program that included the development of new courses, syllabi, learning outcomes, and assessments with the implementation of the courses on the current Learning Management System (LMS), Brightspace. By taking this course, I hope to further my knowledge about course development and apply new techniques and skills to my current job.
If you are interested in keeping up with me and my professional career, you can connect with me on LinkedIn.
Woliwon,
Chantal Stenger
(She/Her/Elle)