---
Go Where Eagles Dare (GWED) 225
Outbound Mobility & Capstone Project
Course Profile
---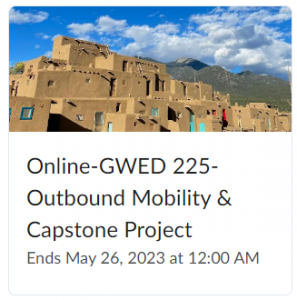 ---
Course Overview
Saskatchewan Indian Institute of Technologies (SIIT) outbound mobility program, Go Where Eagles Dare (GWED), is a pilot program funded by the Colleges and Institutes Canada (CICan), Global Skills Opportunities (GSO), and the Oyateki Partnership. The GWED program provides full-time post-Secondary SIIT students with the opportunity to participate in international travel in their second year of studies.
GWED 225 is the second course within SIIT's GWED program for outbound mobility. Upon successful completion of GWED 215, International Work Study Prep, in the first term of the student's second year of studies, students will participate in GWED 225, Outbound Mobility and Capstone Project, in the second term of their second year of studies. In GWED 225, students will apply the knowledge learned throughout the program and outbound mobility experience to three reflection journals and a multimedia digital storytelling capstone project. The formative and summative assessments in GWED 225 will allow students to use critical thinking, communication, collaboration, organization, accountability, networking and relationship building, system thinking, and leadership skills. Therefore, students will apply cross-curricular knowledge to real-world situations that will apply to their future education, business, and/or employment opportunities.
Target Student Population 
The Go Where Eagles Dare (GWED) program is targeted toward full-time post-Secondary students currently attending Saskatchewan Indian Institute of Technologies (SIIT). Recruitment of eligible students occurs within their first-year and second term of studies with admission to the program opening in their second year and the first term of studies at SIIT.
Demographics 
Saskatchewan Indian Institute of Technologies (SIIT) is an Indigenous institution governed by First Nation leaders with a learning community made up of more than 90% Indigenous students and 70% Indigenous staff. All students within the Go Where Eagles Dare (GWED) program have self-identified as Indigenous peoples. The age range of students within the program is 21 to 46 years old with gender-conforming and LGBTQ2S+ students. Students within the GWED program are located in Prince Albert, Yorkton, and Regina.
Course Format
GWED 225 is delivered to students using a hybrid model of learning. The course materials and assessments are delivered using an asynchronous model through the Learning Management System (LMS), Brightspace by D2L. However, students within the course meet several times using Brightspace's virtual classroom streaming platform, Bongo, to discuss fundraising, potential activities and excursions, and to present their capstone projects to their peers and instructor. For the outbound mobility portion of the program, students and SIIT staff will be in-person with technology-enhanced learning.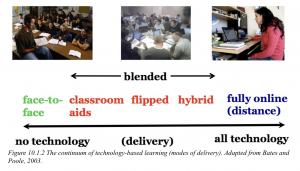 Course Toolset 
The course will be delivered to students using SIIT's LMS, Brightspace by D2L. The course will include print materials, visualizations and graphics, and other interactive resources as instructional tools. The content for the course will be set up as modules and can be located under the 'content' tab within Brightspace. To assess student learning, formative and summative assessment tools found within Brightspace, such as assignments, checklists, quizzes, rubrics, self-assessments, and surveys, will be utilized. To engage with students, the course will also utilize Brightspace's communication tools, which include the virtual classroom streaming platform, Bongo, and Brightspace's built-in instant messaging, emailing, activity feed, and online discussion board.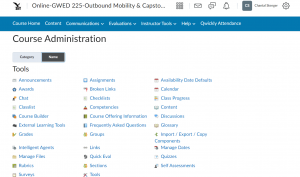 Course Content & Learning Outcomes
Within the course, students will prepare for outbound mobility through SIIT's curriculum, which was designed in partnership with SIIT Curriculum Writers, SIIT's Curriculum and Learning department, and SIIT post-Secondary staff. The designated learning outcomes for GWED 225 are the following:
Demonstrate verbal and written communication skills

Display critical thinking throughout summative assessments

Integrate prior knowledge into real-world applications.

Demonstrate self-reflection, interpersonal, teamwork, and problem-solving skills.

Participate in outbound mobility.

Construct a final capstone project that reflects your summation of learning.
Assessment Strategies 
GWED 225 is a pass-or-fail course that will use a variety of formative and summative assessments to properly assess the student's learning. To assess students formatively, students will complete several polls, surveys, and checklists and engage in discussions that utilize open-ended questions, critical thinking, and reflection and summarization skills. As well, students will complete several summative assessments throughout the course including three reflection journals and a multimedia digital storytelling capstone project. Therefore, students will be assessed using continuous, subjective, and criterion-directed assessments. 
Considerations for Common Concern
Low bandwidth and internet connection

Since the course content is delivered using an online asynchronous model of learning, there are always concerns regarding students' bandwidth and internet connection. At Saskatchewan Indian Institute of Technologies (SIIT), all post-Secondary diploma program students are provided with a laptop, which is included in their tuition fees. However, some students travel to their respective main campus or satellite campus from First Nations and rural communities. If students are experiencing low bandwidth or internet connection problems, they can request to loan a

NED Connect device

from SIIT, which will provide students with a hotspot internet connection. As well, major components within the course will be available for offline download, so students can still access the materials and assessments without an internet connection. 

Cultural considerations

The previous course, GWED 215, prepared students for cultural differences between Indigenous peoples in Saskatchewan and New Mexico and travel stresses, such as culture shock. However, since all of the students enrolled in the Go Where Eagles Dare (GWED) program self-identified as Indigenous peoples, cultural considerations and protocols must be incorporated in GWED 225 as well. Before outbound mobility occurs, a female and male SIIT Elder in Residence will be given tobacco to discuss pipe ceremony and feast protocols with students, so students can participate in an optional pipe ceremony and feast before departure. During outbound mobility, an SIIT Elder will be available throughout the experience to assist with any questions, travel anxiety, cultural protocols, and just to talk to. As well, smudge with several different medicines, picked locally in Saskatchewan, will be available for students to access each day. During the outbound mobility experience, students will have the opportunity to visit Indigenous communities in New Mexico, such as

Taos Pueblo

and

Acoma (Sky City), and the Indian Pueblo Cultural Center.

Digital citizenship and classroom management

 Students are expected to comply with SIIT's policies and procedures regarding academic and non-academic misconduct, which can be found in

SIIT's Student Handbook.

As well, the overview section, found within the content tab in Brightspace, will highlight

digital citizenship policies.
Rationale
I have chosen to use Brightspace by D2L as my Learning Management System (LMS) for this course, as I am quite familiar with the platform, have administration and instructor access, and it is for SIIT, which uses Brightspace as their designated LMS. As well, I want to use this opportunity to utilize more functions and tools found within the LMS that I previously did not integrate into other courses. I needed to create a hybrid course that includes elements of an asynchronous, synchronous, blended, and in-person model of learning. The demographic and location of students that will be in the Go Where Eagles Dare (GWED) program will differ each year, but the materials and assessments will continue to be easily accessible regardless of these factors. Through the creation of a functional, engaging, and easily adaptable course I can remove some barriers and challenges that SIIT's predominantly Indigenous student population may face regarding international travel and learning.