After completing module one for my course, Go Where Eagles Dare (GWED) 225, I was provided with feedback from my peers about the course shell, content, and overall course profile. Overall, the feedback was very positive and highlighted the layout and ease of use of my course. It's always a wonderful feeling to receive great constructive feedback! 
During class last week, we were asked about the feedback process and one of my peers stated that it made them wish that they could talk to the creator to clarify their choices and build a deeper understanding. After reading my feedback, I definitely agree because I often design courses for non-traditional post-Secondary curriculum and I could tell that my reviewers struggled to fully grasp and situate my course. Therefore, I want to highlight a couple categories of feedback and further explain my course to help scaffold their learning, so they are well prepared for my final prototype and course walkthrough. 
Pre-requisites
Students within the Go Where Eagles Dare (GWED) program at Saskatchewan Indian Institute of Technologies (SIIT) are required to be within their second-year of studies in their post-Secondary program. Therefore, students have already taken foundational courses in writing, communication, presenting, and several courses related to Indigenous peoples within Canada. Depending on their program of study, students may have taken Indigenous Care Practices, Indigenous Models of Healing and Practice, Indigenous Leadership, Indigenous Foundations, Indigenous Business I and II, Indigenomics, and more!
When students are accepted into the course, they bring a wealth of knowledge that is built upon through two courses. The pre-requisite course for GWED 225 is GWED 215, which is called International Work Study Prep. This course is an introductory course and includes four modules that cover travel documents, including obtaining all required travel documents with assistance from SIIT staff, health and safety while travelling, intercultural competencies, and preparing to travel by air. GWED 215 was created strategically to help remove barriers that Indigenous students may face when travelling domestically and internationally. Therefore, SIIT staff works with each student to fill out travel document applications, pays for all associated travel document fees, and submits applications on behalf or with students. As well, one of my reviewers inquired about intercultural competencies and the ability for students to learn about the Navajo and Pueblo peoples within New Mexico, as their culture, way of life, traditions, and language are very different from Indigenous peoples within Saskatchewan. This is thoroughly covered within the intercultural competencies module within GWED 215. This course is also kept open and accessible for students while they are completing GWED 225, in case they need to reference the materials. 
Accessibility
The feedback I received and our discussion last week about accessibility in an online course provided a great opportunity for me to further debate my choices within my course. My largest challenge by far related to accessibility is the actual learning management system (LMS), Brightspace. A lot of the links that are within my course open on a new webpage, which is not great for users on smartphones or students with low bandwidth. Although Brightspace has the capability to incorporate videos, documents, presentations, built in Brightspace tools, and has extensions options, when you create a link there is a warning that pops up (pictured below). The warning asks for confirmation to make the change, as even Brightspace knows that it might not work well. I have previously clicked yes to this warning and attempted to have links open within the same window, but when I viewed it from a learner perspective the links were often unfocused, took long to load, and slowed down my computer. I am really hoping that this issue is something that Brightspace designers are working on fixing! 
Student Feedback 
For reflection journals, students have the capability to write their journal directly into Brightspace and view the rubric, with outlined learning outcomes attached, while typing to align their response to expectations. One of my reviewers inquired about the feedback process, as they could only view the course from a learner perspective. My favourite part of the feedback process is the ability to provide student's feedback on various different levels. While marking students, I can provide feedback directly into the rubric category and overall feedback regarding the assignment. In the overall feedback section, I can compare their reflection to the rest of the class, upload media, attach links, and even provide the feedback using audio or video instead of text! I have used the video feature before to share my screen with students and walk through their work to provide further detail and examples.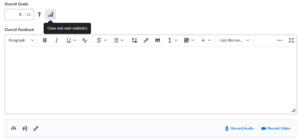 I thoroughly enjoyed reading my feedback from my peers, especially when they come from a very different education and work background. It allows me to critically think about my specific choices, the impacts I have, and also reiterates how cool my job is! I am very lucky to work in an institution that culturally understands and supports their staff and students and actively works towards breaking down industry and historic barriers. I also get to travel domestically and internationally frequently, which is always a fun bonus! The projects that I am currently working on for my institution are exciting and quite revolutionary in design, so I am thrilled that I am able to share a glimpse into one of my projects with all of you.