MY JOURNEY TO RECONCILIATION
For my journey to reconciliation project, I made a two-part piece of art. I drew some aspects of traditional Indigenous culture on the first sheet: including a buffalo, dream catcher, medicine wheel, tipi, and drums. I tried to use vibrant colors that are often showcased in Indigenous art. On the second sheet (which is attached and covers the first sheet), there is black paper, cut, and presented to look like prison bars. The first sheet is life before residential schools, and once the black bars are put on top, the piece is then life during and after residential schools. The Indigenous people were stripped of their culture and forced to assimilate. There was no choice, and the Indigenous people were imprisoned in these residential schools.
The Muffins for Granny film had such an impact on me, even within the first five minutes of the movie. Before even hearing a story shared from life at the residential schools, the film presented the fact that the last residential school closed in 1996. That was not that long ago. In 1996 I was four years old, too young to understand this incredibly challenging piece of history, but I was alive. This is part of my lifetime. Throughout my lifetime, I could not possibly count the number of times I have heard someone say, "Why don't they just get over it?" If I am honest, I also cannot count the number of times I nodded in agreement and kept my mouth shut in response. I am embarrassed by my past reaction. I have promised myself that this will no longer be my response. In the seminar, Amy shared a story that involved an answer to, "Why don't they just get over it?" and that discussion has stuck with me. If I was on the other side of the story, well, there is no way I would be able to "just get over it," and prior, I had never looked at it this way.
There are many valuable lessons I have taken from this class, I thought I had a good idea of what I was getting into, but there is so much to learn. Two things I have taken from the lecture that I will continue in my classroom include a Treaty 4 Acknowledgement (or whichever Treaty land I am located on), and Orange shirt day. Reconciliation will take more than a lifetime to fix the wrongdoings of the past. That being said, I want to have a positive impact, to do what I can, and teach Canadian history correctly. I want my students to know that, "the schools harmed Indigenous children by removing them from their families, forcing them to speak English or French instead of their ancestral languages, disconnecting them from their culture and traditions and forcing them to adopt Christianity in order to assimilate into Canadian society" (What is Orange Shirt Day?). During my studies, I came across this statistic and I had to include it in my paper.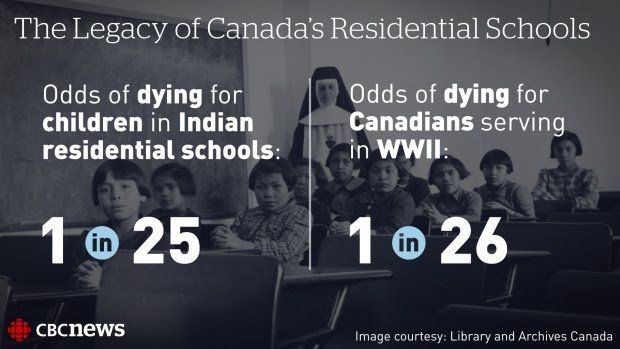 I could hardly believe it at first. This stat has deepened my interest in learning about residential schools and my passion for sharing knowledge.
I have learned that we are not expected to be experts. We are continuously learning with and from our students. The journey to reconciliation will be a lifelong project but necessary and worthwhile.
References
What is Orange Shirt Day? | CBC Kids. (n.d.). Retrieved October 29, 2019, from https://www.cbc.ca/kidscbc2/the-feed/what-is-orange-shirt-day.