Hello everyone!  Week 3 of my learning project.  Where does the time go?  This week, I spent some time exploring a new app that I could use to showcase my yoga learnings.  The app that I used was called CapCut .  This link will bring you to the desktop version, which is not what I used.  Instead, I downloaded the app on my iPhone, and used that to create my video content.  The app did not require me to make an account which was nice, instead, I just used my google account to log in.  From there, the process was relatively easy.   I found the app very easy to navigate around.  The homepage had a big heading that said "New Project," and so I first clicked on that, and that allowed me to get started.  Here is a photo of what that looks like: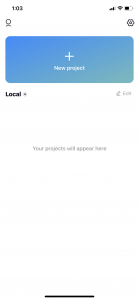 Once I clicked New Project, it brought me to a page where I could select the photos that I wanted from my phone to add to my video.  Once you are done selecting the photos, it then brings you to the editing page.  There were many different elements to the editing page.  You could select different transitions, and add text, music, voiceover, and filters.  The elements that I used were transitions, which made each photo flow nicely to the next, music, and text.  As you can see in this photo, there are many different things you can add to your video.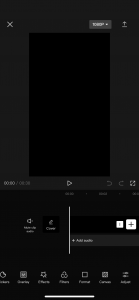 The transitions were very easy to apply, and once I was done I realized that instead of clicking on each photo to add the transitions, you could just click "add to all," and then it would add the transition to the entire video.  The music library was full of songs, and you could even sync your TikTok account to the app, so that you could use songs from TikTok, which I thought was pretty cool!  I just chose a song that was in the CapCut library, but if I ever use the app again I think I would try syncing my TikTok account to see how that works.  Adding text to my video was also very easy.  You could add text to each photo (as I did), or you could make it so if you wanted the same text to appear throughout the whole video, you could do that too!  Here are some pictures to show you how text can be added.  As you can see, the orange is the text, and you can drag that text over one photo, or several photos, depending on which photos you want the text to appear on.
Overall, I think this app was very easy to use.  I think it would be easy for students to use it as well.  Students could use it to create presentations for school, or it could be used to create a slide show for a graduation or something of that nature.  I think this app would fall on the Augmentation level of the SAMR Model.  It could fit in the Augmentation category because the app is replacing a more traditional tool, and enhancing the student's experience.  For example, if a student was asked to create a presentation, instead of gluing pictures to a piece of paper for a presentation, the student would create a video presentation using the app.  On top of that, the student can also add transitions, music, etc., which they would not be able to do if they were doing the presentation on paper.  So with the app, the students are replacing traditional methods, as well as enhancing the student's experience.
Now that I have given an honest review of the app, it is time to show you the star of this blog post, the video that I created!  To create my video, I took pictures of myself doing some yoga poses.  In week 1, I had posted a picture of some yoga poses, but at that time I had only tried 2 of the poses.  This time I decided to try all 20, and oh my gosh let me tell you, That. Was. Hard!  Some of the poses made me realize just how much I lack in the flexibility department, but I kept telling myself it will get easier as the weeks go on, and I sure hope I am right!  Anyways, here is my CapCut creation of me practicing some yoga moves.  Enjoy!