Well, this week has been a bit of a rough one for me.  Between doctor's appointments, catching covid (2nd time for me, 3rd time in this household..yay…), and anxiety and stress, I have really been feeling overwhelmed.  I decided to take it easy on my body this week and do another beginner yoga video.  Covid has me feeling super tired, with an intense headache, so I didn't want to push my body too hard.  Anyways, enough with my pity party, I'll now get on to talking about this week's learning project.
When thinking about what I would use for my learning tool this week, I recalled in class someone recommending Adrien when I had shared that I would be doing yoga for my learning project.  So I searched on the internet, and I found Adrien's website, which is called Yoga with Adriene.  Her website was full of free videos, a calendar that you could follow along with, FAQ's, etc.  Her website was also very easy to navigate around, and something that I would definitely use again in the future.  I really have no complaints about it.  While I was exploring her website, I found a video that was called 10 Minute Yoga for Beginners, and so I thought this would probably be a good video to follow along with this week.  Here is the video:
I am very glad that I chose this video.  It was more about following along with her guided breathing, and some slight stretches, rather than intense yoga poses, which is exactly what I needed.  It was about "add[ing] subtle body connection and alignment for a sustainable practice that supports harmonious whole health" ( Yoga with Adriene).  This video allowed me to slow down, focus on my breathing, focus on my thoughts (which helped to ease my anxiety), and just fully immerse myself in relaxation.  I just about talked myself out of following along with a yoga video this week, because again I am not feeling the greatest, but I am so glad that I pushed play!  I felt very calm after doing this yoga routine.
I created an Instagram reel of myself while following along with Adriene's video, and it was very easy to make.  If you want to make a reel on Instagram , you need an Instagram account.  Then to get started you click add reel.  You will then be brought to a screen where you can add whatever photos you would like in your reel, click next, and then you can choose how many seconds you want each clip to be.  After that, you can add things such as music (just as I did), voiceover, text, stickers, etc.  Once you are happy with it, you click post, and voila, your reel is created!  I'm wondering what other video creators people have used, and if anyone would be willing to share some suggestions that I could potentially use next week?  Anyways, here are some screenshots of what it looks like while creating a reel: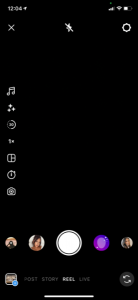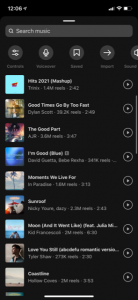 The reel that I made can be found here.
I hope you enjoy it, and here's to a better week ahead!