Well, here is my learning project post number 8!  After following alongside an intermediate video this week, it is hard to believe that I am on week 8, because I definitely feel like a beginner after the video that I attempted.  I decided to try to use Facebook as my learning resource this week.  I typed in "intermediate yoga videos" in the search engine, and some reels showed up.  The reel that I decided to follow alongside can be found here.
Now, let me say, this reel was HARD!  There was a lot of bending, and I have no idea if my body will ever be able to bend the way the individual in the video did.  My body was aching the entire time, and I realized that I am really lacking in the flexibility department.  I hope that with time, I will be able to master these moves, but right now I am not sure if that is possible.  I will keep on truckin' though and hope for the best!  This video was very hard to follow because it is a reel, and reels can only be 60 seconds.  It was very fast-paced and compressed, and so I had to keep pausing it and replaying it back to see how the individual was doing the moves.  Because of this, I found it hard to fully concentrate on the moves that I was supposed to be doing, but rather constantly running back and forth to my phone to hit pause and play.  In my experience, YouTube videos have been much easier to follow alongside with, because the videos that I have watched on there have been longer, and slower paced.
I decided that since I was using a reel as my learning resource, I would also create a Facebook reel to showcase my yoga attempts this week.  I found the Facebook reel to be fairly easy to use.  First of all, to create a reel, you have to log in to your Facebook account, and then click reels.  Once you are there, you click create a reel, and the process is then fairly easy. You then select which photos and videos you would like to use to create your reel, and once you have your photos selected, you click next.  You will then be on the editing part of your reel.  You can add things like music, voiceover, text, etc.  I decided to add music to my reel, as well as voiceover.  I found both of these features very easy to use.  You can make the music volume lower so that you can hear your voiceover better, and that is exactly what I did.  Here are some snapshots of the process that goes into making a reel: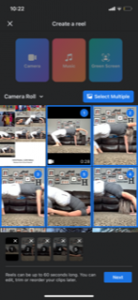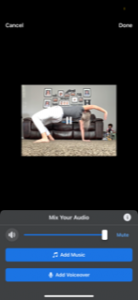 Here is the finished product:
As you can see in my reel, I explained what I was doing wrong in my poses, and what I should have been doing.  I had some chuckles while trying to do these yoga poses because there were a few instances where I fell to the ground, and all that I could do was laugh at myself and my lack of flexibility.  I am hoping that with time and practice, I will eventually be able to master these poses.  I have so much motivation to be able to master them, so I think that if I continue to put my mind to it, I will be successful!