Well, last week was somewhat of a fail I would say.  If you can recall, I tried to follow along with a Facebook reel, which ended up being very hard!  I moved from beginner yoga videos that I had been doing in the previous weeks, to an intermediate yoga video last week.  I felt a little defeated after trying the intermediate video because I felt as though after all of these weeks of practicing, it should have been much easier for me than it was.  Here is a snapshot of what the video looked like.  I mean in hindsight, I probably should have realized that this video would be difficult because just look at the way this individual is bending their body, it actually looks insane!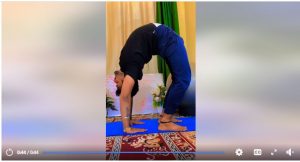 I definitely CANNOT bend my body like that, and I feel as though no matter how much I practice, I will never be able to, but I am going to stay positive and keep on practicing and only time will tell, I guess!  With all of that being said, I decided that this week it would be a good idea to practice some of the moves that I practiced last week, before moving on to another difficult video.  Again, I had some good laughs while practicing, especially when trying to balance my knees on my arms and lift my body off of the ground.
I decided to try the slo-mo setting on my iPhone to showcase my yoga moves.  This setting is super easy to use.  You just open your camera and slide from "photo" to "slo-mo" at the bottom of the screen.  This is what it should look like: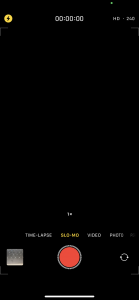 Once you are there, you just click the red button, and the video will start recording.  Once you are done, you click the button again, and voila, the iPhone will create the slo-mo video for you!  Here is a slo-mo video of me making a fool out of myself.  I hope my fall gives you all a good laugh because when I watched the video back, it definitely gave me one!
Anyways, next week I will try a new intermediate yoga video, and then maybe I will move on to an advanced video the week after that, as we really do not have a lot of time left this semester.  We shall see!