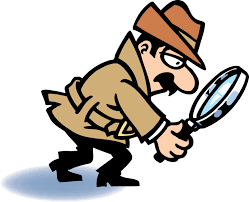 This week was an interesting one in EDTC 300.  In class, we were given the names of people and asked to investigate what we could find out about them, by searching on the internet.  It was tough at first, but once we were able to find the individual's Twitter account, it was then super easy to find them on Facebook and Instagram, as well as other social media sites.  It was shocking how much you could figure out about someone, just by being given their name.  Although this individual's Facebook account seemed to be private, we could still view all of their family photos.  This was shocking to me; we couldn't see their friends list, but we could see tonnes of photos.  It really makes a person realize that they should be very conscious about what and who they are posting on their social media.
With the skills that we gained and information that we learned about cyber sleuthing, we were then asked to cyber sleuth one of our classmates!  I felt a little nervous about this task and having someone search through my social media, because I  was nervous I would have stuff on there that I probably would not want on there from years ago when I was younger and immature.  I think this is a sign that I should really go through my social media accounts and do a good cleanup of photos and friends.  I am nervous and excited all at the same time to see what my partner is able to find out about me!
My group and I were a group of three, and so we split it up so that we would each search one person.  I am going to keep the person who I cyber sleuthed confidential, because of the fact that I share personal information about her.  I started off by searching for her on Twitter.  What I found there was:
She is a third-year elementary education student at the U of R
She is doing her pre-internship
Her pronouns are she/her
She has an edusites blog
From her Twitter, I then decided to check out her edusites blog to see if I could find some more personal information about her.  On there I found that:
She currently lives in Regina, Saskatchewan
Is originally from Rosetown, Saskatchewan
Is a sibling to an older brother and a younger sister
She has two parents (who are a mom and a dad)
Her mom is a teacher and a huge influence on her career choice
She likes to live a busy lifestyle (a picture of her where she appears to have been ziplining)
Has worked at many jobs, such as Shop Easy Foods, Mainline Chrysler, Babysitting, Nannying, and U of R Residence.
Has a dog named Molly
Likes to paint
Likes thunderstorms
Loves sunny days, but not the heat
The information on her blog was very easy to access and find.  I clicked on the "Who Am I" tab, and all of the information above was readily available at the tip of my fingers.
From there, I decided to try to find her on Facebook.  There were a few people with the same name when I searched on Facebook, but because I had seen her profile picture on Twitter, I could quickly pick out which Facebook profile was hers because it was a similar picture.  Here, I could not view any of her workplaces, education, or places lived.  I could also not view any of her friends.  Her profile was bare, only allowing me to see a cover photo that she had posted in December of 2021, and a profile picture that she had posted on September 30.  I am thinking her privacy settings are set to be very secure.  I then clicked on photos to see if I could see any more photos, and I was able to see 4 uploads, three of which were her profile and cover photos, and then one picture of her with an individual.  This individual is maybe a friend because it looks like they maybe got a picture together at school but I could not tell for sure.
By doing this activity and acting as an investigator, it has really opened up my eyes on how easy it is for someone to find information about you.  I am guilty of posting photos of myself and my family, and so I really need to take a look at my privacy settings and take a look at my friend list, especially on Facebook, and make sure that my account is secure.  I am interested (and maybe a little nervous) to see what my partner finds out about me when she does some investigating!