Well, the end is near.  This EDTC300 class has been a slice!  I wish I could say the same about the entire Fall 2022 semester, but I definitely cannot.  This semester has been my hardest one yet throughout my education degree journey, and so I am thankful that it is just about over.  Taking 5 classes, doing my pre-internship, all while having 3 kids in extracurricular activities 5-6 days a week has been overwhelming, to say the least, but I know the end result will be so worth it, and so I just need to keep on pushing!
With all of that being said, and the stressful semester that I have had, my learning project was actually a really great thing that I partook in.  As you know, my learning project was to learn yoga, and so the yoga that I learned really allowed me to slow down, breathe, and just really relax my mind during my yoga sessions, which was nice!
I started my journey in week 1  by just doing some research on beginner yoga moves.  I found information and posters on Pinterest that I looked at to see some different beginner yoga moves.  I then tried out some of those easier moves, such as the child's pose and the plank pose.  Here are some pictures from week one: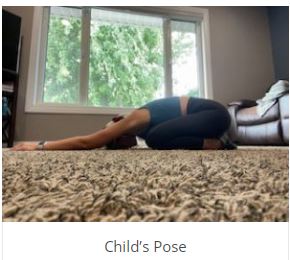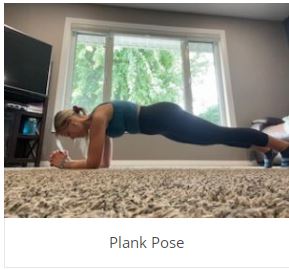 For week 2, I decided to simply do some research on yoga.  I found information on the benefits of yoga, and how yoga can be linked to spirituality.  I instantly felt nervous, because I have never really thought of myself as a very spiritual person, but I tried my hardest to just relax and connect with my inner self during my yoga practices, and I think I did a great job!
Onto week 3 and phew was it hard! The yoga moves that I practiced during that week really reminded me of how much I was lacking in the flexibility department.  I felt a little defeated, but also told myself that it was only week 3, and things would get better.  I tried using CapCut during week 3 to showcase my yoga practices, and it was a very simple tool to use.
After feeling defeated in week 3, I was a little nervous for week 4, but things went surprisingly well.  During week 4 I decided to actually follow alongside a video, rather than just looking at pictures and trying to copy that certain pose.  That week was much better, as it was really about stretching, which felt good!
Week 5 was another rough week for me.  I ended up catching Covid (for the second time…which made it the 3rd time having covid in my household), and my anxiety was very high the entire week.  I remember not having any energy to even think about following alongside a yoga video, but I am the type of person who doesn't like to get behind on homework, and so I forced myself to do the yoga, which paid off because I felt so much better afterward.  Here is a part of my post in Week 5 where you can see how good yoga made me feel.

For week 6, I decided to take a trip down memory lane and refresh my memory on all of the yoga moves I had studied and practiced because I had planned on moving on to more intermediate poses the week after.  So, I re-read all of my previous blog posts and re-watched the videos, and practiced the moves.  Here is a snapshot of week 6.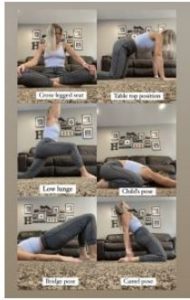 Week 7 was a big week as I moved on to more intermediate yoga poses.  It was a fun week, and I had some good laughs at myself, and how much I struggled at one of the poses.  I tried videoing myself a few times doing the pose, and I made some pretty good bloopers (I'll keep those for my own eyes), but here is a snapshot of how I showcased my yoga moves in Week 7, using Canva.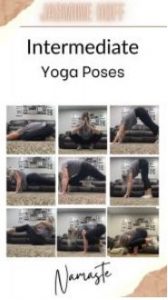 Week 8 was another hard one, but I now realize that those hard weeks are where I probably learned the most and pushed myself the most, so, in reality, they were probably the best weeks.  Anyways, in Week 8 I followed alongside a video, but let me tell you, that video was quite hard!  I was nowhere near flexible enough to do the moves correctly, and so I recorded myself doing the moves and then did a voiceover to show what I needed to work on.  Here is that video, where you can see that I am describing what I did correctly and incorrectly:
For Week 9, I decided to try some of the moves from the week before, because they were so hard and I wanted to try to brush up on my yoga skills.  I still found the moves hard and still was reminded of how I am not very flexible, but regardless, I still had some laughs.  Here is a blooper of me from Week 9 where I was having trouble holding a pose:
This now leads us to week 10, which is this blog post right here!  I am finished!  I am very happy with my yoga journey thus far, and I plan to continue on practicing yoga.  For my last post, I thought it would be fun to create a short video of me leading yoga.  Although I am by no means a professional, I hope maybe some of you can follow this very short video (and enjoy my epic fail at the end of it)!  Anyways, thank you for joining alongside this journey with me, and I hope to cross paths with some of you in future classes!  Here is my final learning project video: