Hello there! My name is Jerico Sampang and I'm part of the 2022 EDTC 300 class. I never really know how to write introduction posts in class forums, but I usually include all the expected information and try to make it as entertaining as I can. You already know my name, but a little more information about me includes that I am a first-generation Filipino immigrant, openly gay cis-male, and I was born and raised in Regina, Saskatchewan.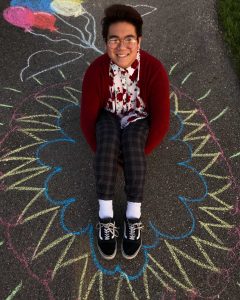 Admittedly, there really isn't much interest in living in Regina, but I never once felt like this wasn't where I wasn't meant to be. This city is ripe for change in so many aspects. In my previous years, I strived for a more progressive, inclusive, and accessible education within schools.  My goal within the field of educators is to shape a curriculum and faculty that reflects what our students value. This generation of teachers is where we do away with the standard 5 by 6 seating arrangement, stop stigmatizing counting on fingers and needing visual representations, and so much more.
The first step to this revolution is understanding the new age of media that we need to integrate into our daily routines to immerse ourselves in what's current. To be perfectly candid, the teachers that I had never really achieved this goal. There were mild attempts at merging education with technology, but most teachers saw no success or even impeded their classes.
The common flaw that I observed in their methods was that I had no real basis for the software or technologies they were trying to implement. I hope to avoid this pitfall by getting used to blogging and embracing an online presence. Personally, I'm not too fond of blogging as I much more enjoy creative writing. One may argue that blogging can be the same thing, but I view blogging as something that details a lifestyle.
At any rate, my hopes for this class and for my career is that I learn to effectively merge the two worlds of education and technology if not for the sake of my repertoire of capabilities but to better accommodate all types of students and learners. If you're interested in following me on my journey, feel free to follow my Twitter account and stay tuned to this blog right here!