I can't believe this is the last Nail Day.. I remember getting super excited the day Katia told us about the Learning Project, and how I was talking to my friends and family for ideas. Then I remembered there is something I've been wanting to do for a while— nails! I've been hesitant to buy the supplies and start on my own because being a full-time student means not much free time, but having to take this class in spring was the best decision of my life. I'm so glad that I chose to start my Nail Days with such amazing classmates, so here is a summary of all my Nail Days! Check the last Nail Day for my last set that I'll be sharing with all of you.
This is my very first set— and as expected, they turned out a little wonky. The tutorial video I watched is by Cutepolish on YouTube. It was definitely a trial and error process as the first two extensions turned out horrible— they were super thick and bumpy, and they weren't fully attached to my nails. I was also able to experience and find out what length I liked the best since I've never got nail extensions before.
The second set definitely turned out better than the first— they were much smoother and were the right thickness. Looking back at it now, I love the shape and the length, so I might have to try that again. I didn't watch a tutorial video for this set because I wanted to work off of the tips I learned from the last set. I love how they turned out!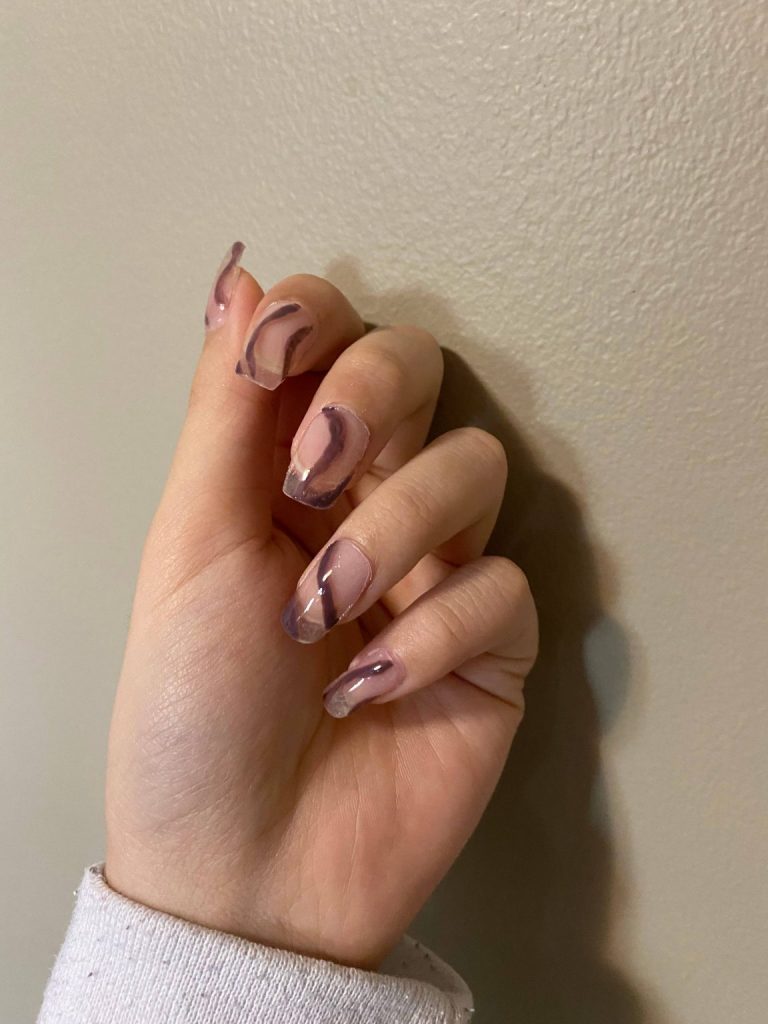 Oh my goodness, I'm so excited to revisit this lovely set! This is still, and will be my favourite set ever. How pretty is this?? Again, I didn't watch a tutorial video but I'm glad that I trusted myself with this set. The set was basically perfect and I have no complaints. I saw the most improvement with this set, so definitely go check it out for my uncontrollable excitement.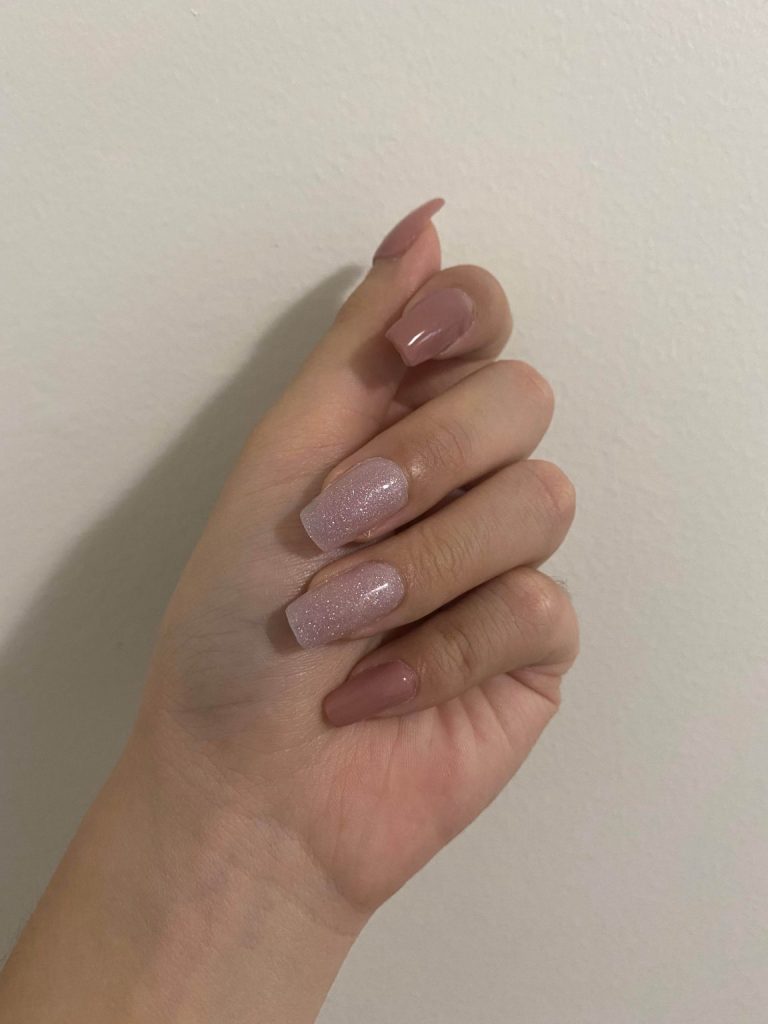 This is one of the most memorable Nail Days because I did a voiceover video of the process using FilmmakerPro. This is the first set where I didn't do extensions because my nails were very damaged from constant extensions removal.
However, I still love the way they turned out— and I learned a valuable lesson to let my nails rest in between Nail Days. They did turn out a little bumpy and rough, but sometimes, simplicity is good.
This set is also so gorgeous as you can see in the picture— I had to revisit the design I did for Nail Day 3 but just with different colours. I'm not a fan of pink but I still love the way they turned out. I used a YouTube tutorial by one of my favourtie YouTubers, Tina Yong. She does a fantastic job at explaining how to get the most perfect extensions out of cheap polygel.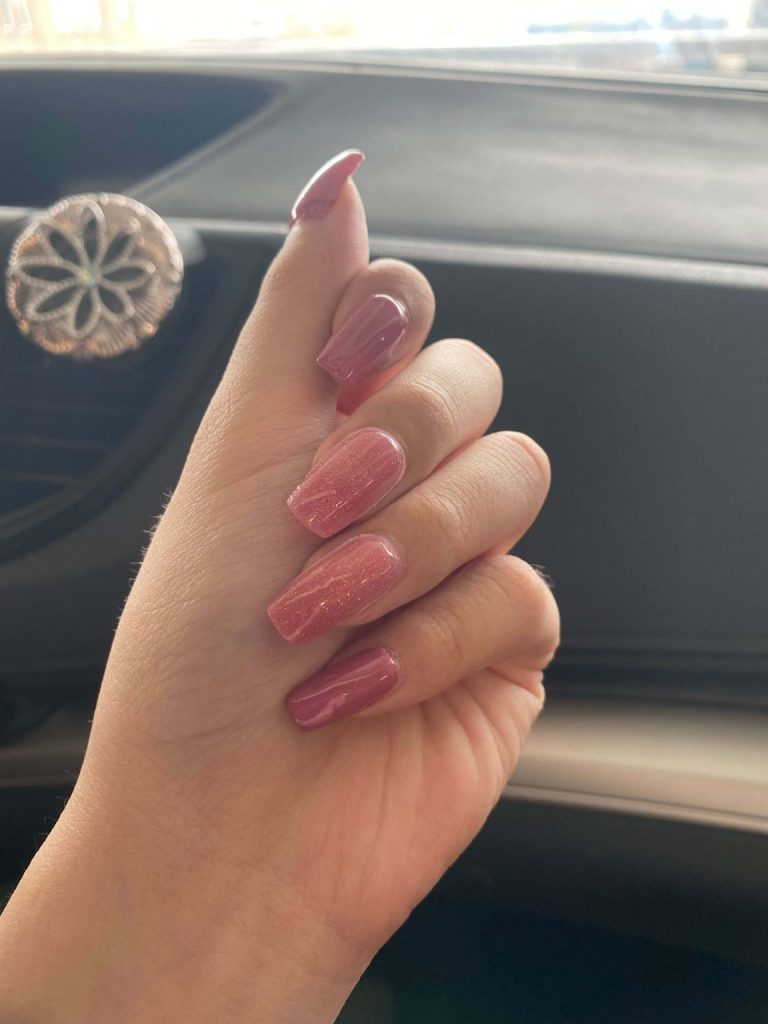 Looking at all the sets at once, I can't believe how much I improved. They look flawless in pictures. I wasn't too happy with the colour of the extension on this set, but I still love the way they turned out. I ended up mixing two nail polish to get the perfect colour, and I'm so glad that I did!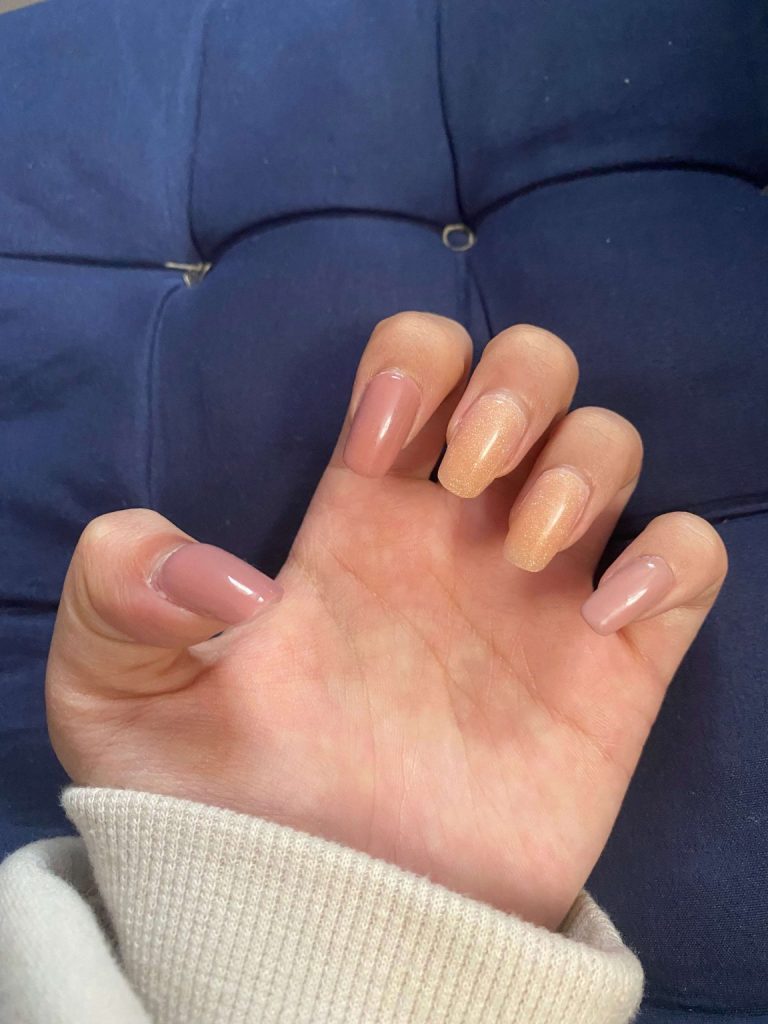 Here is the second last set of the learning project.. I realized I never did just solid colours, so I decided to use the blues. They turned out super smooth and neat, I followed this tutorial to get the ultimate, smooth nails. I love how they turned out— even though I didn't do extensions, I could still see how much I improved!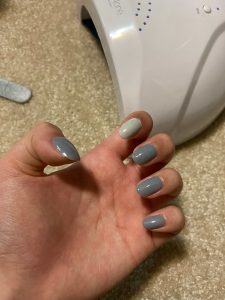 Nail Day 8!
And… here is my last Nail Day! I asked on Twitter and my last Nail Day blog for some ideas for my last set.
Ericka recommended this cute design on Twitter, which I absolutely fell in love with. The only problem was that I have limited colour choices, so I had to use what I had to create similar designs. After doing one nail, I figured how hard it is to do these kind of designs— especially when trying to do the exact same design on all other fingers. So I decided to do the design on one finger only (cheap, I know). But I love the way they turned out! I added a little heart on my ring finger for extra cuteness.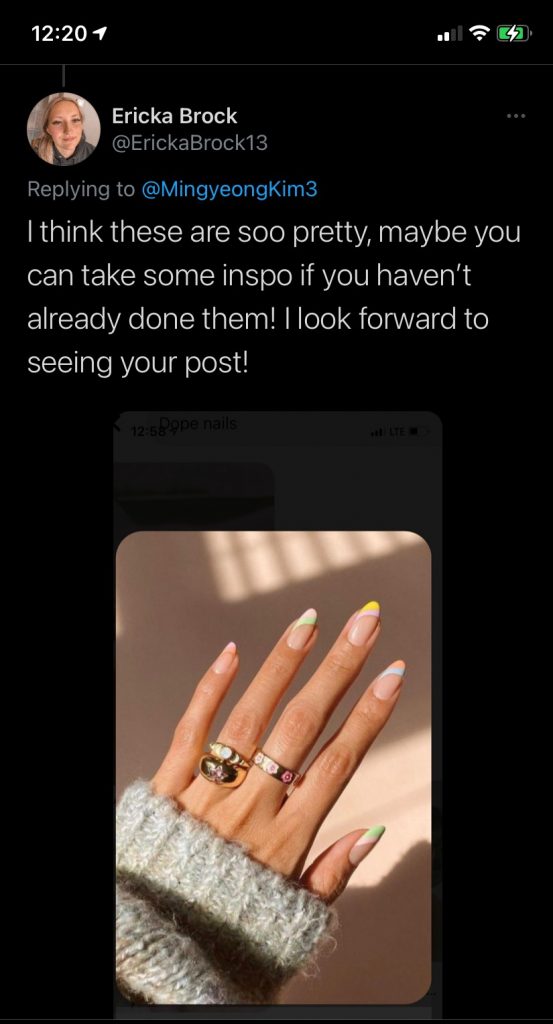 I adore how these turned out. From my experience, I'm going to share some tips and advices:
take your time and be patient
it'll be a trial and error process, don't expect good results right away!
don't be afraid to try new designs and colours, you'll never know unless you try
give your nails some break, they'll thank you for it
and lastly, have fun with it! They're your nails, so don't be afraid to mess up.
Some of the most useful resources/platforms were YouTube, FilmmakerPro, and Pinterest. YouTube has millions of tutorials, which means there will be at least one video you will like. It also has a "like video" function which stores all liked videos in one spot. This way, I didn't have to scroll through millions of videos to find the one I've watched. FilmmakerPro is a great tool for editing videos. Its voiceover tool is especially helpful for making a tutorial-like videos. I definitely recommend it. And Pinterest— I've never mentioned it on my blogs but this is where I get most of my inspirations from. I never follow the exact designs I find on Pinterest, but it definitely gave me ideas for my sets.
I can't explain with words how glad I am to have chosen doing nails for my learning project. I probably would've never started if it weren't for this class. I also appreciate the tremendous support I received from my classmates and Katia— thank you all for your kind words and for following along my journey! The improvement I've made is such a great feeling and I'll definitely continue doing my nails. I hope to stay in touch with everyone on Twitter and on future blogs, thank you all again!