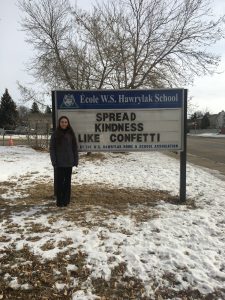 My first year of university was a time in my life that I will treasure forever. This period of my life was an extremely significant part of my journey to becoming a teacher. This was step one – the year where we enter the field to see if it is what we actually want to do or if it was just a dream. One of the best parts about the Education program at the University of Regina is being able to attend a field placement (8 half days) in the first year.
This field placement was in coordination with a class called ECS 100. It discusses the interconnectedness of knowledge, schooling, and society. I am very passionate about this subject because I believe schools should be places that help children grow in knowledge that will help them form a healthy society. For example, the students learned about multiculturism and First Nation history while I was there. Learning this will teach them more about how society works and will bring appreciation for the differences in the world.
I remember my first day at Hawrylak School, the elementary school that hosted my Field Placement partner and I. The instant we walked through the school's doors, we were welcomed. As the weeks passed, the welcoming feeling never dulled. They should take pride in how accepting and inclusive they are. It was awesome to see how the Hawrylak staff are teaching their students by example how to build an accepting and inclusive society. 
Between the lectures, seminars, field experiences, and assignments, there were many thoughts and new ideas that filled my mind. It was an eye-opening experience. Mrs. Neufeld, the teacher I observed during my placement, embodied some of these ideals. For example, she encourages inclusive education by incorporating tools such as wobble chairs, brain breaks, and a microphone that support various types of learners. This helps keep the children focused and motivated. Many of the topics that were discussed made the placement experience more meaningful. Some of the experiences answered many of the questions I had building up within; others inspired me and brought more questions. In my opinion, endless questions and endless learning are the most exciting part of life.  Although there was much that was learned within the University setting, the hands-on experience was extremely valuable. 
In my ECS 100 class, we studied topics regarding:
School and Community
Teachers, Knowledge, Building Relationships 
Students & Learning Environment
Diversity & Difference
that I was able to discuss with my placement teacher. She always seemed happy to share her passion and knowledge. I could tell she was one of those teachers that makes a difference in her students' lives. All of her students were so excited to tell us their own stories, views, and experiences – especially what fun they had at recess! Mrs. Neufeld works really hard to make sure every one of her students is included and pushed to be their best self – academically and mentally. It was a place where children felt safe to be themselves. She has endless resources for every single one of them and I am fortunate that I was able to learn from her. A quote by Bob Talbert that resonates most with my experience here is "Teaching kids to count is fine, but teaching them what counts is best."  This experience was very fulfilling and I cannot wait to offer back all that Mrs. Neufeld and her students have taught me. 
Without the information provided in the lectures, seminars, and assignments, we definitely would not have gotten the most out of our field experience.  The lectures and seminars encouraged us to think about things differently when we were in the field. Then, what we experienced in our placement helped us to better understand the assignments. It all worked together, just like how knowledge, schooling, and society work together.
This step in my journey sparked a flame within me. Although I was excited before beginning my degree, having a taste of the experience just makes me more excited for the rest. There are so many great people that I have yet to meet, such as future professors, students, and coworkers. Within each and every one of these people, there is knowledge waiting to be shared and stories waiting to be set free. "The most valuable resource that all teachers have is each other. Without collaboration, our growth is limited to our own perspective." ~ Robert John Meehan.
It has been so inspiring learning about the changes in the education system that are happening to make the world a better place and also seeing it already implemented in Mrs. Neufeld's classroom. She made sure everyone's differences were celebrated. I cannot wait to do the same in my classroom one day. 
"Never stop learning because life never stops teaching." ~ Anonymous