Well I don't want to admit it, but I didn't learn from my previous mistake.. I swore I put my needle away yet somehow i'm missing one from my pack and cant seem to find it. Fingers crossed Its not sitting somewhere waiting to stab me.
 After learning all 10 stitches in the previous blog I figured  I would now conquer the basics of the alphabet. After browsing a couple of videos and websites on how to do lettering the first 4 stitches I learned earlier seem to be the most popular. I chose Wandering Threads Embroidery to guide me on my path for learning basic lettering. She uses the same 4 stitches  along with a few tips and tricks and photos for easy following.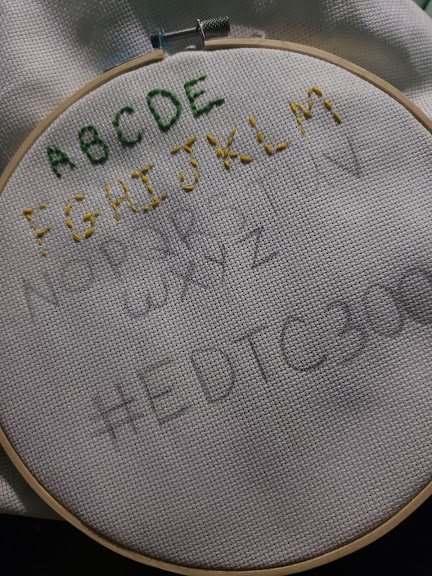 For the first row of the alphabet A to E I used the Back Stitch, and then for letters F to M I used the Running Stitch. While it is neat to see your stitches become something other than a line, I hope eventually it gets quicker. After about 40 minutes I've accomplished stitching lets A to M.
I've also realized with longer Floss tangles and knots become an issue, when not careful pushing/ pulling the floss through the fabric.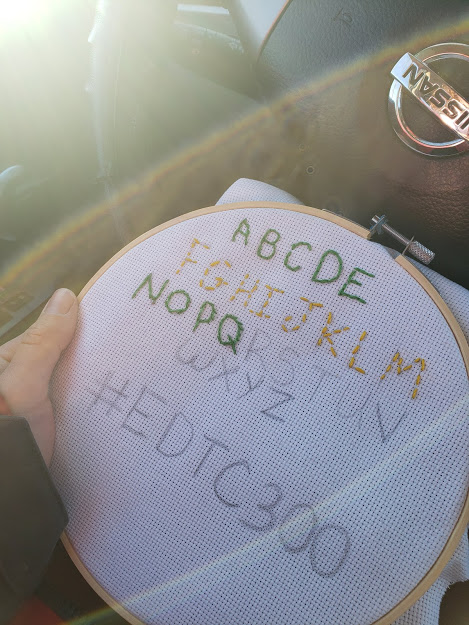 N to V was Created using the Split Stitch and Required twice as much time as the first two rows. I began taking my embroidery with me everywhere to get in a few stitches here and there so I could finish the whole alphabet this week.
W to Z and the EDTC300 hashtag were created using the final stitch on her blog called the Stem Stitch. The stem stitch was probably one of the most difficult stitches to keep straight but became my most favorite. It almost looks like a twisted rope and is the easiest to see.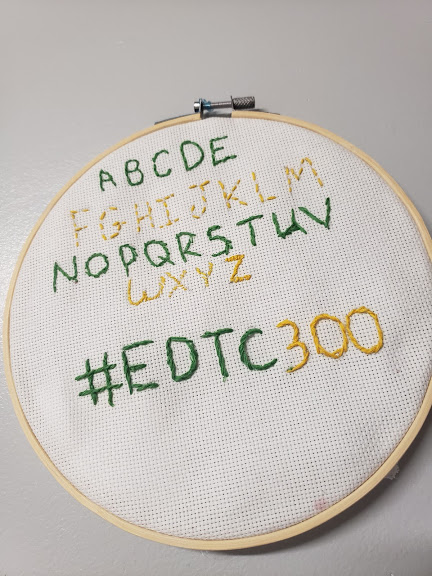 The whole thing took about half a season of Gilmore Girls to create, so about 7.5 hours. I assume a more intricate picture might take even more time.
Next week I plan on learning how to transfer patterns onto fabric and hopefully start an actual picture!