Well first off I have some sad news, I broke my needle threader.. I don't think it was made to take the full thickness of the embroidery floss. I attempted to pull the floss through the threader and proceeded to rip the wire right off instead, and bent the needle in the process as well. At least it was well used for the couple of weeks I had it.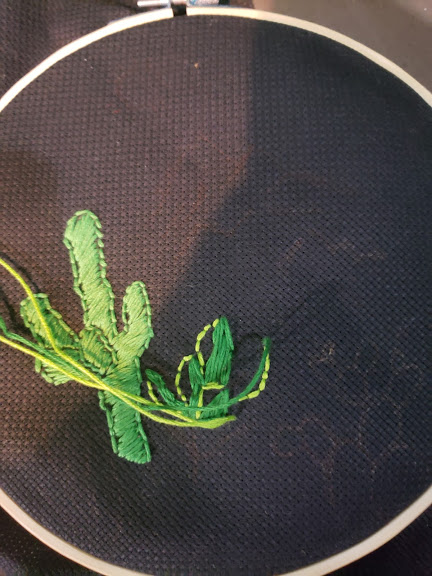 This week I continued embroidering my piece from last week, I got a little distracted this week with midterms and an essay looming over my head but I managed to get a few more cactus stitched along with the starting of the mountains. I attempted to go off the book this week and attempted to use not one but two needles at once with two different colors to accomplish making a two toned cactus.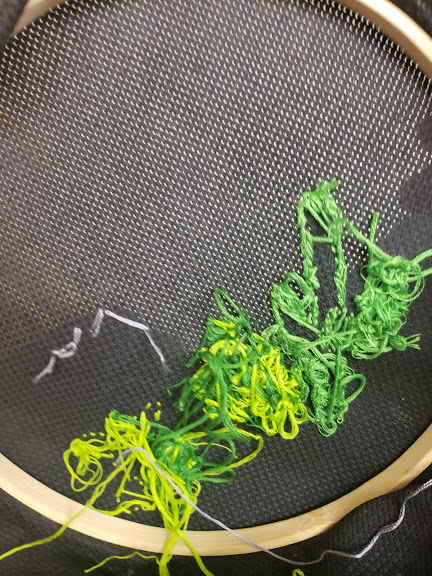 However, using two threads became extra difficult because they kept getting tangled together creating a huge mess on the back half and I ended up wasting so much thread. 
But the outcome of the two toned cactus made the headache of a mess worth it.
My third cactus was fairly easy. I used the running stitch to outline to give it a different texture, not sure if i'm done with it yet thought I might add to it still at a later date.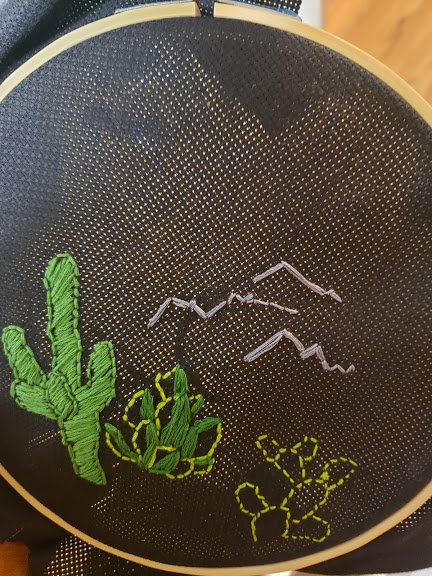 Lastly I've been working on the mountains! Hence the song lyrics that are inevitably stuck in your head after reading the title of this blog. However I don't think that I am a huge fan of these particular mountains that I've stitched so far. I think it might be the middle one mostly, I might redo it, so I can manage to make the peaks more defined. Hopefully by next week I have the whole picture finished!