For this week's blog, I was feeling a bit bored with my Cactuses and the thought of picking it wasn't bringing me inspiration. So Instead I decided to check out the learning source I shared in the Slack resources for EDTC300. The Public Library has a whole online database dedicated to DIY, to access the database all you need is a library card and your pin. After logging in it takes you to a website called Creativebug, where there is a whole database of different projects to choose from. After choosing a project it gives you all the information you could possibly need including lists of materials, videos, photos, and comments questions by other people who have created the project and the average time it takes to complete the project. Some of the projects they have on the website are fairly new and have a weekly video, that you can do live each week that it comes out. Each weekly video continues building on what they taught the previous week. After a bit of browsing I came across a video on creating textured clouds, taught by an embroider goddess Lauren who sells and creates her own patterns.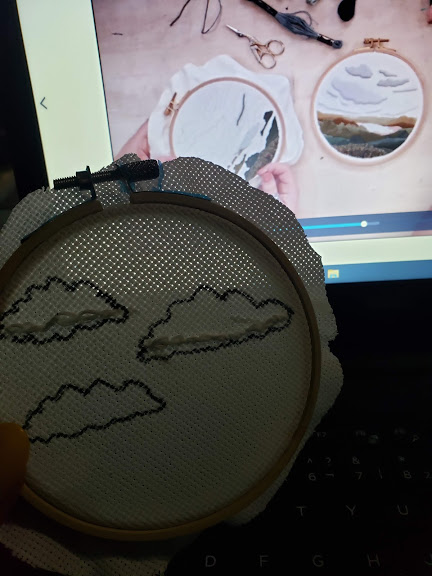 within the first 4 minutes of the video I learned so much. One being the correct type of needle to use when using full floss called a tapestry needle which is a lot larger than an ordinary embroidery needle that I have been using.
After free handing some clouds onto my fabric, the video instructed me to create Chain stitches across the bottom of the cloud, after a quick refresher on how to do this stitch (which was included in the video) it was fairly easy to accomplish.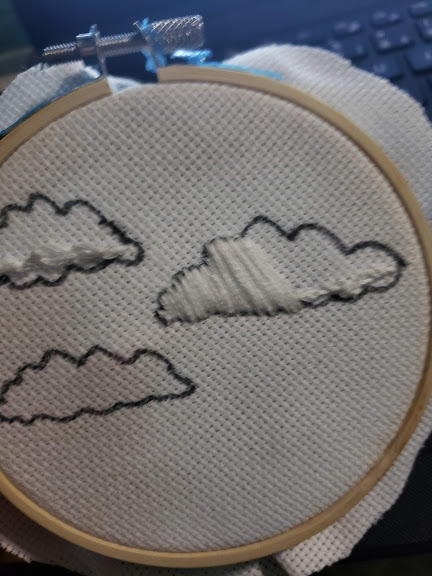 After chaining the bottom of a couple of my clouds I moved onto the next step which is filling in the clouds , as you can see from my picture its fairly simple.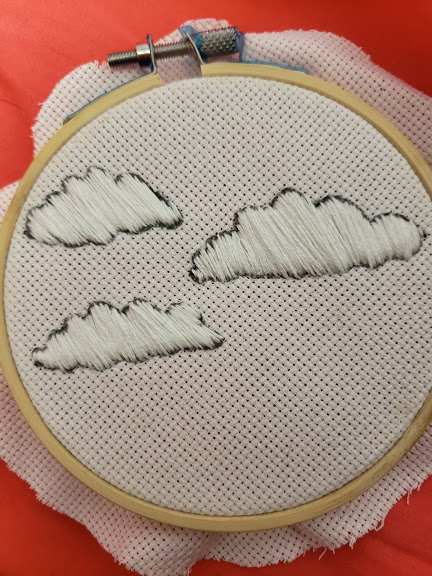 Starting in the middle of the cloud you angle your stitch diagonally and do simple satin stitches all the way across following the contours of the cloud, when finished one side you start in the middle again and work your way to the other side.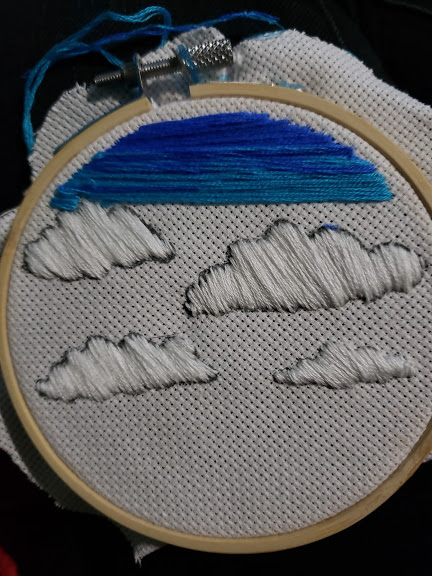 This video was refreshing to try and really got my creativity sparked again. I am now filling in the background as well. I will definitely be trying out a few more projects from the library data base especially because its free, I give the whole experience 4 out of 4 clouds!