For the past 10 Weeks as most of you may know I have taken on the challenge of learning to Embroider through resources I found online.  At the beginning of this journey I might have been a bit naive believing it would be a lot less time consuming and tedious than crocheting or knitting. When  I first started I imagined it wouldn't take that long to create a simple picture. Boy was I wrong, along with finishing this semester I also managed to finish watching every episode of Gilmore Girls, most of those episodes spent mindlessly sticking my needle to my embroidery hoop.

At the start of my learning journey I Put Down the hook and picked up the needle.   something Ive been thing about doing for awhile. In my First blog I talk about my reasons for wanting to learn how to embroider and I share a fun fact about how my Grandma used to embroider along time ago. I also share how using Micheal's coupons helped save me 45% off my haul of supplies to get started

After gathering my supplies I Got Started, learning 3 basic stitches from a video made by Lovecrafts, and worked on creating a Pinterest board filled with ambitious pictures I'd hope to one day emulate.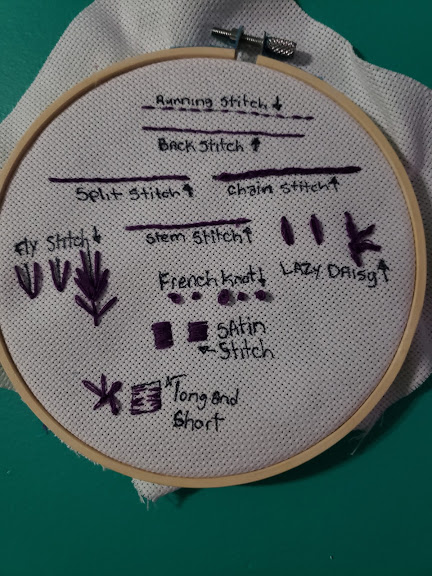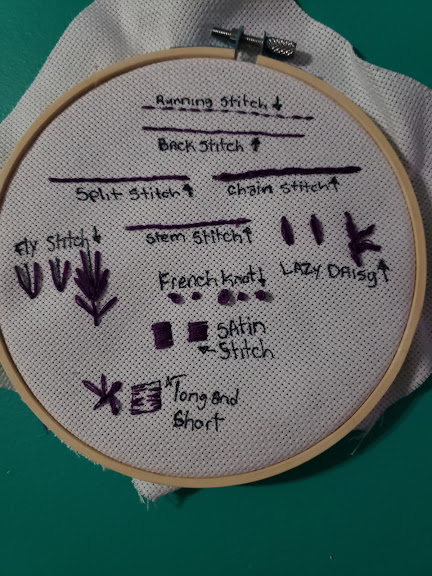 Later after learning the first 3 basic stitches from the Lovecrafts video, I learned the hard way about Always putting your needle away, that needle pricked me good.. After finding my needle I proceeded to finish learning  the 7 significantly harder stitches,making it an even 10 stitches.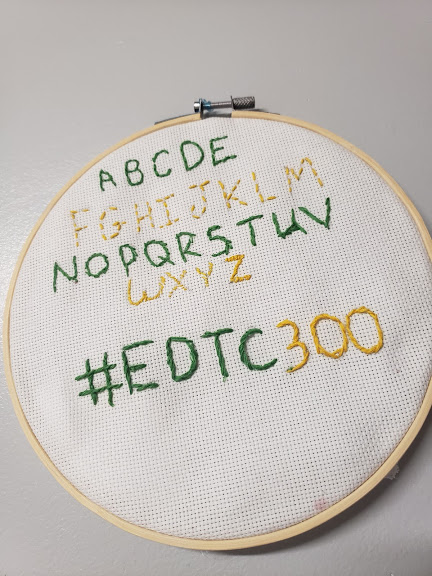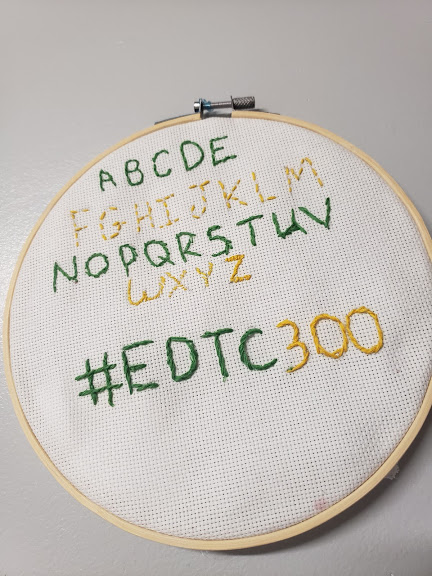 After learning those 10 basic stitches I decided to conquer  A to Z using 4 out of the 10 stitches I now know. Using a Video from Wandering Threads embroidery  to guide me along the way. This is where I realized that Embroidery takes a lot longer than I expected, from start to finish The whole thing took about half a season of Gilmore Girls to create( about 7.5 hours).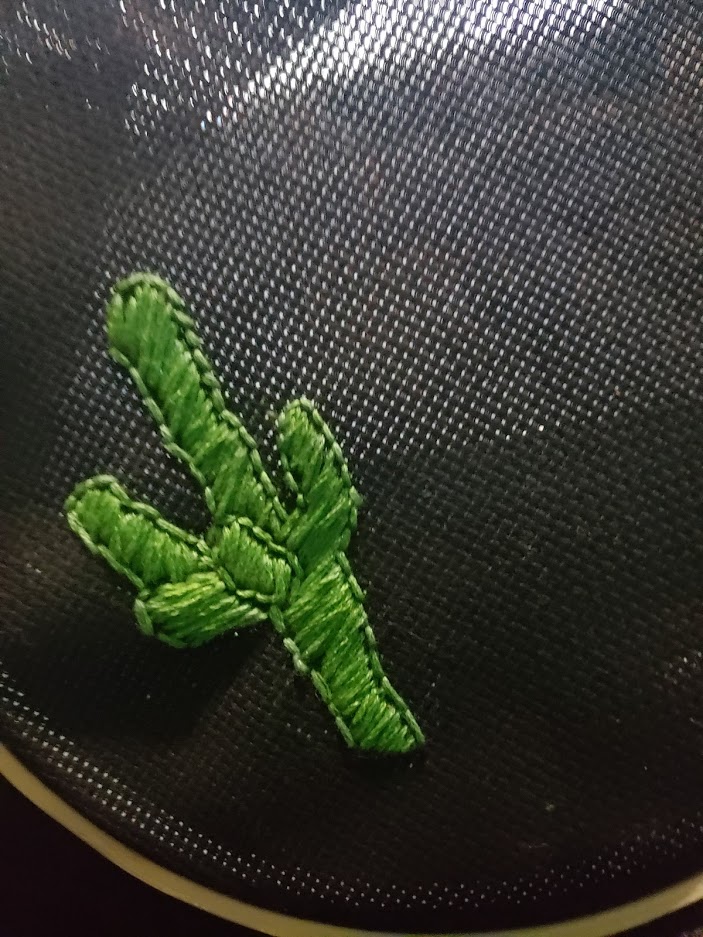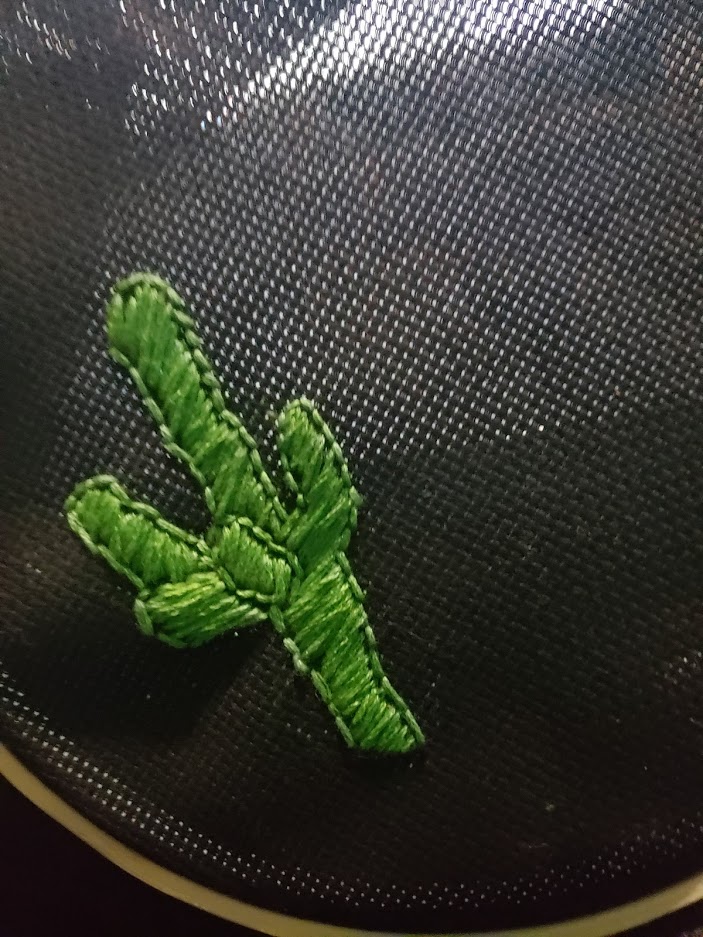 Lighting The cactus is where I write about my  struggle to transfer a Cactus picture I found on DMC onto a black canvas, a rookie mistake I won't repeat twice. I also finally get a Needle threader that changed my life for about a week. I also premier my first  DIY learning video where I showcase my new threader in action. As an added bonus It also features my first cactus that took about 2 Gilmore Girls episodes(1.5 hours) to create.

After coming around the mountain of homework and midterms I start working on creating two more cacti and a mountain outline. This is where my floss becomes  so entangled because I attempt to use two colors at once causing me to get bored and frustrated abandoning my scenic cacti picture forever.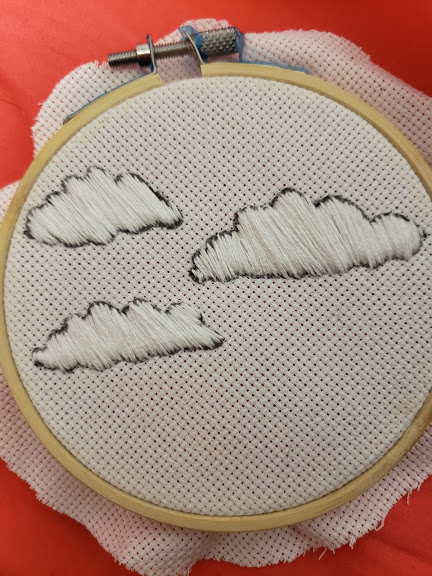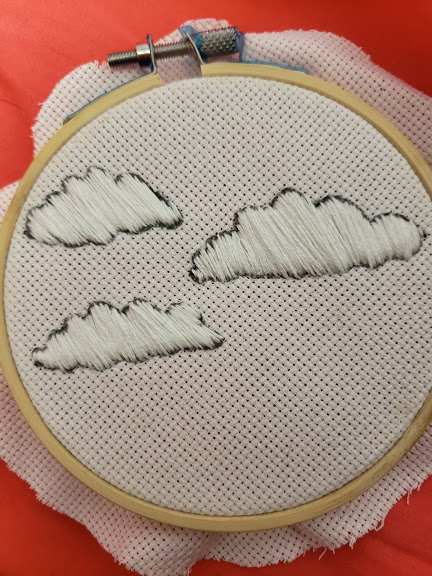 After abandoning my Cacti I  take my head out of the clouds, and find a dreamy tutorial on creating puffy clouds using the Public Library Database,  a source I recommend to anyone trying to learn a new DIY skill, they even offer weekly classes for free. , so far my fluffy clouds are my favorite thing I've created.

Embroidery 101 takes us back to basics where I put  my new found Videography skills, and Windows movie editor to use, to teach you how to do 4 of the main stitches I've been using the most.

 To wrap up  my final learning project post I wanted to do something I've been dying to try, create a Time lapse video of my embroidery.   It also gives me the chance to finish one full picture to have since the cacti were a bust. To create the time lapse I used a logitech C922  streaming camera with a program I downloaded called VideoVelocity3 that records your video in time-lapse format. The program was easy to navigate and as an added bonus was free! After creating the video I used the Windows movie Editor to add music and the title before uploading  it to Youtube. 

As you can see I've come a long way from lopsided letters to fluffy clouds in the setting sky. While I still have a long way to go to become a master embroiderer, I've gained a lot of experience in a short amount of time.  I'm really glad I chose to learn how to embroider for this project, with all the motivational comments from my peers cheering me on it made it easier to continue on. I know as this class wraps up, I will continue learning more stitches and creating new pictures.

First project

Last project