How the Land talked to a newcomer
Posted On September 16, 2019
The photos in this post were taken in the Cornwall center, Regina, Canada. The three statues near the Bay are on my almost everyday walk to work for around a year since I have been in Canada. There are three women wearing their local dresses. Two of them are holding the babies, however, one of them does not have any. The woman without baby is looking and seeking something, and none of the women are smiling or happy. But in this country where I am, while I am walking everyone smiles. Then why not these statues? What are they symbolized for????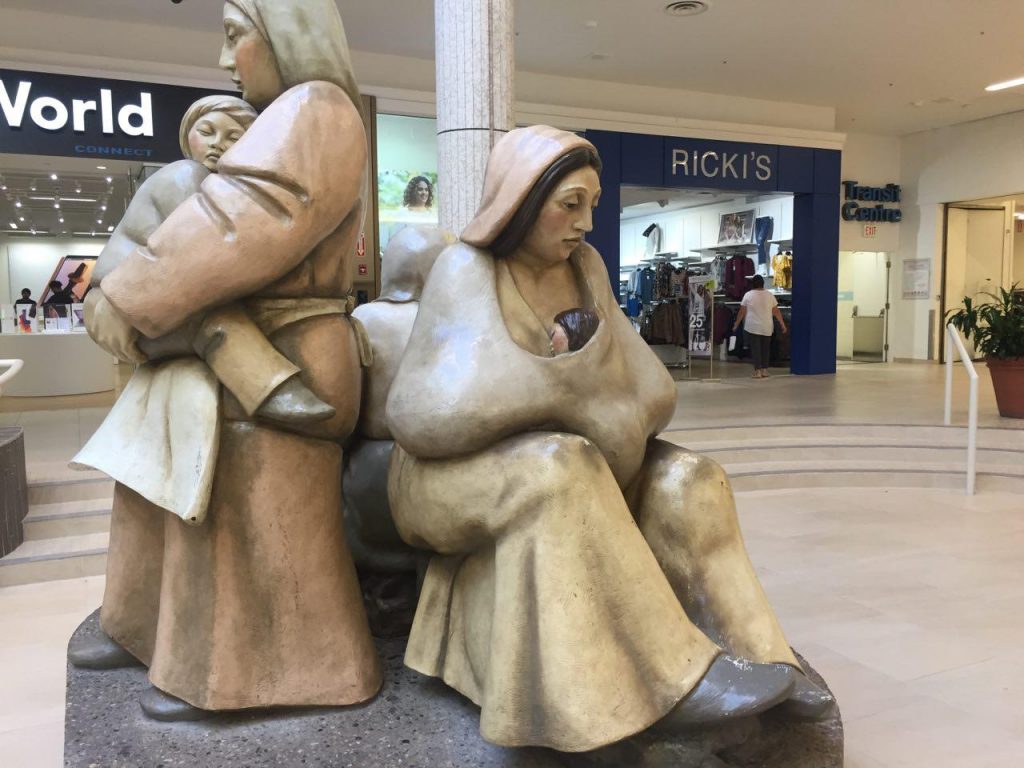 Honestly, in spite of my inner feeling I always ignored this place when I was passing, However, last week with the assignment that I faced with from one of my courses by Dr. Valerie Triggs I have changed my lenses and tried to see the land from my punctilious perspective. As we discussed about indigenous people last week I have been curious to know more about them, so I talked with one of my classmates ,who is a first nation person, about the history that I could not find even from the ocean of information-the internet. Simultaneously, when I read the articles I have heard the indigenous people voices from the white writers' minds.
I had these statues in my mind always, but when I heard about residential school, treaties, and the all dark memories, I saw something new in them. I have found the reason that why these women are not smiling. Although the land wanted to talk to me before by putting these statues on my way in my everyday walk and to show me the history by many things around, I do not know why I have ignored them so far. I have to take Jennifer MacDonald's advice when in one of her articles "Curriculum Encounters Through Walking the city" she wrote about the wisdom which is gained by our body and heart not mere on the cognitive way that we have been taught. So when I took the photos and linked them with what I have found out about both the past and the land I understood how I have taken my environment cursory. If I see something in the land it is not accidentally, it is on purpose for sure. But we have not been taught to learn from the land and the simple things on it naturally.