I enjoyed having the opportunity to explore various formative assessment tools as part of Matt, Dalton, and Trevor's presentation. Since I have used Kahoot before (and I still love it), this week I decided to learn more about formative. Common sense education compares Kahoot and Formative highlighting the pros and cons of these two highly engaging tools. So, I decided to try it out and see how it could be incorporated in teaching EAL students. I would not consider myself tech savvy, but setting up my account on formative was quite smooth. Although there is the option to have participants access the assignments as guests, I decided to create various groups adding my students one-by-one. This process can be a little time consuming, but in order to have a clear picture of student growth, it's worth it. I actually found this process stress free since there are a number of great tutorials online that can be helpful for anyone just starting using formative.
Although there are a number of ready-to-use assessments in the formative bank, I decided to create my own to match the lesson I taught on "Animal Idioms". The students read a book that introduced eight animal idioms, their meaning as well as correct use in context. After the students working on various activities related to the idioms, they had a chance to complete the assessment I created in formative. My goal was to check if my students had a good understanding of the covered animal idioms or more practice is needed.
Even though I did not use the paid version, I found formative a very effective tool since it provides multi-modal questions. I particularly liked the fact that I was able to add content too. By having the opportunity to add pictures, video, and white board as well as various types of questions, such as essay, short answer, true/false, multiple choice and opportunities for students to show their work, formative gives a quite complex picture of student understanding. I think this is a student friendly assessment tool with a focus on student success. Beside the fun and interactive side of formative, teachers can also view their students perform and provide feedback as they go. Just checking in with students and letting them know that they are on the right track, can be very helpful.
Beside the interactive and engaging side of formative, I also like the fact that it gives a clear overview of student understanding. I particularly appreciate the fact that I can see my students' answers on the same question at the same time.
As you can see, having a Covid19 case in our school when trying out formative did not help. I did manage to try it out with two participants and my students enjoyed it. I certainly see myself using formative in the future. I am very thankful for my EC&I 833 peers for sharing such an amazing tool. I am very much looking forward to experimenting with it.
If you'd like to check out my very first formative assessment on "Animal Idioms", please follow the "join instructions". Feel free to complete the activities and share your feedback. I would love to hear from you!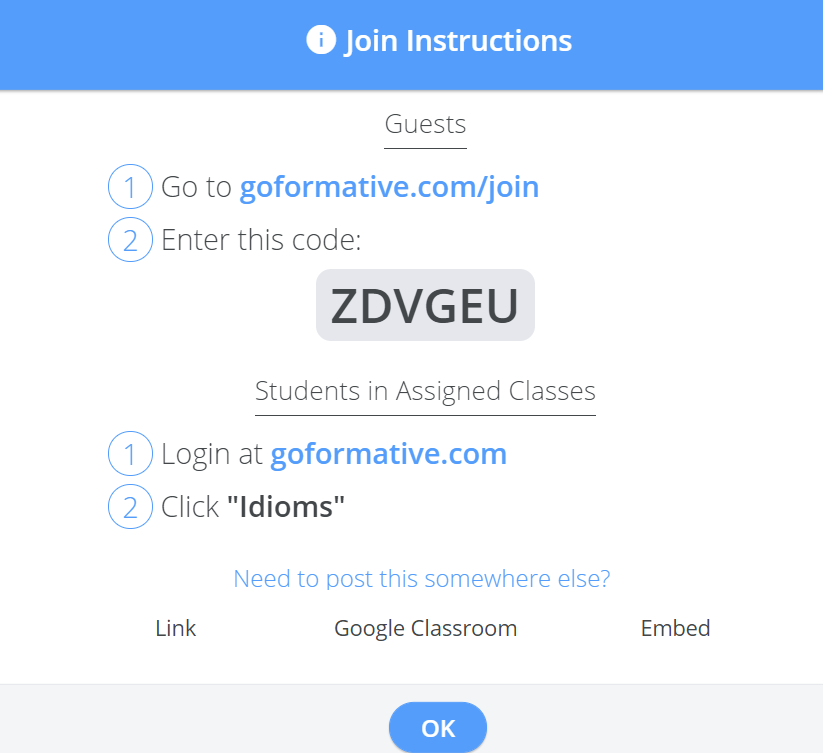 Thank you! 🙂