Is something wrong with our crystal ball?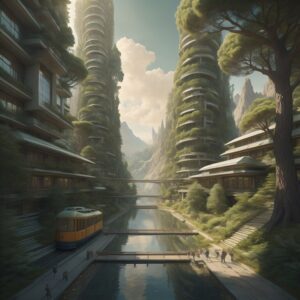 Green sustainable city by Prototypeperspective, CC0 1.0
As a teenager I loved the magazine Popular Mechanics.  First and foremost, the ratio of text to fighter jet photographs was, in my opinion, extraordinary.  Secondly, I would scan through the review sections pretending that I could afford the technological treasures within (I remember practically drooling over a 600 MHz Pentium 3 processor in the late 90s).  Lastly, they always made predictions of what the future would look like.  The pages bristled with headlines like "Cities of the future" and "Meet the car of tomorrow."  It was enthralling stuff.  In hindsight they did drop the ball quite a bit.  For example in the 1950s they famously predicted that we would all be driving our personal helicopters to work.  However, you can hardly hold it against them.  People are terrible at predicting the future, and my favourite childhood magazine was a reflection of this.
That last point seems salient to this week's discussion of generational, cultural, and societal changes in education.  While scanning through this week's blog prompts several asked me not only to envision the educational landscape of the future, but to make suggestions for how best to prepare students for it.  The more I thought about it, the more convinced I became that I would end up suggesting some nonsense that would end up aging like spoiled milk.  But why is this task so difficult?  Why can't teachers and administrators predict the future of education easily?
Reason 1: We can't agree on the challenges facing education now
There isn't a lot of consensus on the how best to use technology in the classroom now, let alone in the future.  For example there are those with the temerity to not only insist that children are "digital natives", inheriting technological super powers from growing up in its presence, but that those who adopted technologies later in life were somehow "digital immigrants."  Many refute this idea pointing out that this misconstrues familiarity with knowledge.  To them technology is like any other tool that requires guidance and support to effectively use and understand.  They argue that it is difficult to understand the implications of technology which aren't always obvious.
Further to this we cannot agree how technology is affecting kids in our classrooms.  As authors like Brooke Lee Foster notes alarmists love to paint a vivid pictures of our dystopian society spiraling into the abyss of social media.  She points out this is not a new phenomena – perhaps, just maybe, that a little bit of self-obsession is a rite of passage for young people.  Others, like Simon Sinek shout from the rooftops that our children are akin to alcoholics looking for their next dopamine fix in the form of "likes" from their online "friends".
So which is true?  How are we going to predict and plan for tomorrow's students in our classrooms if we don't agree on how technology is affecting them today?  Is technology a panacea for all of our classroom woes, or is it currently turning our students into self-absorbed and insecure social media addicts?
Reason 2: We look at tomorrow's problems through today's lens
I think one of the key problems to predicting the classroom of tomorrow is that we constantly look at the problems through the filter of today.  To use generative A.I. as an example much of our discussion has focused on the issues of plagiarism and academic dishonesty.  While I agree that these are valid concerns I think that they are consuming far too much of the discussion.  By putting a myopic focus on how students can use it to cheat we are missing the larger implications of the technology.  Better questions might be "How is this going to change the way students conduct research?" or "How will A.I. enhance or ability to critically think?".  Instead we focus on the problems of today, and by extension spare little time for exploring possibilities (and dangers) of technology in the future.
Another example of this limited focus is in the way we mythologize the past.  Many fear that technology is causing our students to become disconnected and anti-social.  We place a tremendous value on face-to-face interaction, but perhaps this isn't as important to our students as it is to us.  Is it possible that students don't enjoy connecting with one another the same way we did?  As Nathan Jurgenson pointed out the fetishization of real-life interactions has not only become a garden industry, but a bragging point amongst those who see themselves as resisting the march of technology.  Perhaps our students are very socially active, just not in the ways that we are use to.  We seem to be judging their interactions by our standards.  The digital world to many of our students is the real world.
This is not to say that any of this is our fault.  Our perception of what school is, and should be, is inextricably linked to our personal experiences.  Of course we see things as a reflection of the here and now – it is what we know, but it makes it extremely difficult to think like someone 10, 20, or even 30 years in the future.
Reason 3: We don't know what kind of world we are preparing our students for
This last point may seem like an oversimplification, a get-out-of-jail-free card, but I can't help but think back to Popular Mechanics.  The authors of the February 1951 issue genuinely believed that we would all be flying to work within a decade in our cheap personal helicopters.  Who could blame them? In 50 years humanity had gone from horse and buggy to international air travel (with space exploration soon to arrive).  Was it so unreasonable to assume a quick flight to work was around the corner?
The trajectory of technology is unpredictable.  Trends end, new technologies emerge, and old paradigms quickly become outdated.  In my Bachelor's degree I had no idea how important the role of social media and media literacy would become in my classroom.  In retrospect I wish I had spent more time learning about how to critically interrogate new technologies.  This is why I am so hesitant to gaze into the crystal ball and boldly proclaim our path forward.  What is popular in classrooms now may not be a few years from now.  As I've mentioned before I wholeheartedly thought that VR was going to be the next big thing, and I have still yet to see it make an impact.
In closing I would like to leave the following questions with you:
What technologies did you think would make a big splash in education, but ended up petering out?  Or, on the other side of the coin, what technologies did you heavily invest in that ended up paying dividends?
What other obstacles do we face to correctly predicting the future challenges in education?  Have I missed something obvious?