That is a (Ka)hoot!
This week we were tasked with finding an app or tool he haven't used before in order to document the process made in our learning project. As you could probably guess from the title, I chose to use Kahoot. An idea I had after seeing some of the ideas posted was to make flash cards online to help memorize the letters of ASL. And after hours of looking through several sites, nothing worked like I wanted it to. Whether it was due to the free version not having the options I was looking for, or the site just altogether having nothing to do with flash cards even though that is what I searched for. In the end I decided to use Kahoot, a simple quiz game to test my memory of the ASL alphabet. Although I kind of cheated as I have used Kahoot before, it was always as a student playing a Kahoot rather than as an educator making one. I said in a previous blog I wanted to test my memory and make sure what I learned stuck, so I figured this would be a great test to do periodically to ensure this sticks.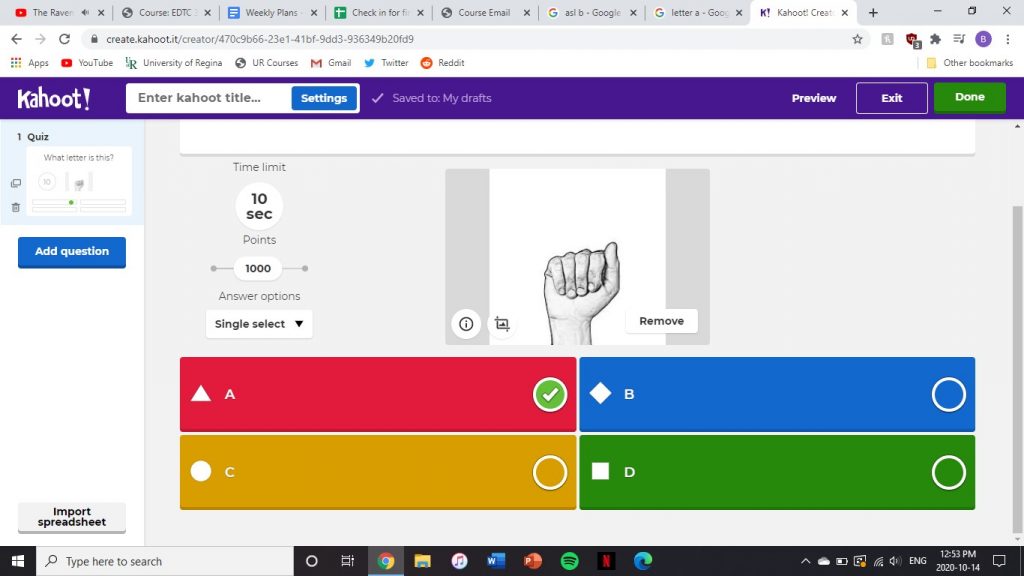 As you can see above, Kahoot provides a great way to create a quiz that can be played by many people at once. It was surprisingly easy to create a Kahoot. You have the title of the question, how long everyone ha to answer the question, how many points it is worth, an image to include if you'd like, and the answers. To make the Kahoot that I was wanting, all of my questions were simply "What letter is this" with an image of a random ASL letter and four different answers to choose from.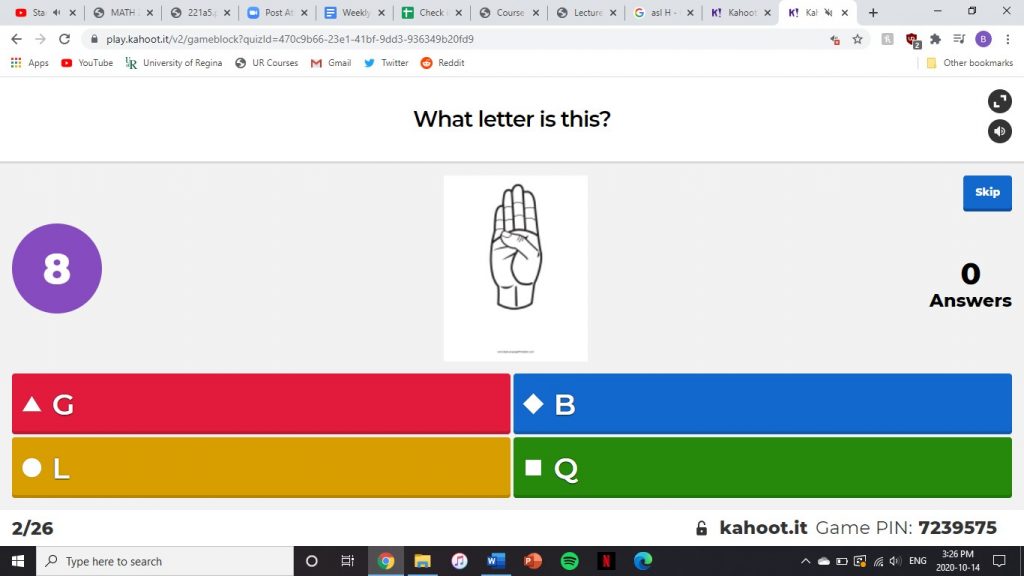 When one is playing a Kahoot, the picture above is what they will see before needing to answer the question on their phones. It will ask the question and give four possible answers, multiple answers can be correct, but for this example only one answer is right. Do you know which is the correct answer?
Now if you look down below, it may seem a little confusing without context, but this is what ones phone would look like while playing a Kahoot. The question and answers come up on the computer screen as shown above, and everyone answers on their phone by pressing the corresponding symbol. Not only are you trying to guess correctly, but you get more points based on how fast you get the answer, making a great competition in the classroom.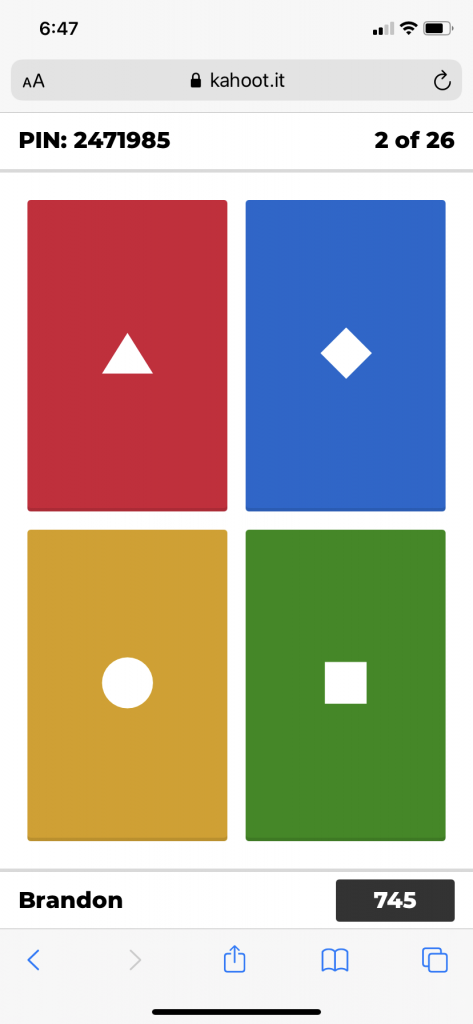 Overall it was cool to see the other side of Kahoot and create my own. I will definitely use this as a study tool in classes and I know that just playing this Kahoot will be a great help in confidently memorizing the ASL alphabet.