Hi, my name is Catrina Hunter and I am a teacher with Regina Public Schools. I am a graduate of the U of R's Arts Education program and I work as part of Balfour Arts Collective, a program for students who are passionate about the arts. I am so proud of the work my colleagues and I have accomplished in providing an art-focused high school experience for students who want to learn in a creative and highly-engaging environment. 
I would rate myself as a fairly average tech user even though I feel like my life is consumed (overwhelmed) by it. Most parts of my day revolve around using technology in some form or another. As a teacher, I spend my days checking and sending emails, logging student information on Edsby, posting assignments to Google Classroom, collaborating on shared google docs with colleagues, searching for online resources, creating posts for our program's social media accounts, and updating our website. As a mom, I manage most of our family's life on my phone using the various apps needed to keep school, and activities organized: Seesaw, TeamLinkt, Dance Studio Pro, Edsby, and carpool group chats. Then in my remaining free time, I enjoy scrolling through Instagram and sending my husband memes while we sit next to each other on the couch watching a show on Netflix/Crave/Prime/Disney Plus.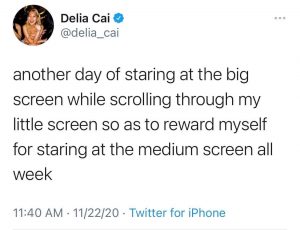 At the end of last school year, when our school division's network was hacked, we could not access our emails at school for just over a month. Although this time was met with some challenges (e.g. printing an assignment for a class required putting documents onto a flash drive and plugging that into the photocopier), it was also somewhat…freeing. There were no emails to check…respond to…or sort through. I could focus on teaching and connecting with kids in-person. The pressure of always having what feels like one million emails to respond to was gone. It was great…other than the fact that every digital assignment I had made over the past two years of e-learning had to be turned back into a pen-and-paper assignment. So maybe not as relaxing as I remember, but I do recall feeling as though a weight was lifted. As I was driving to work this morning I heard an interview on CBC Radio's The Current that I feel connects a bit to this feeling but in a much more high-tech way. Here is the link to the article if you are interested in reading more.
Believe it or not, as I was attempting to set up this blog, I found the one I used with my Dance 10 class in my "Digital Internship" in 2007…a very, very long time ago. I was surprised to find that I actually made several successful posts with links to a great selection of YouTube videos. I haven't blogged much since then, so suffice it to say that my skills in this area are a little…ummm…rusty. At this point in the class, I'm feeling a little nervous about my tech abilities so I am glad that there seem to be so many supportive people here willing to help out and answer questions. I am looking forward to learning with all of you.