Flip: The Video Discussion Application
Flip, previously Flipgrid, is Microsoft's free video discussion application that allows students and educators to connect in small groups using videos to build a safe learning environment. Essentially, Flip is Microsoft's educational version of the video viewing and messaging applications Snapchat and TikTok. However, unlike TikTok and Snapchat, Flip focuses on educators, organizations, and community builders. Flip seeks to provide its users with a platform to share their voice and creativity with confidence while connecting with their peers, build a secure online community for your club or organization to strengthen communication, plan events, share milestones, and share your story. Flip is available as a web-based application or downloadable on the App Store or Google Play.
So…What Is Flip?
Flip is a video discussion tool that allows teachers to post videos with text as topics, which is then shared with students who are prompted to respond. Responses are recorded using the software's camera to create dynamic videos that can be recorded an unlimited amount of times and users can add text, emojis, stickers, drawers, or custom stickers. Flip is designed to engage students in group discussions, without some of the social pressures students face within classroom settings. Therefore, the application is great for use when teaching blended, hybrid, or asynchronous courses. 
Alright, But How Does It Work?
Surprisingly, the process for Flip is pretty straightforward, especially if you have experience using Snapchat, TikTok, and other Microsoft Office 365 applications. Educators can sign up for a Flip account for free using a Microsoft, Google, or Apple account. Upon your first login, it will automatically prompt you to create your first group and provides you with lots of group categories, such as classrooms, clubs, friends and family, events, gaming, hobbies, professional development, and more! For my Flip investigation, I chose the classroom group and I was prompted to select the level of learners that would be using the application. I could choose from all levels ranging from Elementary to University learners and after my selection, I was prompted to name the group and select a featured background image for the group. Afterwards, the application created an invitation link and QR code and I was given the option of allowing access to anyone who had the link or just the people that I approve. Once I had completed the setup, I was now able to create topics to start discussions with students and chose the time limit for videos and add photos, stickers, or links. After I made my selections, I was given another link to share with students or post on a Learning Management System (LMS). Students can click the link, watch the video, and post a video response, which can be commented on by other students. "Flip currently offers more than 25,000 lessons and activities, and more than 35,000 topics, helping you to create new Topics or use existing ones quickly and easily"(Edwards, 2022).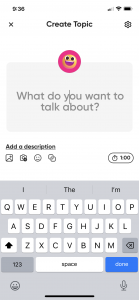 Flip or Flop?
Flip was created to do one thing, facilitate online video discussions; therefore, similar to any application, there are benefits, limitations, and drawbacks associated.
Benefits:
Removes social pressures that students may feel when discussing topics in person.

Allows discussions to occur between students in asynchronous, hybrid, or blended learning models.

Guest mode:

Educators can integrate topic guests into discussions through Guest Mode. This feature can be utilized to bring in specialized speakers and various opinions outside of the immediate community.

Flip shorts:

Video moderation:

Educators can control the content submitted by students by turning on video moderation and only allowing approved videos to be posted.

Age-specific ideas for remote learning with flip.

Free live professional development events.

On-demand training.

Opportunity to become a

Flip Certified Educator.

Available step-by-step guide for educators.

PowerPoint presentation, Google Slides presentation, Keynote presentation, and Smubble templates available.

Stop-motion capability.

Microsoft-owned application.
Drawbacks:
Privacy:

The largest drawback by far is the privacy aspect of the application. Once students have created a video, it is shared amongst all participants in the group, which allows other students to view videos that may contain sensitive information. Students currently cannot send just their teacher or educator a video directly. As well, in Guest Mode, all videos that are created can be seen by anyone that uses the Flip application. It notes on the website that data, including personal information, may be shared with third parties, but you can request that data be deleted. This concern is echoed in the

reviews

of the application on the Google Play store.

Data usage:

The second largest drawback is the amount of data the application uses. Once again, the reviews bomb the application due to the amount of battery and data that is required. One user complained that one video drained their entire battery, took 5 minutes to upload, and caused the application to crash 4 times.

If you have any students who have limited access to fast and secure internet, this application is not meant for you or your class.

Bugs:

The application seems crash sometimes when users are creating, editing, and uploading videos.

No save or draft feature:

There is no save or draft feature in the application. Therefore, if students want to film a video, edit it, and upload it, it must all be done in one sitting and without closing the application or having it crash on them.

Furthermore, if someone wants to reshoot a particular part of the video they have to start from scratch.

Tech requirements:

Although this application is available through a website and downloadable on most major phone application stores, it requires students to have a couple of expensive pieces of technology that may not be realistic depending on your student demographic. 

Better options available:

There are better applications and tools already built within Learning Management Systems that can do the same discussion task.
Overall Thoughts: Flop
When I first saw the application, I was excited because it was owned by Microsoft and my work relies on Microsoft Office 365 applications. I did not understand why I have never heard of the application before. However, I now understand why it is not well-known. Although the application can provide users with a different way of doing discussions, it is riddled with drawbacks and user reviews that cannot be ignored. Flip can be great if you have students who prefer online discussions and are creative. It can also be a great place for students to participate in safe online discussions with other specialists around the world. Teachers and educators can also access Flip's step-by-step guides, already built topics, and partake in professional development opportunities online. Unfortunately, this application will not work for the demographic of students I work with, but it could be great for you!