In a world where change is the only constant, educators have started to ponder and share their perspectives on what education might look like in the not-so-distant future. This week, I read Laura McClure's Ted-Ed blog about the future of education. McClure imagines a place where the traditional classroom structure, with its rows of desks and educator-led lectures, becomes an ancient practice. Instead, she states that education will become a choose-your-own-adventure, where innovation, creativity, and technology intersect and redefine how students gain knowledge and skills. So, what does this look like, and are academic institutions ready for this change?
Well, I am happy to tell you that I have already started to see the journey begin in some post-secondary programs. In a collaborative effort between several departments, program curricula are being rewritten to acknowledge the transformation education is currently undergoing. In McClure's blog, she states that education will become a makerspace, where students learn through creative projects instead of test-based assessments. This transformation has started, and what used to be multiple-choice, true and false, and matching-based assessment questions have turned into case study, inquiry, and capstone-based projects. In addition, to reaffirm this transition, the older styles of assessing students now hinder articulation agreements and the brokering of programs with other post-secondary institutions. However, I acknowledge that this experience is not universal. As with everything in education, the process is slow, and the responsibility to make change looks different depending on your educational context. To bring some lightheartedness to this conversation, I asked ChatGPT to create an educational joke based on a popular meme.
Why did the education system start using the Spider-Man pointing meme? Because when it comes to taking responsibility for change, they would rather point to someone else and say, "You do it"!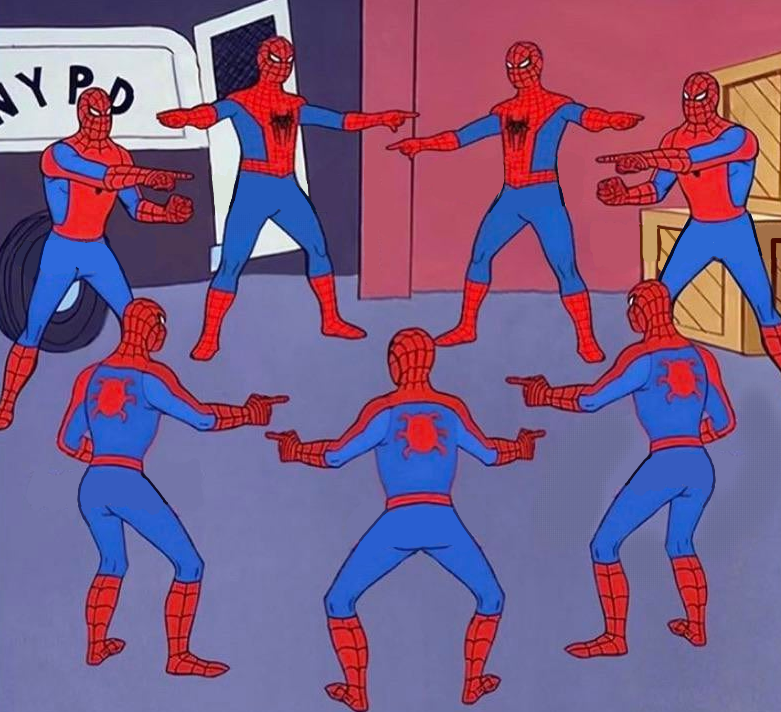 So, how do we navigate an ever-changing educational landscape where suggesting change often means taking on the role of a leader and ambassador for that change? Maintaining personal well-being and work-life boundaries are crucial in a profession already plagued with high levels of burnout. However, simultaneously, educators are told to modernize curricula, incorporate technology, and enhance creativity opportunities to meet the evolving needs of students in a rapidly changing world. How do we then strike a balance between driving innovation and preserving our sanity? From personal experience, collaboration with colleagues, leveraging available resources and support systems, and recognizing that change can be a collective effort is crucial. Educators can collectively champion new ideas and curricular enhancements, which distributes the workload and fosters a sense of shared responsibility and accountability. This can look like sharing resources through online collaborative platforms, like SharePoint, engaging in professional development workshops and networks, or creating professional learning communities, curricula committees, or cross-disciplinary teams. Together, educators can navigate the ever-changing educational landscape, driving innovation while safeguarding their well-being and that of our students. 
I encourage you to consider the same questions that I have pondered while writing this blog, discuss how the choose-your-own-adventure in education theory impacts your practice, and generate your own educational jokes through ChatGPT.