For my major project, one of the educational apps I decided to look at is Kahoot! I heard of it during one of the educational technology classes I had taken and I created an account at that time, but never had a chance to use it. I felt that my hands were tied. Teachers working as support staff not always have a classroom which means no access to a projector. Access to devices is quite limited as well, and my time with the students is often very short.
This school year though, I have been offering in-class support as well and I mentioned Kahoot! to one of our grade 7/8 classroom teachers. Him being a connected educator, the access to devices was not an issue any more. So, we were both very excited to give Kahoot! a try.
But what is Kahoot! some might ask? According to Commonsense Media, Kahoot! is an educational app for playing and creating quizzes recommended for ages 8 and up. This 4 star app is definitely worth checking out.
Kahoot! is a safe, fun and engaging formative assessment tool that gives immediate feedback of what areas the participants are struggling with. It is a popular tool used worldwide by teachers, students, employees and life long learners. It can be used in any subject, any language, on any device. Kahoot! can be played as a group or individually anywhere and any time. It can be used to create fun learning games and trivia quizzes. There are also a high number of free, ready to use existing games. For paid members there are more tools to chose from when it comes to creating and organizing these collections of games.
I decided to look into more ways Kahoot! could be used in a classroom. Besides using it for reviewing and reinforcing certain concepts in a classroom setting, it can also be implemented as a class work station, as part of study group or peer-to-peer challenge, as well as for homework. Although it has an option to time the participants' performance, especially for homework use, it is recommended to have it switched off to prioritize accuracy.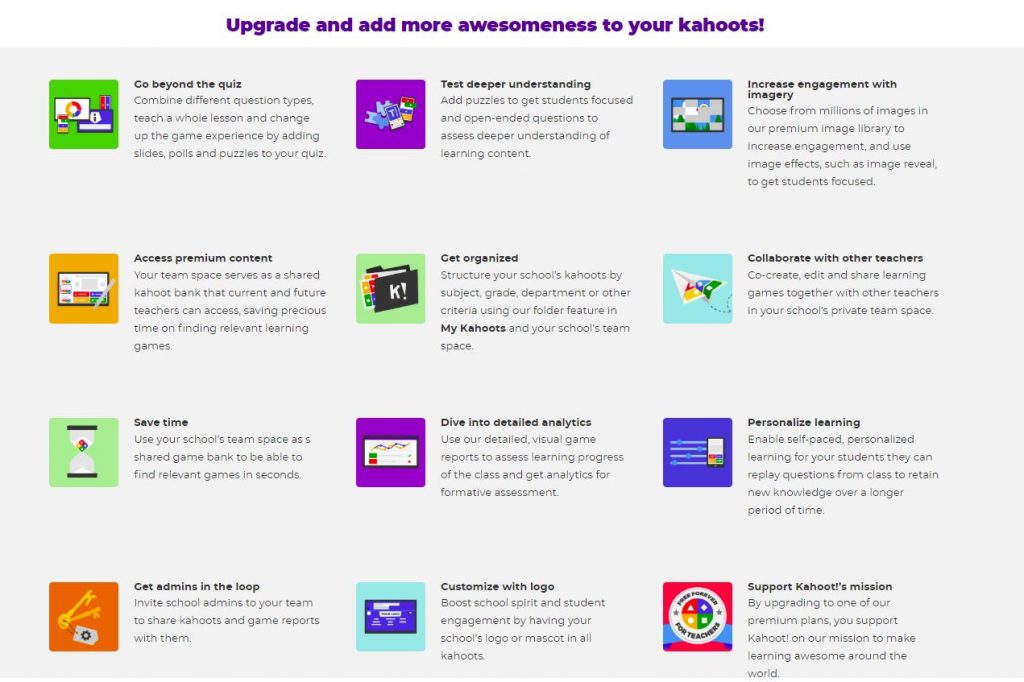 I think Kahoot! is an excellent assessment tool for teachers. After playing a game, I was able to see a detailed analysis of my students' performance helping me to define if the topic has been acquired by the students or not.

Trying to learn as much as possible about this app, I came across a number of tutorials, one named "learners to leaders". The focus of "learners to leaders" is to teach students digital communication and collaboration by giving them the role of a teacher when creating their own kahoots. Such an activity empowers students to take ownership of what they are learning through creativity, critical thinking, as well as teamwork leading to digital fluency. An ESL teacher shared an interesting idea where students created "holiday selfie kahoots" about the holidays they celebrate, which could be a great way to teach students about digital etiquette as well.
I am definitely considering upgrading to have access to a wider variety of activities, adding content in between the slides, editing already existing documents, as well as organizing them into folders for the various grammatical content I am teaching to my English as an Additional Language students. This is a valuable tool that I see being useful not only in the classroom but for both blended-, and flipped lessons.
Have you used Kahoot! and how do you feel about this educational app? Please share your experiences. I would love to hear from you!
Thanks,
Melinda