Piaget's constructivism and Seymour Papert's constructionism sparked my curiosity towards learning more about coding. I have been hearing this term for a while, but I never really knew what it meant. The word itself reminded me of my boring computer programming classes back in high school where I had no idea what was happening. Probably that was the main reason that I never really had any interest in doing coding until I tried out the Logo Emulator. As soon as I opened up the Logo Workbook, I was excited to try programming the Turtle. But when my square didn't really look like a square, I realized that I ran into a "bug".
It was a little embarrassing to see that I failed, but giving up was just not an option. Reading the workbook carefully did help and I really enjoyed the various activities. I noticed a shift in my way of thinking, that failing was not that bad after all, since it helped me stop and reflect on the "bug". When I got to more complex shapes, I decided to break the commands down into smaller chunks. This way if I made a wrong turn with Turtle, I could fix it immediately instead of having to redo everything. I was able to see how coding requires constant problem solving and critical thinking while figuring out the right degree and direction of making Turtle turn.
I was blown away when I actually created these images. It took several tries, "debugging" but at the end the feeling of accomplishment was amazing. I was learning by doing, by constantly analyzing, and synthesizing the information.
When I realized how interesting coding was, I wanted my 9-year-old son to experience it and as I was scrolling down on my Facebook page, an ad came up WhiteHatJr online coding classes offering a free trial. I signed my son up immediately thinking that this might be a great opportunity for me to see other examples of coding while he gets to try it. It was an hour-long one-on-one session with a teacher from Mumbai. Within that one hour, we went through 8 different activities and both my son and I had a great time. It was interesting to watch my son play while using higher level thinking, problem solving, computational thinking mixed with a great deal of determination and perseverance when he ran into some problems.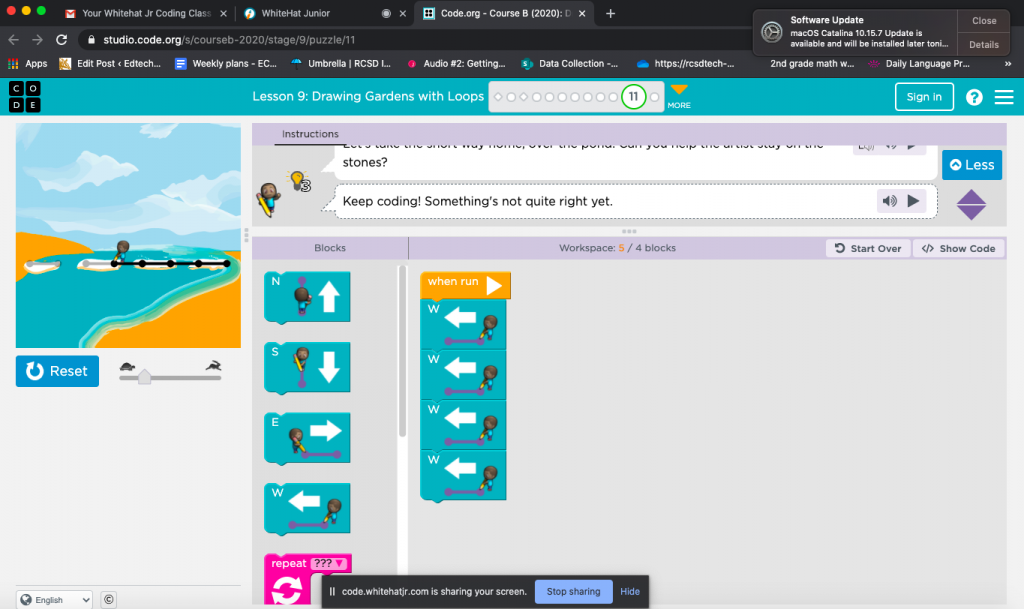 At the end of the hour-long session I was amazed how much one can learn through coding. As an English as an Additional Language (EAL) teacher, I was examining how it could be beneficial for my students. Both the LOGO and the activities my son participated in focused on teaching directions, degrees, and angles, counting and using various colours. Since these little games all have a story behind them, students can improve their language skills by reflecting on the game or retelling what the task was. I think it would be interesting to experiment with digital stories as well where students can combine various elements, such as text, images, and audio. This would be a very effective tool especially for language learners since it helps them put aside their fear of being judged. I would like to spend more time experimenting with Scratch since I think that would give more opportunities for my students to improve their English language fluency while creating digital stories.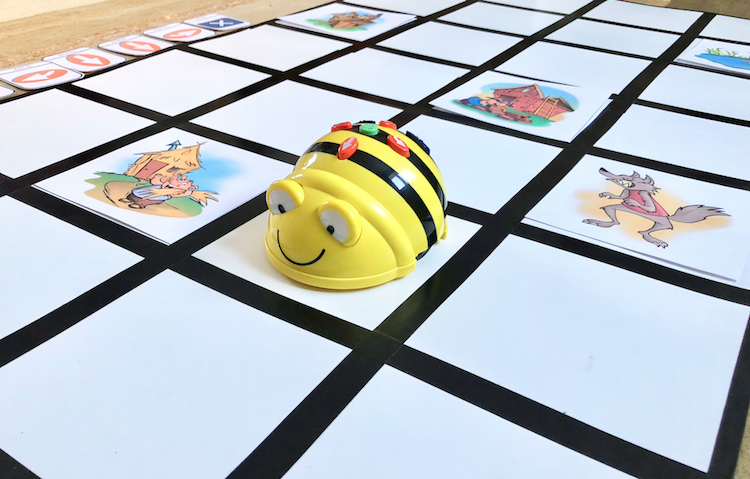 But my curiosity never stopped and I borrowed a Bee-Bot to see what would it offer to my students? Although it is mostly recommended for younger learners, I can certainly see ways to adapt it and use it with my older students as well. My newcomer students who do not have experience using any kind of technology and have very limited vocabulary in English, this would be an amazing tool to learn in a fun way, to learn by doing.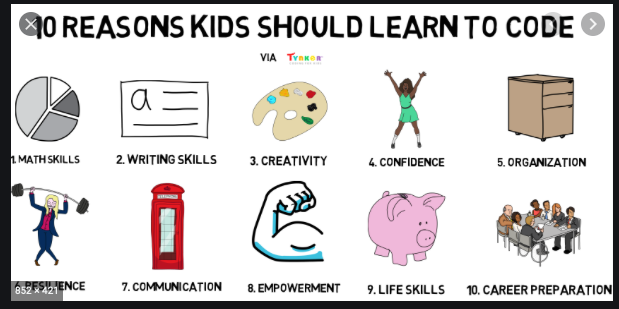 Today I am convinced that coding is a very effective tool that, as Brian Aspinall says "allows differentiated instruction and personal learning environments". It offers a reform in education by focusing on hands-on learning while guiding students to become thinkers instead of regurgitating information since "You never want to get on a plane where the pilot learned to fly from worksheets."
Thank you for reading my blog 🙂