Hey there! Hope everyone survived the last week of October. It is a lot for us teachers, and I certainly was thinking about you all as I was home, nesting and crocheting and going to a million appointments for the baby.
It has been a very productive few weeks for my learning project and I have many photos and a new video to show my progress. I also am going to include some links that were helpful to me while working on some projects.
My projects that I have completed during this time were:
A coffee cozy (which I made a video of)
My first baby blanket done in crochet for my daughter (complete with edging.)
3 chunky cowls (if you have no idea what this means I will explain)
I began a new baby blanket in a more chunky yarn
So the coffee cozy was a project that actually provided more of a challenge than I expected as there are so many different patterns that I found on Pinterest that I had many to read through in order to find one that I knew I would be able to accomplish, no new or complicated stitches, and using yarn that I already had at home. As I've said, an extra trip to Michael's can be unpredictable… and pricey. I found this pattern on a blog called Domestic Bliss, and the whole project came together quite quickly. A big difference in this pattern is that there was no video provided, so I have to follow the written instructions, and I was crocheting in the round, which provided some new challenges. Here's my timelapse video of my coffee cozy:
I felt it was only appropriate to complete this project, which took me about 40 minutes, with Gilmore Girls on in the background. If you've seen the show, it's a love letter to autumn, and the characters are obsessed with coffee.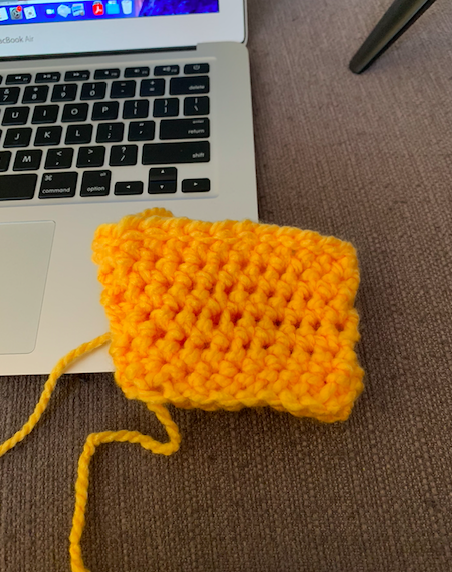 Ok, next up is my baby blanket – which I am so in love with.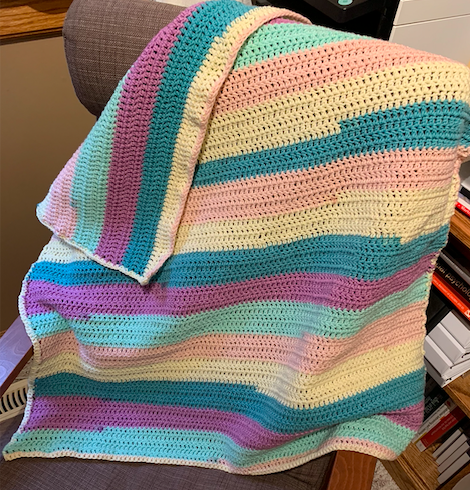 I completed the pattern, and decided that the edging pattern originally from the blog I was working from was a bit too complex for me, so I decided to do some research and I decided to return to my favourite YouTube channel, Bella Coco Crochet. It was a very helpful video, and now that I am getting more experienced with crochet, it did not matter that the video was done right-handed. I was still able to get myself started, and then I had the process quickly memorized to complete the edges of my blanket. I am still planning to wash my blanket before my daughter is born so it will be a little softer and ready for her, it's going to be cold soon! Will need lots of cozy things for baby.
Ok, now I will explain what the heck a chunky cowl is. So yarn comes in many different thicknesses, depending on what you want to make you'll use thinner or thicker yarn. Chunky yarn is exactly as it sounds, thick yarn. Here's a photo for reference: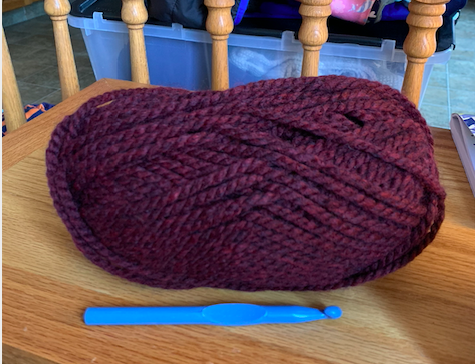 A cowl is a scarf that is a neckwarmer crocheted in one tube or loop. Cowls are nice because they are easy to throw on over a coat and are not too bulky. They also use less yarn, making them cheaper and quicker to complete. Nice for gifts, especially. This is how I began making a few at a time. They crochet up quickly and are going into my Christmas gift stash. Might as well make a bunch now before baby arrives!
I had two patterns saved to my Pinterest board, and I was torn as to which one I wanted to use, so I decided to begin with the easier sounding pattern first, from Make and Takes, which was super fun to do. The second pattern was from a blog called Cate Crochets. It had more of a pattern to it, with different stitches from one row to the next, so I actually wrote out the pattern and would check off the row as I went so that I did not forget. It was very validating to be able to read through these new patterns and go, "ok, I have all the skills to do this pattern!" Here's a photo of the trickier cowl I tried: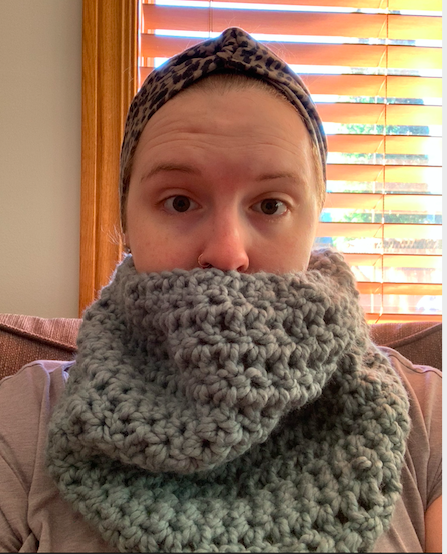 The trickier pattern created these weird holes when I'd begin a new row, so I am unsure as to if I was doing something wrong or if there was something off with the pattern… I will likely try again and see how it goes. Crocheting in the round has it's challenges for sure! But I am undeterred because I love making cowls.
Finally, the pattern I am currently working on is very similar to the first baby blanket I completed, but in a much chunkier yarn I found in my yarn stash. I used this pattern here to work from, but used a larger crochet hook so I did less stitches (and it's still going to be massive).
So, in conclusion: So. Much. Crochet. I am really enjoying it. I never would have taken the initiative to learn a new skill right now if not for this course. It has been a nice use of my bored baby brain as I wait for this baby to arrive.