Hi everyone, and welcome to my blog for EC&I 830. My name is Jeff Barrett, I employed by Living Sky School Division, and I am the principal of Cut Knife Community School. This is my third course in the Teaching, Learning, and Leading program through the University of Regina. I serve as an executive member for the Battle West Athletic Association, coach volleyball, basketball, badminton, and track, and officiate.
I consider myself comfortable with technology and have adopted it in my practice since I entered the profession in 2013. I completed my Bachelor of Education at Ontario Tech University. The focus of my B.Ed centred on emerging trends in educational technology, how to best apply technology to pedagogical practice, and how to utilize technology to reimagine educational institutions. While I found technology in the classroom an interesting topic, it was not until the pandemic when I used this time to explore the capacity for technology in the classroom. However, advancements in assistive technology, the universal reliance upon social media, and AI technology the landscape of EdTech has complicated the educational environment. Whereas, Google Classroom and its suite of collaborative tools has made it easier to engage students and close learning gaps, the aforementioned technology also presents issues around equity, privacy, and authenticity. A recent New York Times article outlines the steps that some universities in the United States have taken to combat the ease of which students can create essays and work.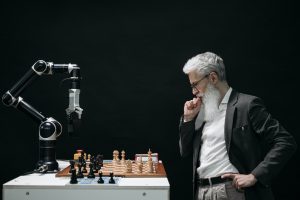 As a 21st century learning practitioner, I strive to engage students and staff in technology trends. As a school leader, I find collaborative tools like shared folders, document templates, and Teams the most accessible tools that allow for idea generation and problem solving. I use social media, but not to the extend that I would necessarily like. I am amazed at the content creators in education like John Spencer who utilize social media and virtual spaces to engage students, parents, and staff.
I look forward as we use our blog spaces and class meetings to enrichen our collective understanding of issues related to educational technology.