"The ability to read and write," is how Oxford Languages defines literate. Pretty simple. Broad, but narrow. Trying to expand this a little bit, literacy is the ability to identify, interpret, understand, and communicate through the skills of reading, writing, speaking, and listening effectively. Representing is in the ELA curriculum, so I am going to add that to skill list as well. UNESCO helps modernize this idea by stating that, "beyond its conventional concept as a set of reading, writing and counting skills, literacy is now understood as a means of identification, understanding, interpretation, creation, and communication in an increasingly digital, text-mediated, information-rich and fast-changing world." I can work with this in an attempt to consider what it means to be literate today.
Literacy is no longer just the "3 R's," and it certainly does not look like it did seventy-five, thirty, or even five years ago. As the world (and society) has changed, what is needed to really understand what is happening around us has as well. As I entered my career as a teacher, I will admit that my idea of literacy was pretty much the first definition mentioned in this post. Different versions of literacies would soon be added, but it has taken until this course for me to make the connection between literacy and the different strands of outcomes in ELA. Insert your judgement here.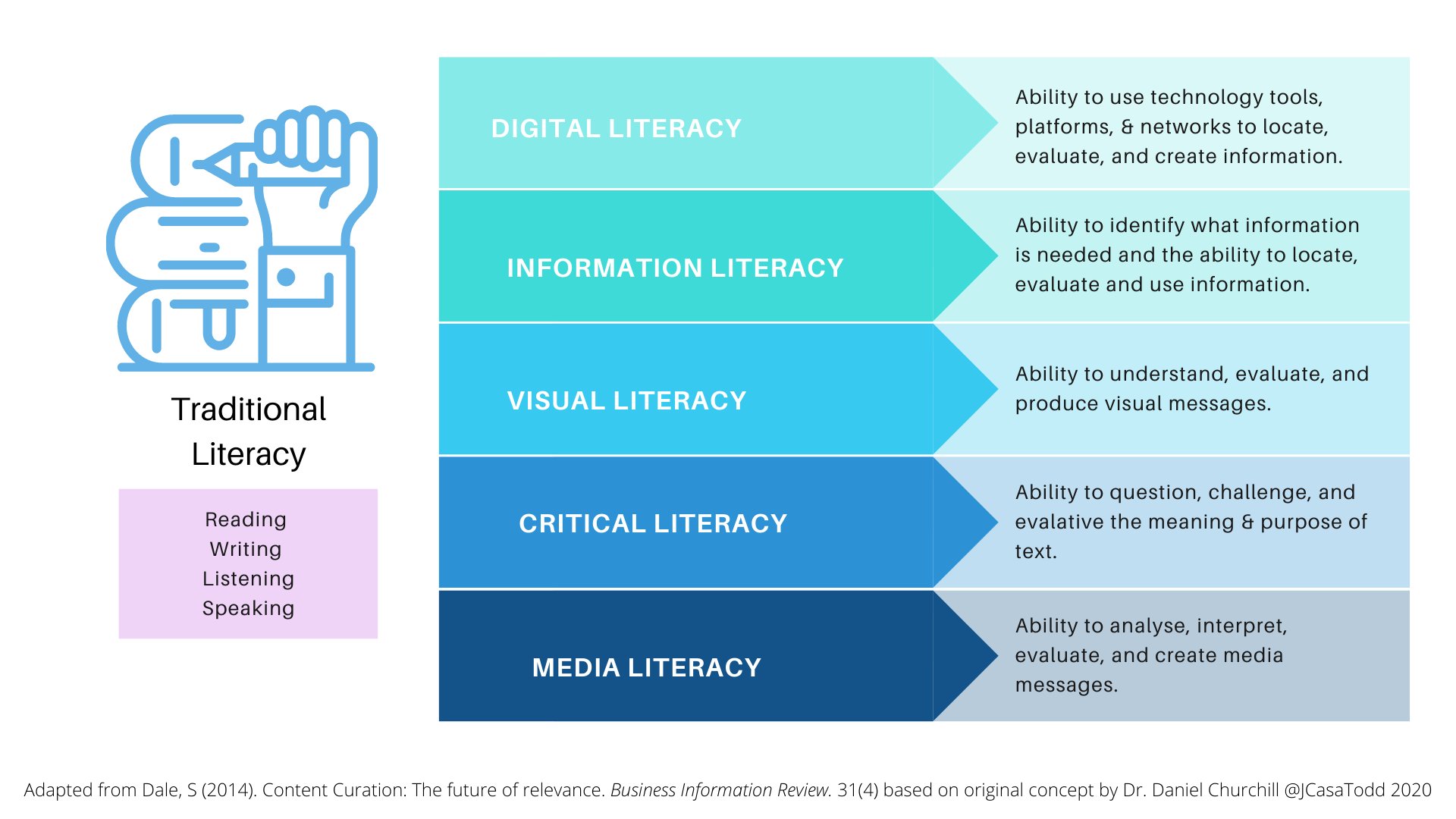 Physical literacy was an easy one for me to catch and buy in to. I needed to justify and validate that Kinesiology degree! I would soon form an understanding of cultural and financial literacy, again connected to my career, or just trying adult. Breaking news! There are a lot of different literacies out there folks! Information, technical, media, digital, data, global, and historical to name a few. Through these life experiences and growth as an educator, I was unknowingly learning about different literacies.
"More about teaching how to think rather than what to think."

Pappas, 2022
To be literate today, a level of teaching needs to take place (as well as reinforcement) and connecting critical thinking to the digital world and platforms that we are exposed to today. I thought that this week's readings did a good job of using fake news to highlight the importance of being digitally literate.
Teaching & Critical Thinking
Reaching people at an early enough age where they can learn to understand the basics of information literacy and how to think about what they consume is a great starting point. Being able to differentiate between the different types of fake news, what the purpose is of what they are consuming, and offer tools to help form digital literacy brought to mind the old saying… give a person a fish, feed them for a day. Teach a person to fish and you feed them for a lifetime. Leeatru's article pointed out that technology can only really patch problems with digital literacy through blacklists, algorithmic tweaks, etc. – giving someone a fish. Developing a level of digital literacy and having individuals think about what they are consuming may actually address the underlying lack of critical thinking and get the fishing boat pointed in the right direction – teaching someone to fish.
Developing digital literacy means reorganizing critical thinking skills so that consumers of media are really looking at the motive and impact of what they are viewing, the reliability of a source, the accuracy of the information, and the fairness of the material. I really enjoyed Oxland's article that included a bunch of tools that I can use in the classroom, as well as with my own journey into digital literacy.
| | |
| --- | --- |
| check your emotions | use Google news |
| reverse image search | look for checkmarks |
| know that you can find trustworthy sources | identify the source |
| check Wikipedia | keep a list of trustworthy sources for the future |
| look for similar info on other pages | look for (and use) existing fact checks |
"… ability to use technology is different than understanding what it shows you."

Oxland, 2018
Exposing to students different types of fake news and helping them use these tools to find out just what it is that they are looking at would be a great way to build critical thinking for the purpose of digital literacy, in a structured way to build confidence in these skills.
"Why would we expect students to do something that they weren't taught to do?"

Pappas, 2022
This concept of being "literate" today is a holistic idea to me. The interconnectedness of the competencies associated with being literate requires a deeper understanding of anything that a reader/viewer/listener takes in. Given the ease at which one can access materials on any topic, associated with any of the different literacies in our society, being able to critically evaluate information before applying it is a must. Having so many sources of information readily available is wonderful for developing literacies, but without knowing how to analyze that information can be detrimental before beneficial.
Going back to the fishing analogy… as a I have grown older, I have become to enjoy the patience and thoughtfulness associated with angling. The same should be true for digital literacy. How is your "fishing" going?