Scrumptious Gluten-Free Mixed Berry Muffins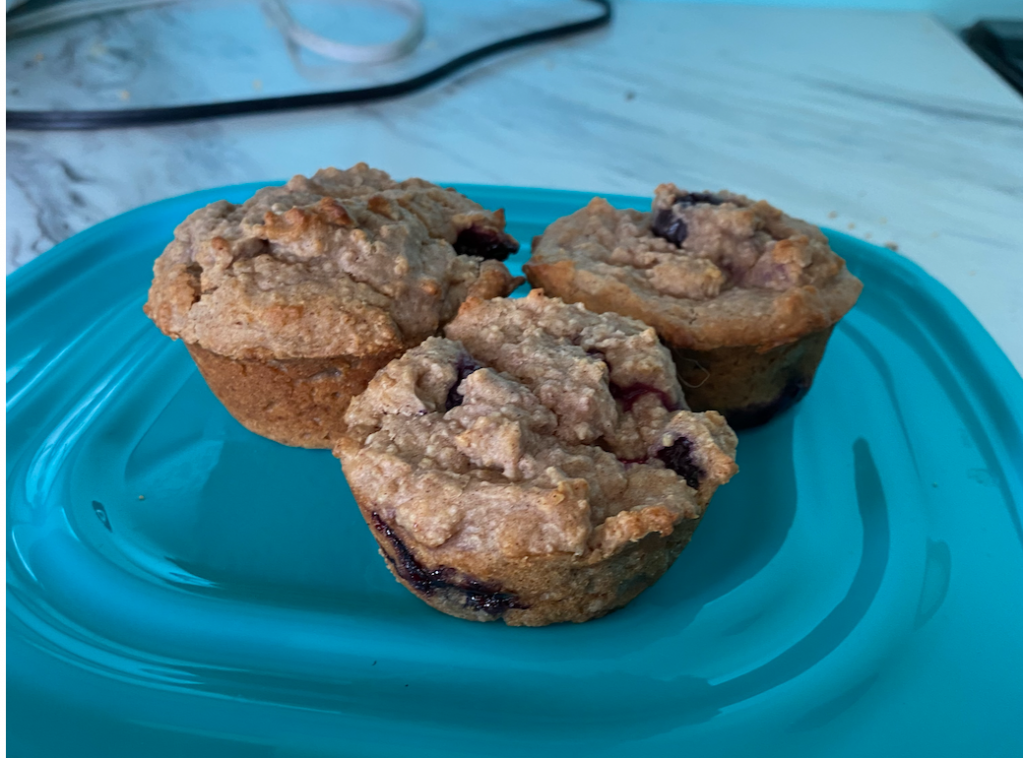 For my first attempt at making something gluten-free, I wanted to start off simple; that is why I chose to make muffins. Muffins have always been a go-to within our house when we needed to make something that was quick and easy for breakfast or a snack. After looking up a couple of different recipes I settled on this blueberry muffin one as it seemed like a great place to start. This recipe is designed to be a healthier one as it contains no additives or preservatives; we will be using a gluten-free flour that will make the muffins gluten-free, as well as using honey rather than using sugar. 
Here is a list of the ingredients that will be needed to make these muffins:
– 2 cups gluten-free flour
– 1 tsp. baking powder
– 1 tsp. cinnamon
– ½ tsp. salt
– 1/3 cup honey
– 1/3 cup olive oil
– 1 egg
– 1 tsp. vanilla extract
– 1 cup natural Greek yogurt (use coconut yogurt if dairy intolerant) 
– 1 ½ cups blueberries (both frozen or non-frozen are fine)
– Dash of almond milk
Directions:
1. Preheat oven to 350 degrees. Oil the muffin tray,  prepare muffin-baking cups or use a non-stick tray.
2. In a large mixing bowl combine the flour, baking powder, cinnamon and salt and whisk together.
3. In a smaller mixing bowl whisk the honey and oil together. Once combined whisk the egg in thoroughly. Add in the vanilla extract and yogurt and whisk to combine them all together. 
4. Once you have a smooth texture with the wet ingredients add them into the larger bowl with the dry ingredients and combine together with a mixing spoon. If the mixture is slightly dry add a dash of almond milk. 
5. In a separate bowl add the blueberries and a tbsp of flour make sure the flour gets over each blueberry this helps them from sinking in the mixture. 
6. Gently fold the blueberries into the mixture and once all combined then spoon out mixture into muffin tray to make eight muffins.
7. Pop the tray into the oven for 18-20 minutes until they turn golden brown or spiked through the centre of the muffin and come out dry.
8. Let them cool in the muffin tray for 5 minutes. You can put a knife around the outside of each muffin if they have slightly stuck and serve warm! If you have a sweet craving this should do the trick! 
Please enjoy this video of my muffin baking process!
Before I started baking, I quickly read over all of the instructions in the description of the video and gathered all of my ingredients as well as measuring and mixing utensils. I started out by preheating the oven to 350 degrees and then greasing my muffin tins as I did not have any wrappers. This recipe is estimated to make 8 to 9 muffins, so I greased up an entire muffin tin;  it created 9 muffins exactly! I took a large bowl and mixed all of my dry ingredients together. As part of this project I wanted to try to make this recipe my own, therefore, rather than 2 cups of the store-bought gluten-free almond flour, I used 1 cup of the almond flour and 1 cup of oat flour that I made myself by blending oats up. (Click this link to see a clip of my blended Oat Flour) In a separate bowl, I whisked the wet ingredients until smooth before pouring them into the large bowl and mixing all the ingredients together. Once combined and a nice consistency I added the 1 ½ cups of berries to the recipe. I already had a package of mixed berries in the freezer so rather than buying blueberries I substituted the mixed berries. 
Once the muffin batter was combined, I scooped it into the muffin tin as evenly as possible. Then I place the muffins in the oven for 18 minutes. While the muffins were in the oven I used this time to begin to clean up, as you can probably tell from my video that I am not the cleanest when I bake. When that time went I checked them and they needed another few minutes, so I put them back in for another 3 minutes. Once done I let them cool before for 10 minutes before taking them out of the tin and letting them cool for another 5 minutes. They turned out cooked perfectly and were left soft and moist when I tore one in half. I am very happy with the way they turned out!
Things I would improve on:
While the muffins turned out the way I wanted next time I want to try to disperse the batter more evenly as they came out in many different sizes, and I wanted them to be more consistent.
Although the mixed berries turned out delicious in the muffins, next time I would add less than the recipe calls for as the fruit was bigger than just blueberries are, and I found that some of the muffins felt as though they were more fruit than muffin batter.