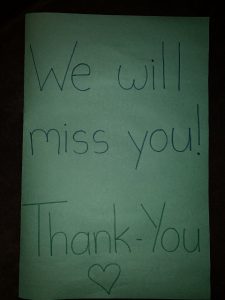 Card from my kindergarten class!
Week One: Students & Learning Environment
I am actively taking place in the Kindergarten class at Elsie Mironuck School. With only 14 students in the class it was very easy to get to know most of the kids in a short amount of time. It was very interesting going to the placement as it became apparent that half of the school is French Immersion while the other half only speaks English. I loved getting to know each student's personality  in a short period of time and being involved in different activities throughout the day. When I walked into the classroom I could immediately tell it was a kindergarten room, it very much reminded me of mine when I was in school. The room had an alphabet carpet which the students had assigned letters to sit on. There was not any desks in the room, but only tables with the student's name tags attached. There was many of stations set up among the room that help the students learn in multiple ways. Not only did the room look like a Kindergarten environment, the teacher also does a great job of making the environment feel like a great place for Kindergartens to learn and grow.
Week Two: School and Community
The school is a K-8 school with roughly 600 students and about half and half with French and English. Elsie Mironuck is very well mannered and has teachers and students of all ethnicity. The school is a Public School in Regina and in what seems to be a great neighborhood. In only my first couple of days I had the opportunity to see how the parents of the students are involved with the teachers of their children. Parents are waiting outside to the door to be greeted by their children and their teacher alongside with them. I definitely think it is the teachers within the school that create those great links with the community, they always want the parents involved in as much as they can be– which is great to see. On the website I had seen the school offers an open house that at the beginning of the school year for anyone from the community attend. The website it also well-kept and updated regularly with any news that is taking place in the school as well they post their schools parents & students handbook. I have found that the safety of the children is most important for all of the staff in this school, the safety of those students comes first before anything.
Week Three: Teachers & Knowledge: 
It was a great week! I have finally remembered each and every one of my students names! It has been very interesting to see the different ways students in the Kindergarten learn and understand concepts with the help of their teachers. Because of their young ages, Miss J. is always considerate of the changing needs that her students have in their learning methods and ready to adapt to those needs. Although she consistently follows the curriculum of teaching the alphabet, their sound, and the words they're found in, she has demonstrated that there are many of ways to teach, depending on the differences of her students. The afternoon lesson always starts once all the students come back inside from lunch. Although the afternoon doesn't have a lot of lessons as Miss J. gets through most of them in the morning as she says it's the most effective time for them to learn new concepts and expand on what they have previously learned. She consistently incorporates interactive time for the students to follow along to videos that she calls quiet time right after lunch, students have to option to participate in the videos or sit quietly. After quiet time, Miss J. moves to play time where the students are put into pairs and are assigned a station which they stay at during this time. At the end of this time before recess the students sit on their carpet and read a story. When the students return from recess a new teacher is waiting at the door(which is the phys ed teacher) and takes the students to the mini gym for that class, after this the students go down the hallway to the arts ed room where many of crafts take place. All these teachers do a great job of working together to make sure these students have a pattern or schedule they follow.
Miss J. has set a good example of incorporating different ways of knowing what to expect in her lessons. There is a positive balance between teaching her students and allowing them to learn on their own and with the help of their peers. They are engaged in every activity that is done in the afternoon to independently figure out their own way of completely those given instructions, whether it is puzzles, alphabet, painting, playing with friends or getting ready at the end of the day. It is definitely a very open classroom which celebrates the uniqueness of each student.
Week Four: Inclusive Education-Diversity & Difference: 
Today was a quite an amazing day at Elsie Mironuck School, it was Halloween! When I first arrived to the school this afternoon I had the privilege of seeing the school yard full of students in Halloween costumes. I walked into the classroom and each students table had two sugar cookies placed on paper towel that they decorated last week, as well as a glass of orange pop. The kids came running inside from recess and were so excited to see me dressed in a cow costume and my partner in the raggedy Ann costume! Each student sat at their assigned seats and enjoyed snacks from fellow students, teachers and my partner and myself. We then followed with a short Shrek Halloween movie and then danced to the following songs; Ghost Buster and the Monster Mash. We finished the great afternoon by watching Hotel Transylvania 3. I'm so glad I got to be apart of such a special day for those Kindergartens!
Elsie Mironuck School has around 600 students, there are many evident forms of diversity within each classroom and the school as a whole. I have not been able to participate in any big assemblies or other practices in which the school honors these forms of diversity directly; however, it is clear that the school is aware or the diversity among their students on a daily basis. Student ethnicity ranges from Eastern Asia, Western Asia, Caucasian, Aboriginal and South American, with students with behavioral disorders within the classrooms in the school. The various socioeconomic and behavioral backgrounds of the certain students within my kindergarten class is very obvious, but my cooperating teacher and her EA do a great job to keep those students on task and to keep up with the other students. I think it's great that this school does an inclusive setting, it's great for all students. From what I've seen working the school gender diversity is not visible within the school as can be expected in early education, with the teachers I have seen walking around the school I do not believe I've seen a single male teacher in the school. My cooperating teacher does a great job within the classroom to honor the world views of the students families while promoting a healthy lifestyle and as in depth of an education as is possible within the environment.
Week Five: Inclusive Education-Diversity & Difference: 
Today was a great day at the Elsie Mironuck School, my partner and I got to participate in a school assembly. Their assemblies are much different than mine were in school, they choose one word to focus on for one month within their school this months word happened to be responsibility & self-control. Each home room teacher picks one student to receive a certificate from their room, that student gets a prize. This was very interesting to see and they then pick a new word to focus on for next month the schools new word is honesty! I think it's great they have a new focus each month and they reward those students who show they are improving those skills on those certain words. As well I found it interesting that the parents of those students who were receiving those awards were asked to attend the assembly as well.
Throughout the school, there are many evident forms of diversity in race, ability, and social status; it is very encouraging to see the different supports that are set up in the school and community for these forms of diversity. The school is evidently very inclusive as they celebrate other ways of knowing) and make aware of the common problems that occur in our society. I was also able to easily see the differences in abilities of many students; however, it was inspiring to see the able-bodied students give extra attention to the disabled students to ensure that they felt loved and welcomed at all times. There are excellent teacher helpers for students who need extra care in focusing their attention, learning the material in different ways, and completing their homework on time. It has been very encouraging to witness the sincerity and love that a child can offer.
Week Six: Curriculum & Instruction:
It has been very interesting to see the dynamics of the Kindergarten class because of the very different look that it has from a "normal" classroom routine. Although there is a daily routine that the young students are expected to follow, there is a lot of room for a change of structure, depending on the needs and learning style of the students. Today I had the privilege of attending my school in the morning today and it helps me to better write this weeks post. Each morning begins with the students singing a songs for then followed by a lesson about the star of the weeks name. This is a very constructive time as students learn the skills of of speaking to a group at the right time and listening quietly at the right time. Every morning also begins with a lesson about a book Miss J. Has chosen to read to the class, she picks one student to have a prediction on what they think is going to happen in the book then at the end they see if the prediction was right or not. It is great to see the extent to which the young students have mastered these concepts; they are always so excited to have a chance to predict what is going to happen in the book but even more excited when their prediction is correct. Miss J. incorporates songs to go along with her lessons so that the students have both auditory and oral forms of learning.
As Miss J. transitions into the curriculum-based lesson about different letters, it is great to see how engaged and eager the students are to learn. With each letter, they learn the sound, how it is written, and examples of words that begin with the designated letter. I have seen how useful the actions have been in the young students' learning as I notice them singing the songs about the letters as they play later in the day. It is evident that the students are engaged with what they learn because they are always excited to remember past lessons and begin new ones.
Week Seven: The Role of Technology: 
I've seen technology used only a handful of times throughout attending my Kindergarten class. I only see Miss. J. use an overhead projector for the kids to follow along yoga videos. The only other time I have seen the students use a laptop when it is their turn at the specific center, while those students are on the computer, they are too play educational games such as math games, alphabet games or even word games. All of the kids are so smart when it comes to the technology in the class and it amazes me how smart those young talented kids are.
I was so sad for today to be my last day at Elsie Mironuck School, the Kindergartners were also very sad to see me and my partner leave. In fact, all my kids made me huge cards with all their school pictures in as well as their name signed and I'm beyond thankful the class gave me a gift card to Timmies! I am so glad I got to experience all the great things at this school and with all of the great kids, so happy I have been invited back whenever I'd like!