A few weeks ago, when my Prof. Alec Couros suggested to do a podcast on my learning process, all of a sudden I realized I am in for a double challenge. I decided to learn how to play the piano, having no musical background at all AND share my journey in the form of a podcast, a term I wasn't familiar with three weeks ago.
So, when I heard of Anchor, I couldn't wait to learn more about it, with the hope of finding the right tool to share my journey.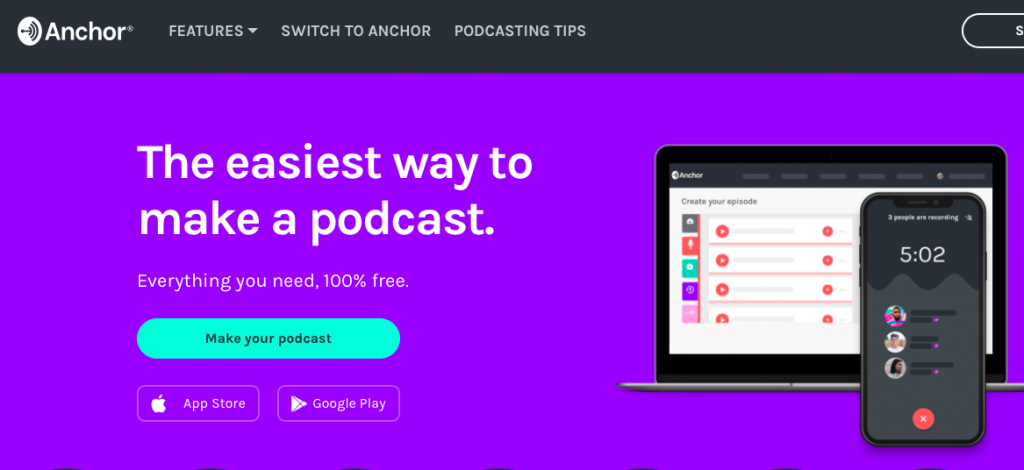 Anchor is a podcasting platform for making and hosting content. There are a number of things I like about Anchor. First of all it is a completely free platform without storage limit, trial period or any form of strings attached. The goal of Anchor is to enable anyone to start a podcast providing different tools and features, as well as automatic or manual distribution.
What is a podcast?
Anchor gives a great explanation of the term "podcast" and its meaning as well as several podcast tutorials that can serve as examples for people who are not familiar with podcasting. It is a tool used to tell a story alone or with a cohost in a creative way that is engaging for the listener. Some hosts invite guests and some share their own experiences. There are more polished podcasts and ones that are more like a hobby. Some podcasters like a more structured, scripted form while others like to leave room for flexibility with a semi-structured, semi-scripted version. It is recommended though, to have an outline for guidance, as well as a few questions in mind to help using the time effectively creating a recording worth of the listeners' time. When it comes to recording, there is an option to import your already existing file created with the help of the phone microphone or create new recording using the creation tools from Anchor. Anchor gives people the opportunity to practice, experiment, and adapt throughout the process. Even after publishing, there is the option to make further changes and editing. 
What is needed in a podcast?
As a beginner podcaster, I found it very useful to know the key elements of a podcast. Anchor provides a checklist of the most important elements of a podcast, such as:
Podcast name that is related to the message
Podcast description
At least one episode (with a title!)
Episode descriptions
Cover art. There is also access to Unsplash, a library of high quality, free photos to help podcasters create a visually pleasing view.
Anchor also provides advice regarding cover art such as using high resolution photos, simple, high contrast imagery, avoiding the use of too much text and/or different colours and fonts. There is also a colour guide regarding the messages colours communicate and a guide to understanding colour theory.
Favourite Features
I really like the idea that as long as the guest or cohost has the Anchor app downloaded, they can record with you from anywhere in the world. Listeners can also phone in and leave a voice message that can be incorporated into later podcasts. Another neat feature is that in need of guests (under cohosts, after entering the topic) there is an option to post a short recording that will help with finding other users interested in the same topic.
Anchor also provides the opportunity to track performance using the analytics dashboard as well as options for monetizing podcast. The Anchor episode builder helps you craft your episodes using a visual list of segments where no editing is required. It can be used to record, add other types of audio (like transitions or voice messages from your listeners), and rearrange the segments. It also provides a variety of sound effects to choose from and background music from Apple Music or Spotify.
Final Product
After reading and experimenting with Anchor, I decided to give it a try. Please enjoy my not so polished reality podcast: A new beginning in the world of music