My classmate, Altan and I agree that as David Wiley stated, "openness is the only means of education" and "if there is no sharing and giving feedback, there is no education". We still believe though that openness and sharing in schools are unfair to our kids for a number of reasons.
When it comes to openness and sharing, our children's privacy can greatly be jeopardized. With our growing immigrant population, we feel that first of all the language barrier needs to be addressed. Schools need to make sure that our families completely understand the media release form that is sent home at the beginning of the school year. With the help of Microsoft Translator, Talking Points etc. schools can provide translations as well as additional examples to make sure parents are aware of what the media release form implies.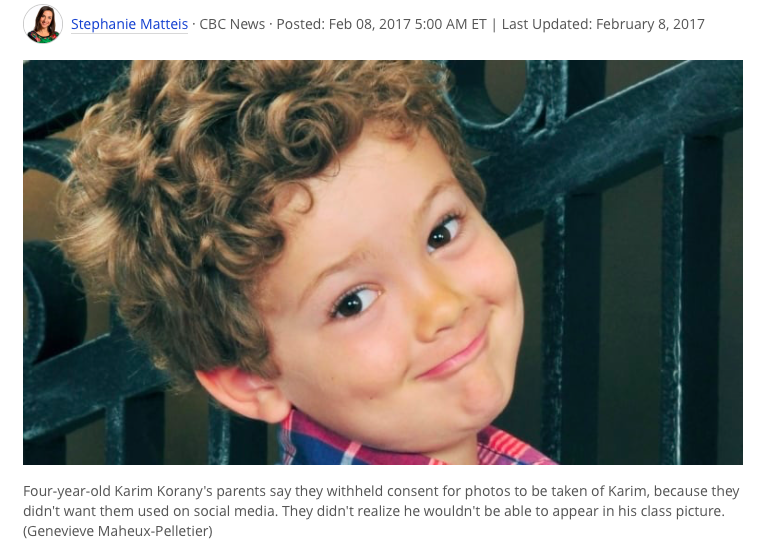 The story of the 4-year-old Karim from Toronto even made us wonder if posting students' pictures on social media should be part of the media release form at all? Karim's parents not wanting their child to have pictures posted on social media decided not to sign the media release form. This resulted of Karim's picture being left out of a school project and he didn't make it to the class picture either. When the case reached the superintendent's office, the parents were told that this is the only way to completely protect Karim's privacy.
As Jessica Baron highlighted in the article Posting about your kids online could damage their future, when it comes to the consent form, we notice a conflict between the parent's freedom to post and a child's right to privacy. Since the pictures posted of children become part of their digital footprint, we believe children should have a say regarding this matter. According to psychologists, "When kids get to their early teens, they have a massive change with hormones, a sense of self-awareness and wanting to form their own identity… If their parents are constantly posting, it's robbing those kids of the opportunity to work out how to express themselves." A 2016 survey conducted by researchers at the University of Michigan found that while children ages 10 to 17 "were really concerned" about the ways their parents shared their lives online, their parents were far less worried. About three times more children than parents thought there should be rules about what parents shared on social media." Parents have to work out what's right for them but be aware that this is another person, another human being, who may not thank them for it in 15 years to come.
Additionally, children's personal data that comes with oversharing can be misused on social media. Much of the time, students and parents are not aware of its adverse impact of openness and sharing when their personal life is exposed to the public. Either their parents' or their own online oversharing could also potentially lead to "online grooming", which "takes place when someone builds an emotional connection with a child in order to gain the child's trust for sexual exploitation or abuse, or recruitment to terrorist or extremist causes". Sharon Kirkey in the article Do you know where your child's image is? describes the darker side of sharenting. Facebook, Instagram and other social media accounts serve as the perfect place for pedophiles to lift, manipulate and photo-shop children's pictures posted by their parents. According to one Australian study roughly half of images shared on pedophile sites are taken from social media sites. The idea behind the article is not to silence parents, but to help them be aware of the safety concerns. "A recent study of 152,000 reports to Cybertip found 80% of images and videos involving child sexual abuse involved children under 12. The majority was under age 8, and more than 3% involved babies and toddlers."
Another reason why we feel openness and sharing is unfair to our kids is the use of Open Educational Resources. Knowing how to read laterally and finding accurate, quality information in a timely manner can be very stressful. When it comes to showcasing learning, in order to be able to show off their performance, students often fall into the trap of plagiarizing and copyright.
Technology in the classroom has even more of an impact when students can continue their ed tech use at home. However, not all students have the same access to technology due to the lack of Internet access and devices. Those students are more likely to fail to complete their homework because they lack a reliable computer or internet connection at home. The limitations caused by the digital divide often make sharing and openness impossible. These barriers cause an 'opportunity gap' that can lead to a negative experience when students are trying to apply for further studies or enter the work force.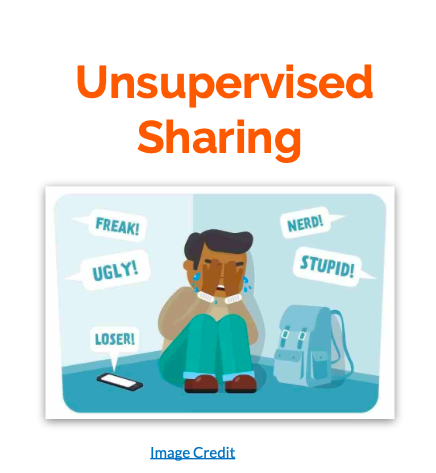 One more issue in terms of openness is the unsupervised sharing in our schools. In many schools, students are allowed to use cell phones during lunch break. The main concern is that this is where cyberbullying, sexting, and sharing pictures/ videos without permission happen. The solution to this problem is not to ban the cell phones and forbid sharing but as our peers Skyler and Alyssa suggested, to bring them in the classrooms and teach our 'digital natives' through examples to be respectful and responsible digital citizens.
Please check out our Wakelet resource collection and our video why we think openness and sharing in schools are unfair to our kids!
Thank you for stopping by! 🙂