Teachers to what extent should play a role in using tech and social media to promote social justice is definitely a controversial topic. Mike and Jacquie representing the Agree side, just as the article Should all educators have a professional social media presence? Yes, underline the importance of educators teaching students about how social media influences learning and modelling its effective use in order to help students become 'enlightened and empowered learners'.
Mike and Jacquie also encourage teachers that instead of being a 'silent participant' they should take the role of a person with perspective when it comes to teaching social justice. Sonia Nieto along with her colleague Patty Bode, define social justice as both a "philosophy and actions that embody treating all people with fairness, respect, dignity, and generosity". She describes four major components of social justice in education:
Challenges, confronts and disrupts misconceptions, untruths and stereotypes.
Provides students with resources needed to their full potential.
Draws on all students talents and strengths.
Promotes critical thinking and supports agency for social change.
After the debate, I feel there is no question wether teachers should teach social justice or not. I agree with Christina that "educators have always had the job to nurture and guide students to become positive leaders in our communities" and the Pro side describing that the educator's job is to "empower students to create their own opinion".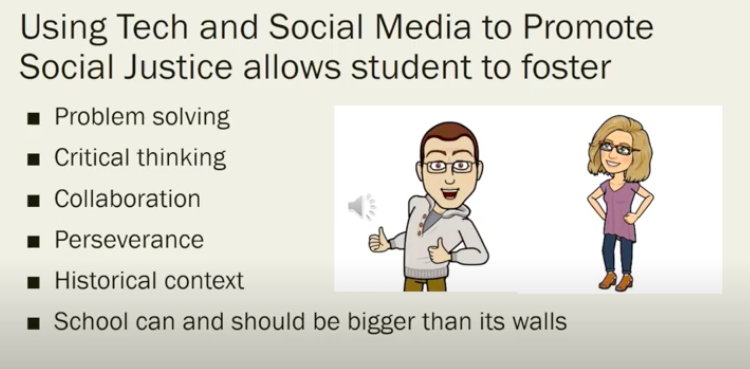 But when it comes to wether or not to use social media to promote social justice, I am more leaning towards the Disagree side represented by Michala and Brad who believe in the importance of teaching social justice, but they also think that educators should be neutral and should use social media wisely.
According to the article Must Teachers be "Neutral"? teachers are encouraged to let students make informed decisions for themselves" otherwise, "rather than think, many students will merely agree with the teacher." Teaching students that there are multiple views and different viewpoints will help raise critical thinkers. I think sharing personal views openly on social media makes people more vulnerable, especially if they contradict the ideology represented by their schools. As Amy mentioned when her school participated in the Pride Day, there was a push back from the parents. Having multicultural schools with various religions and beliefs, schools need to respect the families' cultural background.
At the end of EC&I 830 class based on debates, I think this would be a great way to teach social justice to students. A great example for this is described in the article The power of teacher neutrality, where the teacher instead of correcting the student when he made the statement that a car is a living thing, opened up the conversation to the classroom and made it into a great learning experience. Students had the opportunity for deep thinking, develop debating skills, collect data, refine the definition of living things and practice defending their ideas and beliefs. They ended up making a more detailed description of living things and learnt more about cars as well. By doing research, students can see both sides of each story that helps them be critical thinkers and make their own informed decisions. I wouldn't feel comfortable enforcing my own 'social agenda' on anybody, especially knowing that everything students post will become part of their digital footprint that can be easily twisted haunting them later on in life. Time and place definitely play a big role when it comes to deciding whether or not to stand up for particular social justice issues on social media. Certainly my childhood experience and hearing Altan's story make me be more cautious …
Thank you for reading my last reflection on the current issues in educational technology! 🙂