I am thrilled to be planning a learning project that is specifically for ME. One that is not for a class or my household, but for ME. This class has provided me with an excuse to think about something that I would like to learn, and I have chosen specifically to focus on something outside of the psychological world, which I have been focusing much of my learning energy on the past few years during my master's work.
My project plan is to learn to crochet! This is a project that I have attempted in the past and it has failed. This has also been a project that has been really easy for me to ditch and move on, as I already know how to knit, so it has definitely been the thought of "why would I struggle through this when I could just go start a project when I already speak the lingo?" I have not had a good enough reason to push through and persevere.
For those of you who are wondering, these are the differences between knitting and crochet:
Reasons why this has failed in the past include some adaptations that I need to make in order to learn – the main one being that I am left-handed. This means that it is more challenging/difficult/annoying to learn from a family member. Mainly my mother, who did not get the teaching gene, guys. It gets real frustrating real freaking fast and then it's like "is this worth it?"
With that said, in my current pregnant state, I feel limited as to what I am able to try out in my learning project. If I was more able-bodied and less achy/stretched out/exhausted I might take on a new workout program or try running again for the first time in a long time, maybe use a new app to track my progress and build a plan? Anyways, that is not happening, so crochet it is! I can easily take on the brain work, while cooking this pineapple-sized fetus to term.
For inspiration, I have been taking to a website that I should have mentioned in my social media usage blog post which I use often: Pinterest! I have linked my page which I save many of my craft ideas to if you want to see what I'm dreaming up.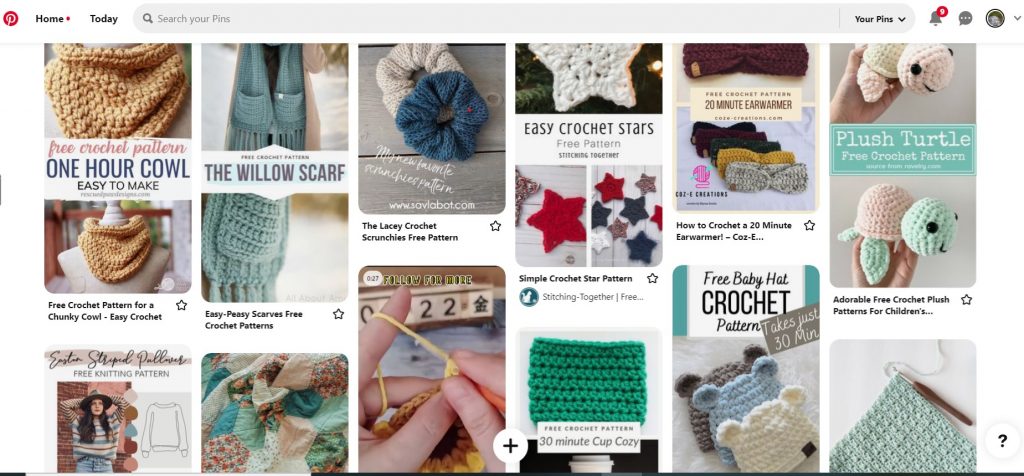 For those of you that care to know, I typically gravitate more to chunky knits, scarves, cowls and hats. However, I am open to trying some different patterns and providing some updates on whatever patterns/tutorials I am trying out.
My main goals are to use online tutorials to get going with my crochet skills. I found when I was learning to knit that there were many helpful tutorials for knitting for left-handed people. I am hopeful I will be able to find some left-handed focused tutorial videos on youtube and instagram. I will post once I have found some promising and helpful accounts.
I will also use my mother as a resource… but only if I really need to. Because like I said… teaching gene…. must have been recessive…
A second goal I have during this project is to use some new video recording techniques and tools to film my progress. On instagram, many knitting accounts that I follow have these cool progress videos where they are fast-forwarded as they work through a project. It looks so cool!
Thanks for reading! Hope you enjoy as I embark on this obstetrician approved, pregnancy friendly, learning project.