According to my understanding, Assistive Technology (AT) is any piece of technology that helps a student with or without a disability to increase or maintain his/her level of functioning. These include laptops with specialized programs, like speech-to-text, text-to-speech, graphic organizers, and word prediction software. "Assistive technology enables people to live healthy, productive, independent, and dignified lives, and to participate in education, the labour market, and civic life. Assistive technology reduces the need for formal health and support services, long-term care, and the work of caregivers. Without assistive technology, people are often excluded, isolated, and locked into poverty, thereby increasing the impact of disease and disability on a person, their family, and society."
My experiences with Assistive Technology
Assistive technology refers to the devices and services that are used to increase, maintain, or improve the capabilities of a student with a disability (Dell, Newton, & Petroff, 2012). While the phrase assistive technology may make us think of computers and computerized devices, assistive technology can also be very low-tech. For example, pencil grips (the molded plastic grips that slip over a pencil) are considered assistive technology. When I was teaching in my home country, India; in my classes, there were a few kids who were not having proper pencil grip and needed assistance in writing. So, to provide them assistance, pencil gripers were given so that they can write in format. Assistive technology helps in two ways: it can help the student learn how to complete the task and it can help to bypass an area of difficulty. For example, when a student decides to listen to a digital version of a book, they are bypassing an area of difficulty. However, if the student focuses on the computer screen as highlighted words are read aloud, they can learn unfamiliar words.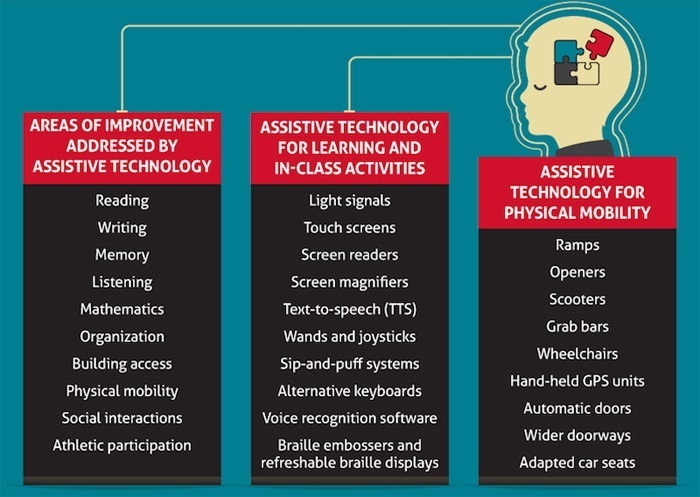 One of the tools that I would like to use in the future with my students will be:
Text-To-Speech Assistive Tools
As an assistive technology, text-to-speech (TTS) software is designed to help children who have difficulties reading standard print. Common print disabilities can include blindness, dyslexia, any type of visual impairment, learning disability, or other physical condition that impedes the ability to read. However, other students can benefit from TTS technology, such as children that have autism, attention deficit hyperactivity disorder (ADHD), or an intellectual disability. The technology works by scanning and then reading the words to the student in a synthesized voice, using a large number of speech sounds that make up words in any given context. With the advances in speech synthesis, TTS technology is more accurate and lifelike than ever.
Challenges and Limitations
AT is not a magic solution and its use may end in disappointment if too much emphasis is put on technology and not enough on how the pupil is likely to react to it, or whether it will work in the busy school environment. The use of AT sometimes ends with unrealized expectations and disappointment. It is important to try to avoid this, as it usually results in an added setback for the pupil and parents, as well as a waste of time and resources. This situation usually arises when too much emphasis is put on technology as a solution, and when not enough consideration is given to how the technology will work in the busy school environment, or how the pupil is likely to react to it. These issues are further examined in the 'Factors to Consider' section.
Assistive technology may be limited in use because:
it is only one of a range of options needed to help pupils expand their potential
some high-tech AT requires a lot of learning that may be outside the cognitive or physical endurance abilities of the pupil
some solutions are achievable by more simple, inexpensive low-tech devices, or other strategies
pupils may not 'buy-in' to assistive technology if it emphasizes their disability
electronic communication devices will not allow pupils to engage in the normal flow of communication
specialists don't always know best. Parents' and teachers' intuitive knowledge is sometimes equally valid but given less weight than the 'experts' judgments
there is no 'final solution'. Pupils' circumstances and needs are always changing. New products come on the market and technical advances may necessitate constant re-appraisal
some ATs are very expensive
When is AT appropriate?
If assistive technology helps to achieve any of the following, it may be considered an appropriate provision:
enables the pupil to overcome some of the limitations set by his or her disability
enables the pupil to reach a higher standard, fluency, or achievement than could be achieved through non-technical means
provides a means of social interaction and access to information
allows access to learning that could not otherwise be achieved
increases and allows concentration on the task rather than on the mechanics of doing it.
supports participation by helping to create a least restrictive educational environment.
Thanks
Gunpreesh 🙂