Before this class, I have never tried or even thought about Coding and Makerspaces. It is something new to me, even though my brothers are engineers and I did Informatics Practices in high school but never thought of learning or exploring Coding. I have always thought that it's one of the difficult areas of learning and need the expertise to do it. However, Gilles, Kirsten, and Meenu shared a great presentation and methods to start with coding or makerspaces. They have used an innovative approach to build interest in this topic. While exploring the topic, I came across many lesson plans that can be incorporated into the curriculum for teaching Coding to students. Even though I have never taught Coding to my students but in our Country Coding and maker spaces have become very popular and many private companies have started short-term courses related to it.
Technology within education continues to expand as the demand and interest levels of students and prospective students steadily increase. Within various educational environments, the concepts evolving around STEAM, Robots, Codes, and Maker's Spaces are integrated into the curriculum as a means of technical exposure, proactive training, and differentiated instruction. Present day, students are at an advantage, given that these concepts are already built within the curriculum. Children as young as 3 years old are introduced to the basic concepts of technology education within preschool classrooms. Each year, the concepts grow from hands-on, device-free STEAM experiences too much more complex, technical instruction involving new and innovative technical equipment and software programs.
Coding makes math more fun and engaging
Over the years, the belief has been that kids interested in coding should develop strong math skills. However, it turns out the reverse may also be true: coding can help children build math skills and make learning math more engaging and fun. Math and coding are deeply related. Teaching kids how to code involves applying math concepts. Your kids will acquire these mathematical skills and abilities without even noticing them and while having fun. When your kids participate in any coding competition, they apply principles that belong to mathematics and develop strong mathematical thinking that will help them in many areas of their academic and personal life.
Coding promotes learning by doing
Children learn best through doing and exploring. Learning by doing refers to a theory of education expounded by American philosopher John Dewey. It's a hands-on approach to learning where students interact with their environment to adapt and learn. ​​Learning by doing is the idea that we learn more when we actually "do" the activity. For example, imagine a kid learning to play a game. With the learning-by-doing approach, the kid would understand the app they are using to play the game. Later, they begin to discover more about the movement of objects, points they can earn, and so on. It involves active engagement, not a passive practice. Active engagement facilitates kids with deep learning and encourages mistakes, noticing wrong movements, and how to learn from those.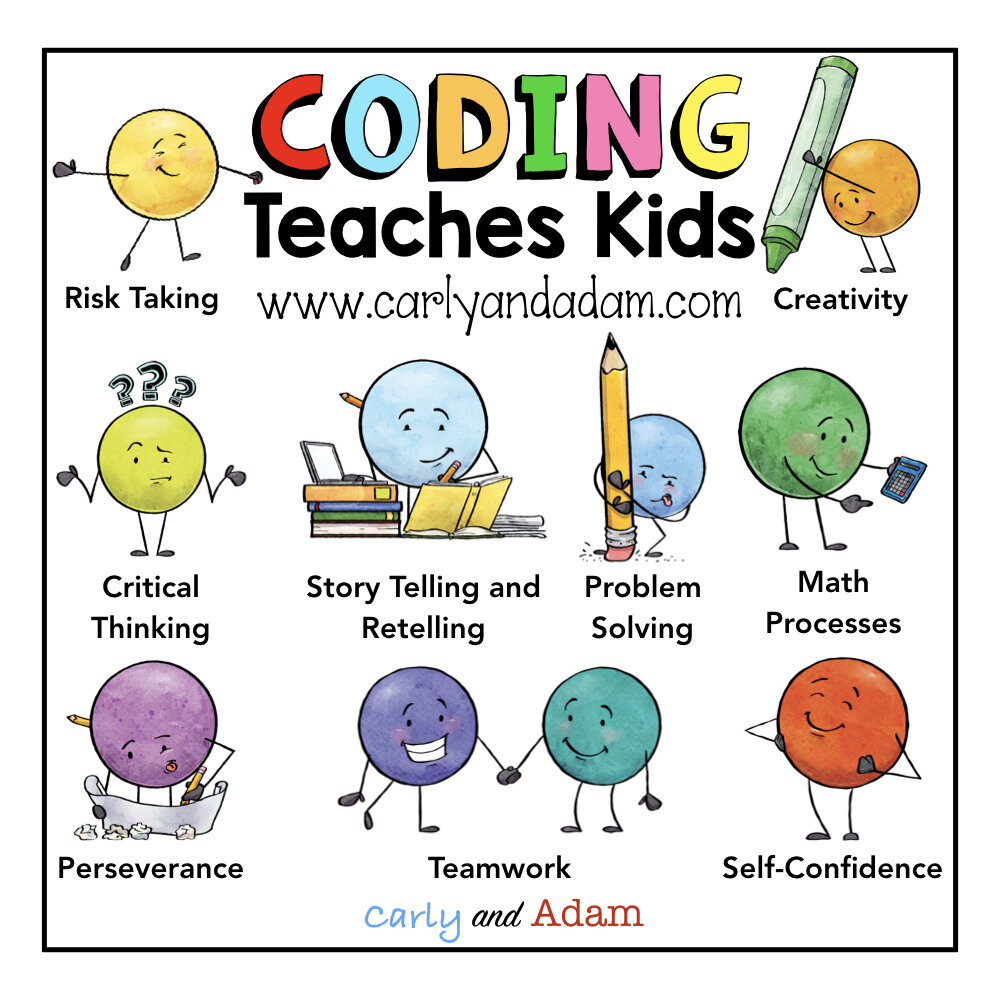 Time to introduce your kids to coding!
To get your child interested, show them what coding allows them to make. Coding will enable them to do anything, starting from creating games and apps, to designing animations, and much more. And, of course, it's fun! Even if your child wants to do something outside of computer science when they grow up, their coding skills will prove helpful across fields—coding teaches problem-solving, organization, math, storytelling, designing, and more. Most importantly, the ability to code transforms kids from passive consumers into innovative creators, with eyes that see every piece of technology as more than just a toy but as a problem to solve and an opportunity to create.
Coding is a fundamental computational thinking skill of the modern world. As technology continues to be integrated into our everyday lives, it is important as educators to provide opportunities for students to be innovative and create, and not just consume, technology. Coding is an employable skill that teaches students to solve problems, take risks, and think critically and logically while being empowered to fail in a safe environment. These skills are vital in all curricular areas as well as Learning Skills and Work Habits. Coding empowers students to be content creators rather than just content consumers.
Thanks
Gunpreesh 🙂