Compared to my last attempt at the Lakeview par 3 this time I found it much more enjoyable. It defiantly helps that I went in with a more positive attitude. I tried to utilize the skills I mentioned in last weeks post: How to excel at a sport without practicing it. I found doing proper breathing and positive self talk helped a lot with my overall success on this round. I also tried to do some stretching, however I only did a little cause there was a lot of people and I am shy. One highlight from the round of golf was I got a birdie on the second hole!!!!!!!! It was completely by fluke but I'll take it. Unfortunately the downside was we went during the heat wave, golfing in 31 degree weather is not a good idea. By the last 3 holes I didn't even care anymore I was so tired, hot and sweaty that I could feel myself giving up. I defiantly got a sunburn, but overall I was pretty proud of myself by the end. My final score was 102 and my boyfriends final score was 91 (he said he wasn't on top of his game that day).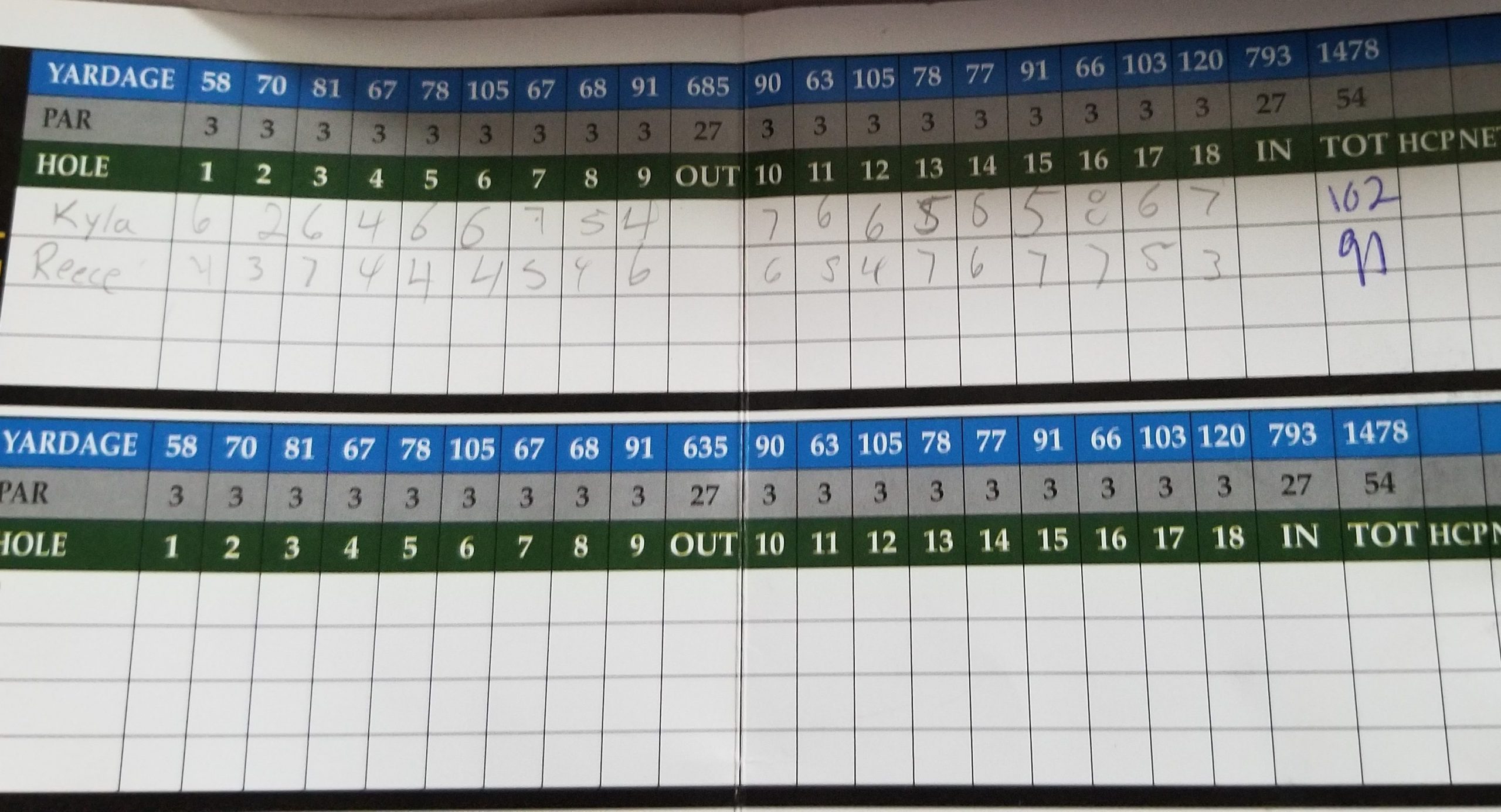 ---
Golf Fact: A par 3 means that it should technically only take you 3 shots to get it in the hole, a full par 3 is scored at a total of 54 shots (regular golf courses may have a mix of par 5, par 7 etc.) 
---
Moving forward with #learningproject I feel I should hit up the driving range a few more times. I feel pretty confident about chipping and putting but I still feel like I could practice my driver a few more times. I feel as if I do not have a strong enough upper body to hit the ball very far. I guess that means I should be doing a few more pushups here and there. This Friday me and a few of my friends from work are going to the Green Acres Golf Course (my boyfriend told me it was probably the easiest one close to Regina) to play a round of golf, hangout and just have a good time. This will be my first time playing golf on a "real" course or as I like to call it an adult course. Even though green acres is only 9 holes (rather than 18 holes) that will still keep us plenty busy for a few hours. On their website they say the average time it takes to complete each hole is about 16 minutes, so we will see about that. I'm super excited to get out and have a good time with some new friends. Who knows if I never choose golf for my #learningproject maybe this opportunity wouldn't have came up. Stay tuned next week and I'll let you know how me and the girls make out on a "real" course, wish me luck!