Debate #1 – Technology in the classroom enhances learning
Debate #1 – Technology in the classroom enhances learning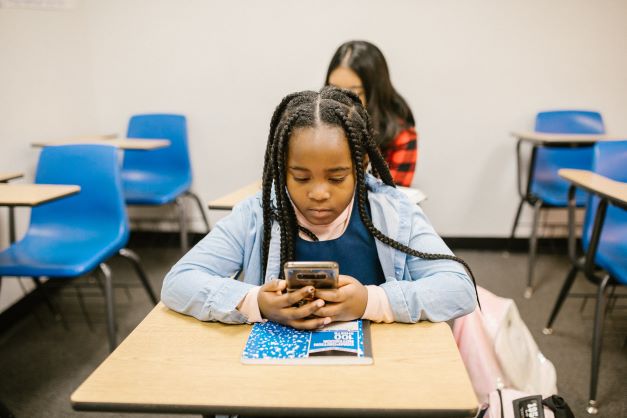 The pre-vote for this topic took me about 1.5 seconds. I was 100% team agree.
After listening to Nicole and Daryl defend their argument from the disagree viewpoint, however, I definitely questioned my rigid beliefs on this topic. I thought more about what the word "enhances" means. Naturally (at least to me), this led me to a few dictionary definitions of the word. Merriam-Webster defines it as to increase or improve in value, quality, desirability, or attractiveness. Dictionary.com defines it as to raise to a higher degree; intensify; magnify. At the risk of being too cliché with the inclusion of definitions, I will say that I do think the accurate meaning of the word, in this case, matters. The assignment was to either agree with or disagree with the statement "technology in the classroom enhances learning". Perhaps I'm way off base, but I wonder if it was tempting for the disagree side to mold their main argument from "technology in the classroom does not enhance learning" to "technology in the classroom reduces learning". I struggled with this concept in my own debate topic in which I was on the disagree side. My group's goal was to defend the disagree perspective for "technology has led to a more equitable society". I had a hard time remembering that the disagree perspective was "technology has not led to a more equitable society" and not "technology has led to a more INequitable society". I think that for those arguing the disagree sides of some of these statements, it's most challenging to stay in your lane, so to speak, and make sure the correct viewpoint is being addressed and argued.
ANYway, that was a bit of a tangent.
As some of the articles for this debate topic argue, technology has made great advancements in the world of healthcare and medicine. I don't necessarily agree that this argument is as relevant when discussing how technology enhances learning in the classroom. Healthcare professionals using technology to streamline and increase accuracy and effectiveness in medical procedures is different than students using technology as a means of enhancing learning. I would argue that there are fewer negative aspects of medical digital technology. I think that without the ability to scan and see what's happening inside the human body, society would suffer significantly more. However, our students, who may one day fill the roles of nurses and doctors, are still young people. Their brains and bodies are changing and developing in a much different way than adults, and this affects the consequences of digital technology on the user. How can students learn self-control, such as not scrolling TikTok when they should be listening to a math lesson, if they are never challenged to? How can they practice moderation and experience its benefits for their whole person if they have few opportunities to escape it? What is it about the learning that technology provides that makes it more important than the learning that only takes place in the offline world (face-to-face social skills, experiencing tough emotions and having to just sit with them and not be distracted, resisting temptation, being bored)? These are all part of the human experience no matter how much technology we have. But what about our collective well-being as a society? Our mental (and physical) wellness? It is all very complex.
The virtual tools and platforms that technology affords creates opportunities that would be otherwise impossible for students to experience in the classroom (virtual field trips, simulations, models, etc.). It provides digital access to what is difficult to get your hands on in the "real" world. It's pretty tricky to plant a garden and study seed growth when, in most Saskatchewan schools, students are not in the classroom for two months of the growing season. Or maybe you can't find the math manipulatives in your school because another colleague is hiding them in their classroom. Virtual manipulatives are a reasonable, and sometimes better, substitute.
On the other hand, do the ease of the technological substitutes enable a form of laziness in us? Do we settle for the digital tool because it is "close enough" to the real thing? Do tech substitutes steer us away from seeking out real-life, tangible experiences that we can experience with all of our senses?
At a very basic level, we are living beings with brains and minds and the innate desire for human connection. Is that need filled by "connecting" through a screen? Or is physical touch, seeing someone in the flesh, hearing them in person and not through a speaker, truly what humans are "wired" for?
As you can see, I have a lot of questions. And questions about questions. Ultimately, where I stand now is: when used skillfully and meaningfully, technology enhances learning in the classroom. But it is not always used this way. So, like many of my peers, I find myself somewhere in the middle, not entirely confident to agree or disagree.