"Nothing worth doing is ever easy"
"Nothing worth doing is ever easy"
Welp, I did it. I completed step one of my learning plan. That is, I retrieved the sewing machine from its home in the corner of the closet.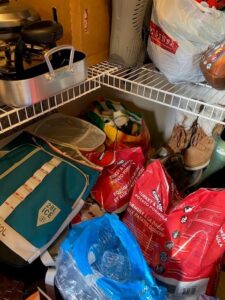 And then, I took it one step further – I took the machine out of the box.
That's enough for one day. But seriously, just doing this helped me to solidify a better plan. Because until I opened the box, I really had no idea what I was working with. So, here is my plan!
I will research online if I am able to find and purchase the materials/pieces I need to use the make and model of this machine. If not, I may have to take this learning project in a different direction, but fingers crossed it is possible.
I will read the manual with the machine in front of me and order/collect any parts/materials I'll need.
I will search for video tutorials to help me get started with the basics. I anticipate that even after reading the instruction manual, I'll need a video visual. The lingo will probably be way over my head. Bobbin? Spool?
Practice different stitches on scrap pieces!
After I am comfortable at step 4, I will look for a simple pattern I can follow to sew… something more than just a square of fabric. I'll also make sure to ask my g-ma for help along the way. I'm sure she'll appreciate me involving her in the process. I think she'll be pretty excited when she finds out that I'm giving this a go.