I would like to start by giving credit to Dr. Paul Clarke for the title. Not that EDL 819 hasn't stuck with me, but this phrase that he used has been applicable so many times since hearing it.
What comes to mind when you think of ethics? For me, the first choice is the culminating event of Billy Madison's academic decathlon where he must outperform is nemesis Eric for control of Madison Hotels.
Obviously, and not just in part to the awesome work done by Amanpreet, Lovepreet, Shirsty, and Dylan, as an educator I need to be well aware of moral, legal, and ethical elements (and consequences) in many different components of the job. With the evolution and inclusion of technology and the use of digital media in the classroom, the world of morals, ethics, and legalities in has become more complex. Sharing student work used to be hanging on the bulletin boards in the school and maybe a picture in the local newspaper. Now, student work can be shared as far as the internet can reach. This accessibility to work and products is not just applicable to students either, and that is what I will focus on here for the next little bit.
Professional v. Personal
My digital footprint in the social media world is limited to Twitter. Yes, there is Instagram and Facebook, and more recently a limited TikTok presence, but Twitter has been there for me for about ten years. What started for me as a personal tool, meant to inform and entertain myself and my "legion" of followers, has had the occasional work/education related content sprinkled in. From a personal standpoint, followers and follows include friends, colleagues, sports, entertainment, news, and personal interest items. From a professional position, I have educators and administrators making regular appearances on my feed. I guess I have focused my professional Twitter feed on areas of interest to me from education – incorporation of ed tech into my brand as a teacher, and leadership. What I see on my feed is there because I have allowed it to be there. I have used my evolving digital and media literacy skills to filter what I allow myself to see.
What am I putting out there though? What does anyone gain by following me though? I think that what I do is filter what I consume and what I retweet or quote gives a perspective of what I am as a person and a professional. My values and beliefs (morals) are reflected in what I create or share via Twitter. EC&I 832 has really gotten me to consider what I am sharing professionally though. A great example of this comes from the article that Dylan posted, Chapter 2: Beware: Be Aware – The Ethical Implications of Teachers Who Use Social Networking Sites (SNSs) to Communicate. When I am using my personal twitter account to share professional related material, specifically student content, have I considered the ethical use of my social networking site? Have I done what I need to do regarding full disclosure, privacy and consent, minimizing risk of students and self, and have I been careful in what I craft when it comes to shaping my own and protecting the students' online identity? Upon further consideration, I definitely need to be more careful.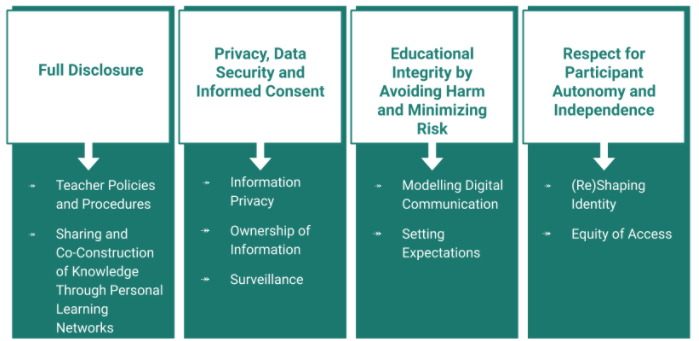 As you can see in some samples of my own postings on Twitter, I have tried to cover faces of students, but left the faces of presenters visible. I had cleared this with my presenters, but am well aware that I had not gone through the proper steps with parents. EEEK!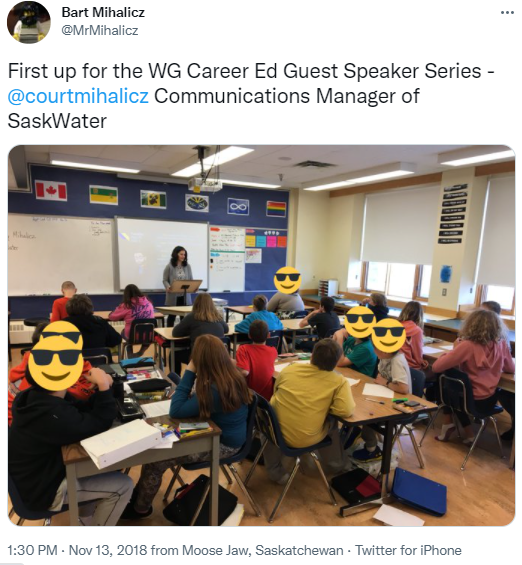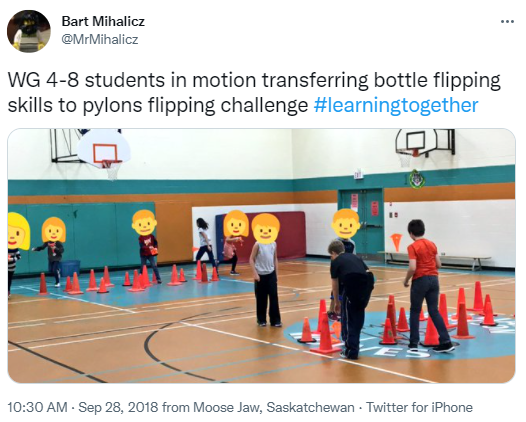 The Real Question – Why?
This question is not raised in response to how to go about ethically and legally using social media to communicate with parents and the public though. I ask this question of myself – why am I using social media to communicate with parents? In my pursuit of career gains, I asked many of those above me, what can I do to be on the radar of those who are in the decision making positions? 17 years in one division, career objectives known, yet why can I not even get in front of those who make the decisions? I was surprised when one common theme kept coming back… "Promote yourself on social media. Share what you're doing on Twitter." I won't say that this floored me, but it definitely made reflect on what I do in schools, how I do it, and perhaps most importantly why I do it.
Don't violate your own code of values and ethics, but don't waste energy trying to make other people violate theirs.

Melody Beattie
Students. They shape the how and why when it comes to the classroom. Right up there with the curriculum. It is not for me, and it never has been. There is a crossover between my teaching and coaching philosophies, and that is that students and athletes are at the centre. As a coach, I am not in it for personal accolades or achievements, it is getting the student-athletes to perform at a level where success as individuals and a team are attainable. As a teacher, I am not for using students and their work or efforts to make personal gains. I may be in the minority with this mindset, but I do not lose sight of who is important. Van Struen adds that, "just because you have the ability, doesn't mean you should use it. By continually reflecting on the goal and ethical implications, teachers will have a strong foundation for the use of SNSs for communication." Anne Lutz Fernandez speaks even louder to me.

What drives your use of social media as a communication tool?