Technology is not my strong suit, and in the past when asked to make a video in class it has always been the most stressful thing I have to do. This week I choose to explore the app/ website 'Animoto' with the hopes that it would make my video creating experience more enjoyable. 
I started by visiting the website and downloading the app onto my iPhone. On both sites I was prompted to long in with Facebook, google, or apple. Logging in with google allowed me to easily sink my app with the website on my computer. Although both were very similar the website gave me an 'education' option whereas the app did not. I was not able to find the difference between and 'education' account and a 'personal' account. 
After signing in I was immediately overwhelmed and watched a quick YouTube video to walk me through the basis of Animoto. Although the video did offer some great tips for the app/website I was still slightly confused and decided to jump right into creating something. 
I started on my phone, and was impressed with the step by step instruction as soon as I clicked a template. However it was confusing on my iPhone to navigate the templates, select pictures, and move items around. I was easily frustrated and before giving up I decided to try the website version of Animoto.
Similar to the app when I selected a template the website offered step by step instruction on what to do next. If used in the classroom this is a benifical step that will assist students in getting started with their creation.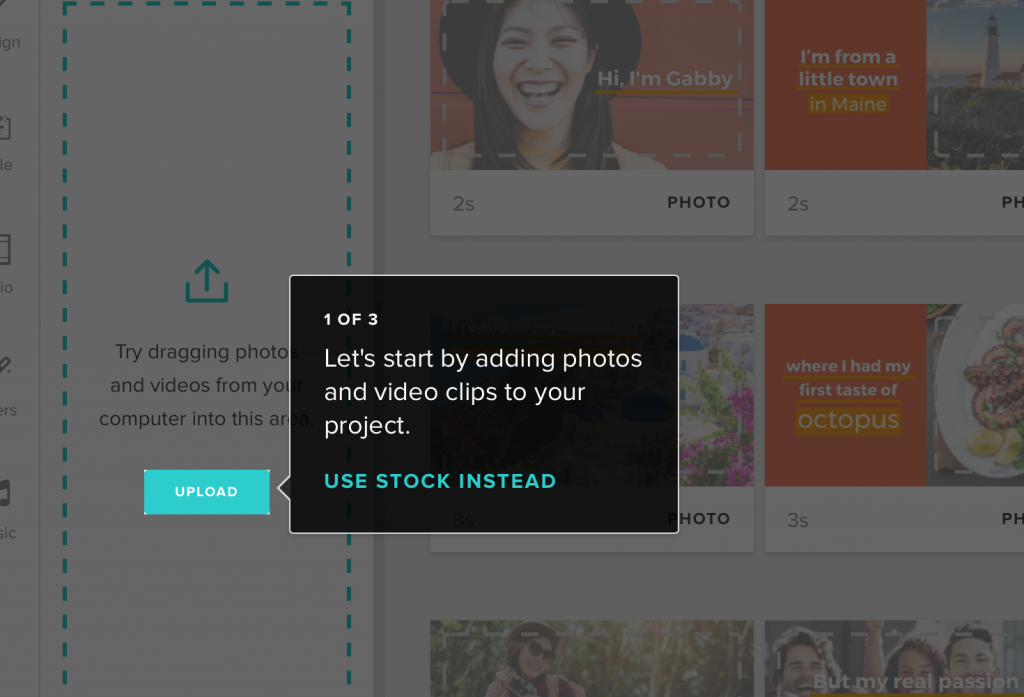 It was much more clear how to navigate through the templates and 'blocks' that are added to create a video on the website. I played around with the app as I created this video of my cat. 
After using Animoto to create a video there are a few things I like and dislike about it. The website is something I would use again however I did not find the app user friendly, maybe with more time it would be better used.
There was a variety of different templates to select from to help structure the video, however the templates could not be altered in the free version. Blocks used to create templates could be added or deleted however the number of pictures per block could not be changed.
Pictures selected could be changed to fill the screen, however it was difficult to move or position the pictures throughout the blocks. I noticed this with the text boxes as well, they were difficult to move or position throughout the block. A watermark is also present with the free version which is important to note in regards to placement of text. Animoto offers aspects like colour, text, and music to personalize videos created which is a beneficial aspect.
Although I found there were not to many aspects that could be done with a free account on Animoto, I found it was a simple way to make a quick video. As there are minimal ways to personalize the videos created, it would not be beneficial for long video creations in the classroom. However this app could be used by students to create short videos to explain their understanding, or aspects of assignments/ activities done. I hope to explore Animoto more with the hopes to find more useful benefits.