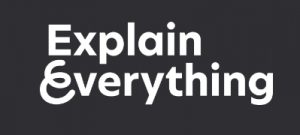 Explain Everything Whiteboard is a digital teaching tool that is available for use on various platforms. The tool allows for real time collaboration with some slick collaboration tools to help keep everyone working in the same whiteboard space. Explain Everything (EE) goes beyond what you might expect in a standard whiteboard app that can insert pictures and drawings. EE lets you take your lessons even further by adding animations and recording your lessons. EE is available to use for free with limited capabilities, however the free version does allow full access to all of the whiteboard and recording tools. There is a 7 or 14 day free trial option available as well, but it does require signing up a payment method. There is even an option to become an Explain Everything expert with three different levels of Certification Courses available.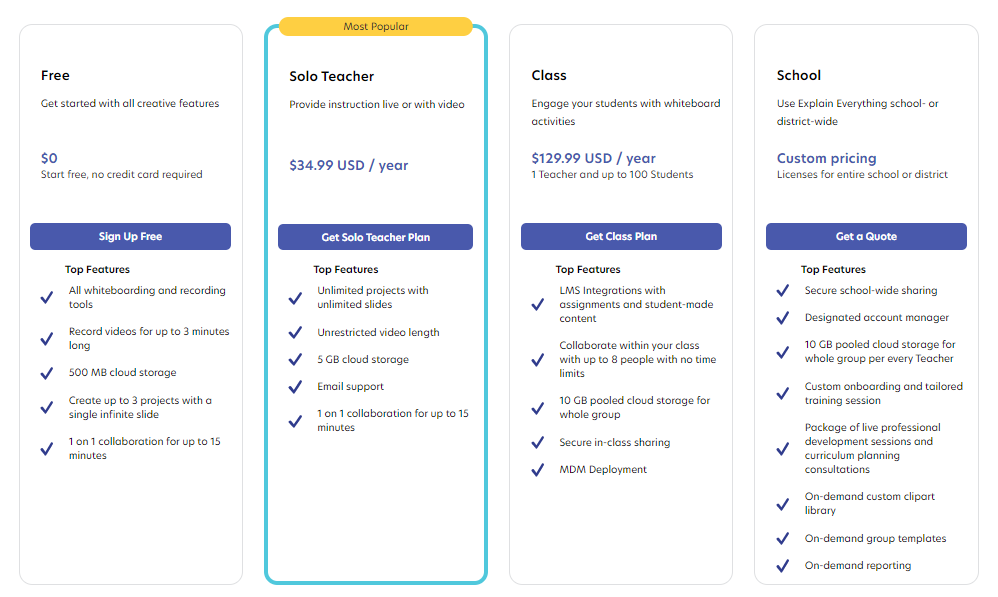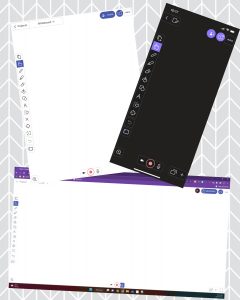 Explain Everything can be downloaded and used on a variety of platforms. While completing this review, I used the free trial version on my laptop, iPhone and iPad. I did have to use an older version of the App on my iPad as my device is too old to run the newest version of EE. I used my school Chromebook to try out the Google Play version of the app. All three platforms work very similarly, however the app seems to run best on touch screen capable devices. So far, only the iOS app has the capability for working with 3D models, and there are some glitches. Hopefully 3D capability will work across all of the apps very soon as there are a lot of fun possibilities there.

LMS integration is available within the class and school plans. While their home page doesn't specify that you can connect your EE account to your Teams classroom, I did discover through playing that there is an option to share presentations directly to Teams from the website app. You can easily create and manage shareable links to presentations within the app. There do seem to be some issues with connecting to other LMS platforms from the app. I did attempt to integrate the Canvas account I recently created to EE, but the process seems beyond my tech abilities and I found it frustrating to not be able to easily connect the two accounts. EE does let you generate links to your presentations, so I was easily able to post them to my Canvas course that way.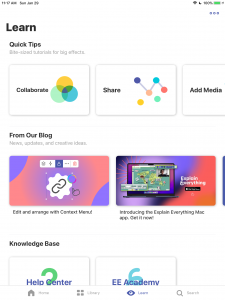 Explain Everything has a ton of resources and tools available to help users get the most out of using the whiteboard app. There seems to be a tutorial, webinar, step by step guide or blog post for everything the app can do. I appreciated that it was so easy to access the knowledge base using each of the apps. There are several step-by-step videos, and the Explain Everything Blog has how-to posts and interesting reads to help users of all levels get more out of the EE app.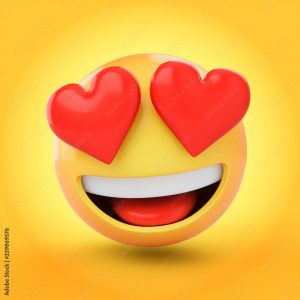 What I love about this app:
When working in a project, you have the option to turn your microphone on to record your voice as you create and record a lesson. The microphone capability within the app also lets you talk to collaborators on a project in real time through the app.
There are three different sharing options, Open Collaboration, Presentation, and Interactive Broadcast. In open collaboration, the host has the ability to have all collaborators follow their activities in real time to see what they see. For instance, if the host zooms in, or pans the board in any direction, or moves to a different slide in the project, the same thing happens on collaborators screens. While collaborators do have the option to unfollow the host, the host can make users come back to following them at any time and turn on/off the interface controls for collaborators. The host can also transfer host and following privileges to other collaborators.
The iPhone app has a practice option with challenges & rewards that teach you how to use the app. Completing the training challenges unlocks new templates, which is super fun if you enjoy getting stars and earning free things (What teacher doesn't?). The challenges are quick and simple to complete, build upon each other, and teach you how to use the app in a fun and interactive way.
THE PEN MARKS MOVE WITH THE FORM/IMAGE – this is a big deal for me. If you're working on annotating a worksheet or image in a whiteboard app, there is nothing more frustrating to me than when you need to move the image and the pen marks don't go with it. I love that this app automatically groups pen marks to the image they are layered with. On the flip of that, it is just as easy to move the pen marks or image away from each other when you want to.
Video editing is embedded within the app. You can record your lesson, make your edits, and then share your lesson all from within EE.
What I didn't love about this app:
It is a little bit overwhelming to know where to start with all of the tools and training options that are available.
The iOS and Google apps seem much more intuitive, and I found them easier to use than the Web App. The Google Play and web version were not able to work with 3D models and the web app couldn't display or interact with equations. This may be frustrating and difficult for users who don't have school devices capable of using the Apple or Google Play apps.
When using the free app, collaborations are limited to 3 minutes of video recording time, collaboration sessions are limited to 15 minutes, and you can only create 3 projects. While the app is still useable in the free version, the limitations certainly push for users to upgrade to the paid version.
Accessing the library of 3D models requires a Sketchfab account. It's simple enough to create one to gain access to the 3D models, I personally just didn't love having to have another account for another thing. I also found it difficult to use the Sketchfab search engine through the EE iPhone app.
EE does provide a warning the first time you access Sketchfab that some inappropriate images or items may appear, despite efforts to filter them. This does appear to be a problem as I found a model of male genitalia would come up each time I went into the 3D model bank. Thankfully, this only shows up for the person searching, and doesn't show up in recordings or presentations.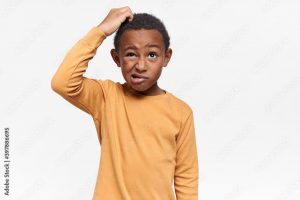 I have tried a few free whiteboard apps since the pandemic began, and always found myself giving up on them because they wouldn't do what I wanted them to, or they felt too cumbersome to figure out. For that reason, I chose to try Explain Everything to see if it was any different. I was very skeptical about the app to start with, but as I took the time to sit down with Explain Everything and really dive into its features, I was pleasantly surprised and even excited about what it can do.
While exploring EE, I have found myself proclaiming, 'What?!  Are you serious?! That's so cool!' I've startled the dog out of her naps several times.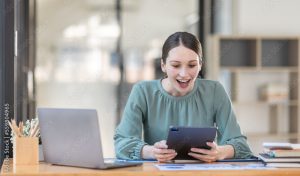 She's quit napping nearby; clearly she doesn't get as excited about Ed Tech as I do. In my opinion, Explain Everything has what it takes to be a very effective teaching tool for teachers instructing in online and blended environments. The app does take some time to learn initially, but once you dive in, the possibilities of what can be done seem endless. This blog post on Gamification in the ELA classroom provided some great information about what EE can do. I know I will be using EE in the creation of content for my course prototype, and I can see several applications for it within my day-to-day work and teaching as well.