Final Network Learning Post:
Reflecting on my semester I was very appreciative to be surrounded by such beneficial peers to my learning process and growing in the professional technology field. Here in this post I'll be going over some of my contributions and interactions throughout the semester in EDTC 300.
Blogging:
My blogging contribution was beneficial as it was very interesting to see all the progress my classmates have made throughout the semester in both their learning projects as well as their weekly blog posts. Especially with topics such as coding and cyber sleuthing, it was nice to see some other perspectives on the topics. I wish I could have contributed more throughout the semester but am happy with the interactions I was able to have during our time together. It was hard to find screenshots regarding sorting my comments but I was able to grab a couple for the post.
Here are a couple screenshots.

Twitter:
Twitter was a great resource to post and see other content in an organized matter. My way of optimizing my use of the platform was to retweet to fill my feed with valuable posts and resources. It was definitely nice to be able to create the proper environment to grow my resources as a pre-service teacher.
Here are a couple screenshots.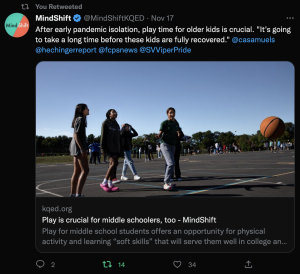 Class:
My class time was great for interactions with my peers as through breakout rooms and group conversations I was able to further my prospectives on the concepts we were able to cover this semester. I'm thankful to be surrounded around so many great peers this semester and wish everyone the best moving forward!