The Long Haul
The Long Haul
After a bit of a break, I finally began work on my DMC piece! If you want to see that pattern you can check out my first blog post on it here! It's a free, galaxy-themed, completely written pattern, which is completely new to me. At first, I was really nervous about venturing into the world of written patterns, as I'm very much a visual learner. However, after downloading the pattern I realized it's actually really not that hard to follow. The pattern basically just has arrows pointing to different sections with different labels. The labels tell you what stitch to do, what colour, and how many threads. It's a very visual pattern still, which I wasn't expecting. Each label included a picture of the stitch so it's easy to refresh your memory while working.
DMC actually has a lot of free patterns for all sorts of crafts! There are a lot of crochet and knitting patterns and a countless amount of embroidery and cross-stitch patterns. They even have punch-needling patterns! There are so many that would be fun crafts for a classroom as well, and each pattern offers you an opportunity to buy the exact supplies. I like that since it's free, I can download the patterns and see how difficult they are without paying for them. If you're looking for free craft patterns at any difficulty I would definitely check out DMC!
When I printed the pattern I didn't really think about how big a piece of paper was compared to my hoop. The piece ended up being pretty big and to complete it, I have to undo my hoop and move it to each section. You can see how big it is when I traced it. This is a unique challenge but it's not too difficult. The downside is that I have to have more fabric hanging off the edges and every time I rehoop it, I have to try and get the same tension. Getting it on the fabric was actually one of the most difficult parts. I had to trace it over my window, and keeping the fabric on the lines properly was very difficult. In the end, it worked pretty well, just with slightly blurry lines.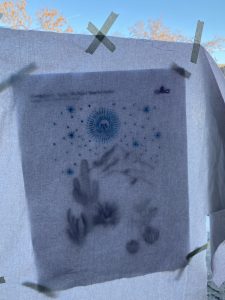 I'm a pretty impatient person, so this piece has been a struggle for me. Even though the stitches are easy, the details are very small and the piece is very big. The mountains alone took me 2 episodes of The Mole (a fantastic show btw). I also ran out of black string pretty quickly, so don't be surprised when it looks nothing like the reference image haha. Overall, I think this pattern has been great practice for me regarding accuracy with my lines. Usually, I'm pretty all over the place, but this time it hasn't been too bad!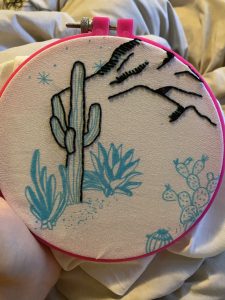 During the reading week, I really want to finish this piece and potentially work on creating a gallery wall to show off all the pieces I've done! No promises though, since every time I say I'll do something I seem to not get it finished. I want to find a way to show off all my hard work at some point though! See you next week with hopefully a new complete piece.