Re-igniting My Embroidery Passions
Re-igniting My Embroidery Passions
It's time to be brutally honest with you all. These past few weeks of attempting embroidery have been very difficult for me, and I've really lost a lot of my drive to finish my projects. One issue I was having was that following the patterns was getting very boring for me, and I felt like I wasn't able to be creative. I've always had a hard time staying focused on projects for a long time, and this was becoming a major issue for me with embroidery. The time it takes to complete a small project is around 10+ hours depending on how many different stitches are used. By the time I got half done I was so bored and tired of staring at the same thing that I couldn't bring myself to work on. So this week I decided to try something new.
Instead of working on my dessert piece from last week, I decided to take a break and try something more creative. I headed over to Pinterest and started looking at all sorts of embroidery pieces to try and find something to spark some interest. I found that Pinterest was really amazing for curating ideas and finding inspiration, and since I had a basic understanding of most stitches, I didn't need tutorials for each. I found it hard to find posts that had instructions (plenty of links to blogs but no instructions on Pinterest itself) so I wouldn't recommend it for learning how to embroider by itself. Some of my favourite pieces I saw included: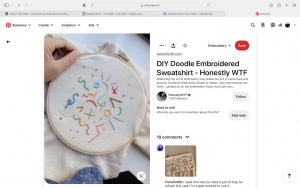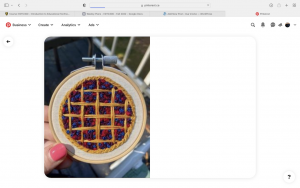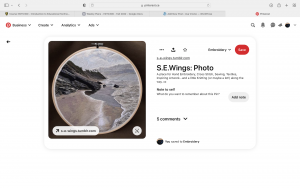 In the end, I decided to try something new and customize my coaching shirt with something similar to the first picture. These were 3 new experiences in one: attempting to embroider on coloured fabric, embroidering on clothes, and using the air-erasable side of my fabric marker. Embroidering on the shirt was difficult at first since I had to be able to access the inside of the shirt. I also had to use the purple, air-erasable side of my pen, and let me tell you, it sure does work! It would start erasing my lines almost immediately, so I wasn't able to draw out the whole design at once. I definitely wouldn't use it for a larger piece.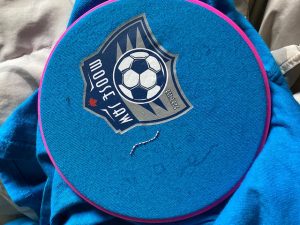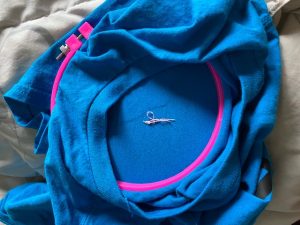 After about 3 hours of work, estimated by the amount of Drive to Survive I was able to binge watch while doing this, I completed the front side of my shirt. I made some designs around the logo and then embroidered around the collar to make it more colourful. This project definitely helped me regain some interest in embroidery, and I think from here on out I'm going to focus on doing smaller projects so my patience doesn't sabotage my work. Here's the final outcome: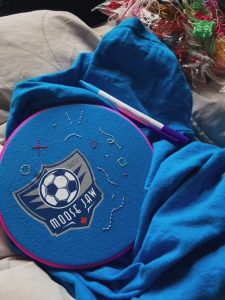 Today (when I find my debit card whoops) I'm going to buy some supplies to complete another, more decorative project I saw on Pinterest, Finally, I've decided to frame some of my complete pieces and make a mural on my wall! This means I need to buy some embroidery hoops to use as frames and some tacks to hang on the wall, so stay tuned for my Michael's haul!