Assessment has always been an area of growth that I want to continue with each school year and I want to incorporate different or new types of assessment so that I am not always falling back to things like quizzes, projects, tests, papers, etc. Although these types of assessment do have a place from time to time, I think students welcome new and improved ways of showing their understanding of particular concepts.
The problem I seem to have repeatedly with this continual growth and incorporation mindset is that at as the school year progresses, I often find it difficult to keep up assessment methods fresh and fall back to the more traditional ways of assessing.  For this reason, I have chosen to look at a content creation tools that center around assessment, in hopes of creating new avenues to assess my students.
What is Quizlet?
In the most basic form, Quizlet is a digital learning tool for students, teachers, and parents.  These tools  include flashcards, study modes and game modes.  The site was created by a highschool sophomore, Andrew Sutherland, in 2005.  He was driven to create Quizlet in preparation for a French assessment; he aced it, and began sharing the program with his friends.  Quizlet's motto is "we believe that anyone can learn anything. All it takes is a tenacious spirit, the right guidance, and the tools to see it through."  According to their website, Quizlet has over 60 million monthly users, 500+ million study sets created, and 2 in 3 US High School students use the website.
Getting Started with Quizlet!
Jill Duffy outlines in her Quizlet Review, that Quizlet is available as a web app, android app, and iOS app for iPhone or iPad.  To get started, users must create an account with an email address, username and password; or by authenticating through Apple, Google or Facebook.  There are other questions such as birthdate, but they are not required and users can include as much info as they feel comfortable doing.  
Once you have your account, you can start creating your own study sets or looking for ones that have already been created.  You are able to add these pre-existing study sets to your files.  To help you organize your study set, users are able to create folders. Users are also able to control which of their created study sets are public.  You are also able to join a class if an educator gives you a link, enabling users to access pre-made course specific study sets created by the creator of the class
How Does Quizlet Work?
Quizlet is an online content creation tool where teachers, students, or parents can input information and create study sets. Once the information or study sets have been inputted, Quizlet takes this information and converts it into flashcards, quizzes and games so that its users can study information using various forms. Teachers, students and parents who decide to use Quizlet as a study tool, have a few options in creating content. Users are able to create their own study set, search for and use study sets that have already been created, save study sets using the folder organizations option and they can share their sets with other users. Creating and editing quizlets is simple and easy. However, users are not able to edit other study sets that they did not create.
In the article Pros & Cons of Using Quizlet in Your Classroom, Bri Stauffer outlines that users have 7 avenues they can engage with content and review study sets of information while using Quizlet:
(1) Flashcards – interactive/online version of the old paper form of flashcards, which are created based upon the study set that users input into Quizlet or a pre-existing set.
(2) Learn – a study mode based upon how well you know the information of a study set.
(3) Write – fill in the blank study mode.
(4) Spell – a study mode that dictates a term or definition to you, that you must copy down correctly.
(5) Test – study mode to quiz yourself on how well you know the information of the study set that you are working with.
(6) Match – a time based game where users need to match terms and definitions.
(7) Gravity – this is a level based game study mode where users must answer correctly before being hit and destroyed by an asteroid.
Pros and Cons to Quizlet
As with any program, website, or app, there will be pros and cons. These will depend entirely on what you are looking for and how you intend to use it. Quizlet is no different, there are some good things and then there are some not so good things.
Quizlet Pros
Bri Stauffer outlines a few different pros to Quizlet in her article Pros & Cons of Using Quizlet in Your Classroom:
Differentiation – Quizlet can help differentiate for students of various levels and abilities. As we all know, each student is unique in the way that they retain knowledge and Quizlet provides 7 different modes that students can work through and find what best fits for their styles.
Collaboration – students are able to use Quizlet with their peers to help create study sets. These options help promote teamwork and responsibility as they work to create content with others.
Assessment Prep – Quizlet provides students with unique opportunities to prepare for assessments. Anyone can create an account, so students and parents do not have to rely on teachers or instructors to be able to access the program. Students are also able to create their own study sets, with their unique spin on concepts which helps them understand what they are learning. With Quizlet being a digital tool, students can access when they want to, how they want to or wherever they want to; if they have proper devices and access to the internet that is.
Jill Duffy also outlines a few different pros to Quizlet through the Quizlet Review she published in 2021:
Ease of use – accessing and engaging with content in Quizlet is easy and free.
Content Options & Mode Variety – Users are able to create their own content, find pre-existing study sets, save and organize and share their study sets. Quizlet also provides 7 different modes that students can utilize.
Language support – a great tool to help learn new components of a new target language such as vocabulary, grammar, pronunciation, etc.
Quizlet Cons
In the same article, Stauffer outlines what she sees as the cons to using Quizlet in your classroom.
Distracted students – while most users will be using the free version, this means that the ads will be popping up frequently. This could become distracting students and take their attention away from their task.
Incorrect Information – with the ease of content creation with Quizlet and the ability to search for pre-existing study sets, students run the risk of relying on information that may be incorrect.
Cheating – dishonest users may take advantage of these study tools and find ways to cheat on homework and assessments. These students will push the boundaries and can be very resourceful in finding information online.
Duffy too, goes on to shed some light on what she sees as Quizlet cons.
Plus membership – all initial users have access to the free version, the cost to upgrade to a plus membership has seen increases in price.
Locked features – some features are locked and only accessible to those with the plus membership.
Memorization – Quizlet is suitable for rote memorization and requires users to problem solve to be able to use it to study and engage with deeper content.
SAMR Integration & Classroom Potential
The article Online Tools for Teaching & Learning outlines how Quizlet fits into the SAMR model of technology integration in classrooms.  This article also outlines that before we integrate or implement new tech into the classroom, educators use the SAMR model as a way of identifying the feasibility of implementing the new piece of tech.  SAMR stands for: Substitution, Augmentation, Modification, and Redefinition.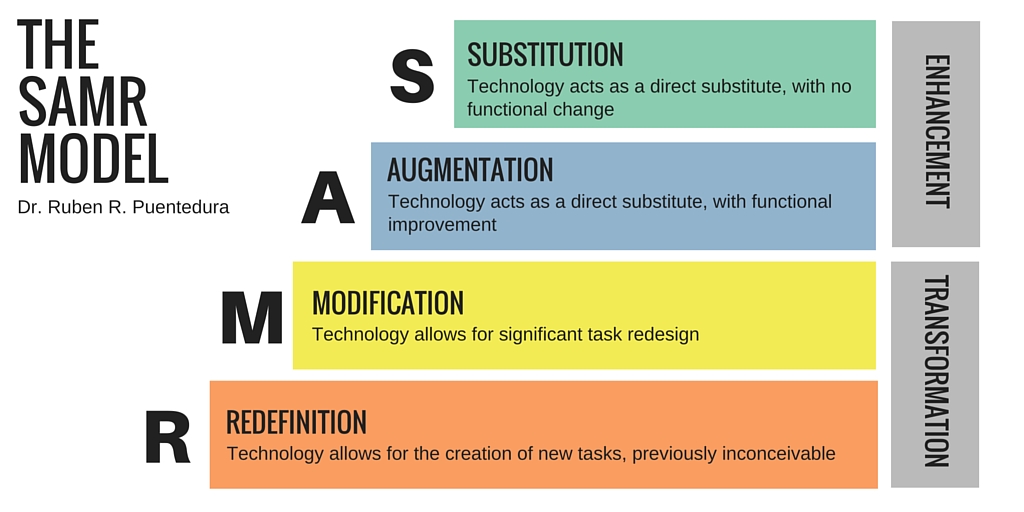 Online Tools for Teaching & Learning article goes on further to identify how Quizlet fits within the SAMR model:
Substitution – students create flashcards through Quizlet instead of on index cards.
Augmentation – students can link images or GIFs to each of their digital flashcards as a memory hook.
Modification – students can add multimedia to all stages of their project, set deadlines, track all activity and work remotely if needed. Teachers can also track all activity that occurs and set deadlines to help reduce time misuse.
Redefinition – both students and teachers can see all activities and see who contributed in what ways and at what times. Students can critically analyze these logs to see where they could have made improvements.
Classroom Potential
In her paper, eTools: Using Quizlet in the Classroom, Kelly Soczka outlines that the beauty of Quizlet is that it can be used in the Face to Face (F2F) classroom setting or any Online/Remote learning models. Quizlet can be used in a number of useful ways in our classrooms as a new and exciting way to not only assess students, but a tool that students can use to help prepare themselves for their assessments. In conjunction with assessment, Quizlet could also be used as an instructional tool in our classrooms as an addition to lessons, projects, etc. Soczka outlines that she sees Quizlet fitting into classrooms 3 different ways:
Interactive Learning Activity (Quizlet Live) – teachers are able to use the Quizlet in a live F2F classroom where teachers can review content in real time with their students, preview new material, or use it as a formative assessment tool. Quizlet Live operates very similarly to Kahoot in the sense that the students join a live game that the teacher has selected or created.
Study Notes/Assessment Preparation/Self Study – users are able to create their own study sets/notes in preparation for assessments. They are able to use their own study sets, as Quizlet allows for randomization in the order it presents the content, which ensures the student grasps concepts vs memorizing the order. Users are also able to share their content they create with their peers. This can also prove to be another excellent avenue for students to prepare for assessments.
Online LMS activity – teachers are now able to upload Quizlets to the LMS for students to access remotely. Users are able to upload and annotate images for free. Once the image is uploaded, users are able to use learn, write, match or live modes to navigate through the information that is embedded into the image.
There are other ways that Quizlet could be utilized in our classrooms, but it may require a little bit of creativity in the sense of how you set up your study sets.  Users could create questions on the flashcards and input the answers as the definition.  This could be utilized in multiple subject areas like Science, Math, Social Studies as a way to check content comprehension and deeper understanding or application of concepts. 
Quizlet would also be a useful tool in language classes and EAL classrooms where its users are tasked with learning new vocabulary, spelling, grammar, and other aspects of the new language.  There is also a text to speech function which would aid users in learning proper pronunciation of the target language.  
Conclusion
If you are looking for a tool that you and your students are able to customize to specific content that you are covering in class and help them understand and review specific terms, then Quizlet could be the tool for you.  If you are looking for a tool that helps your students understand concepts to a deeper level of understanding or application, then you may want to look elsewhere.  I think Quizlet is a great tool for study prep, understanding basic concepts and terminology, but lacks the capabilities for users to show their understanding to a much deeper level.  Although you could program your study sets to accomplish this, the original setup really isn't conducive to that type questioning/assessing.  Quizlet would be a great study prep tool as students can create their own unique study sets and share them with their peers, which would provide numerous opportunities to engage with the same content but from a different perspective. 
Cheers,
Bret