Well, people. It has been a very busy few weeks over here on my end. After some discussions with my obstetrician (baby doctor, for those who don't know), we decided it would be best for me to take some time off of teaching before this baby arrives end of November. It was a decision I agonized over, but ultimately I needed to put my own health and my unborn daughter's health first, as it is getting crazy out there.
So this means a few things for me, the first being that I am very glad I planned my learning project to be skill focused for myself since I am no longer with students everyday; the second is that I am now going to have more time on my hands when I am resting to practice my new fav skill: crochet! (Does it still take me two tries to type the word crochet every single freaking time?! Yes, yes it does.)
Moving on! Week before last I began to choose some specifically left-handed crochet tutorial videos on YouTube (I'll link my playlist I created here), and I found what has become my touchstone for this learning project: Bella Coco Crochet, this lady is from the UK and her videos are just lovely. She moves at a good pace and has nice looking beginner projects for users to work on.
I did some basic tutorials on some stitches just to get a feel for things without trying an actual project first using this video and worked that out for a few days. I included some pictures below.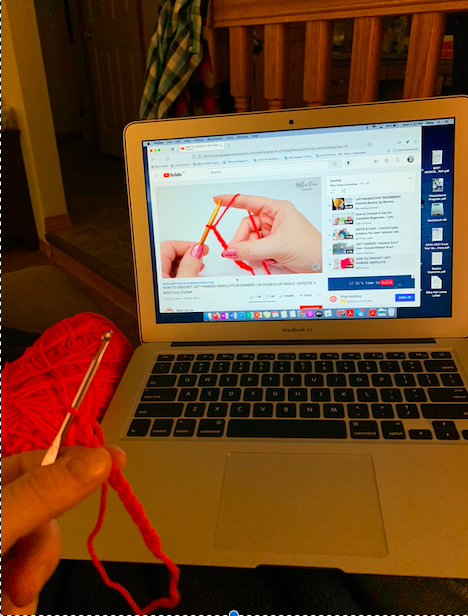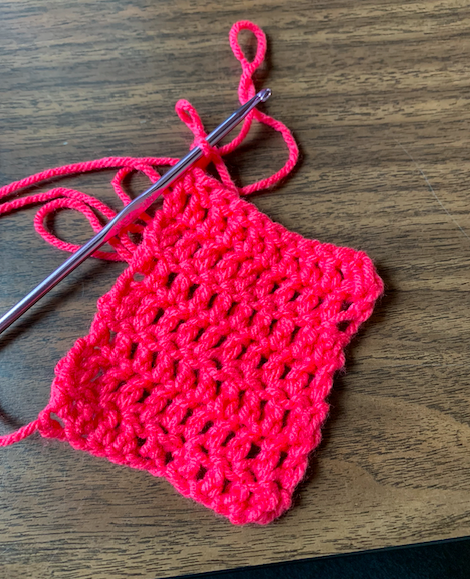 Since my husband is quite technologically savvy, he suggested that I try using an iPhone mount to film my progress during my new projects. We ordered this mount off of Amazon and it works really well, we attached it to a little tripod we already owned and I just set it up on the couch next to my laptop so that I could follow the YouTube tutorial and control my iPhone. Dalton suggested during one of our breakout sessions that I try using the time lapse feature in the camera app on my phone, and it worked really well! Here is my first project video in super-speed form!
Here is a picture of my first completed granny square!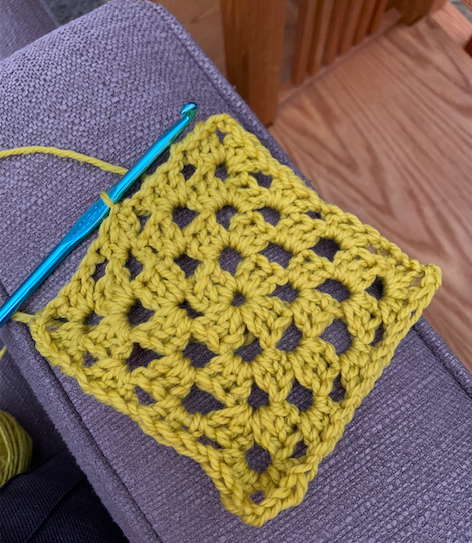 Here are some takeaways about what I learned in this past week (and a bit):
This is very different than knitting – I understand how polarizing these hobbies are more so now and why it hasn't stuck before. Very different skills required!
In order to do a more challenging project, I'll need to refer to right-handed tutorials & patterns, which means I will need to adapt for myself, something I never had to do with other learning. Good perspective!
I could spend hours scrolling Pinterest and Ravelry searching for different patterns (Ravelry is a free membership site where makers from all over the world can post patterns for knitting and crochet, some free and some paid), it leads to choice paralysis, I realized I needed to just pick one video and go with that, as I still lacked many basic skills to do some of the beautiful projects I was pinning to my crafty board.
So that is my recap of the week, it was a full one in and amongst finishing up school. I have made a list of things that I would like to accomplish, so I am very motivated to keep going!