Well it has been quite the two weeks over here. Between Thanksgiving and me beginning my leave, we also had daycare covid cases! Honestly, we've been lucky that there hasn't been anything up to this point closely affecting our family. But yowza, does it freak a parent right out to have your child be possibly exposed to anything. So my little guy was home with me last week, which made it challenging to do much in the way of work on my learning project, however, I also found that having my learning project to work on was a nice outlet at the end of the day, once my son was in bed, or during naptime after I had some time to do the "to do list" (laundry, cleaning, etc.).
SO. Full disclosure time. I basically… accidentally… started a big crochet project… It wasn't the progression I had planned on, I was planning to move from my granny square project to another small crochet project, ideally a coffee cup cozy (similar to the one linked here). But here's the thing about me: I get a little disinterested in smaller projects where I need to be constantly learning new skills and these skills are different from the ones I had just learned. I was looking at all of these different projects and going, well dang, now I need to learn like 3 new stitches before I can begin this project, it's going to take a few hours and then if I want to move onto a different design then I have to learn 2 more new stitches to do that project. Cue the apathy and frustration.
I had already been working through the Bella Coco Crochet video series on youtube for left-handed beginners, specifically the one on how to double crochet and it was going really well, and I was wanting to use some of these new skills, but it's harder to get into these skills and practice on smaller projects for me. So what I ended up doing was starting this baby blanket pattern from a blog called the Crochet Leaf that I found on Pinterest.
Here's a picture of the finished blanket from the blog:
I did not want to initially post about this project because, honestly, I thought if I didn't say anything and it didn't work out I could just move onto another project and pretend the blanket attempt never happened. I know that sounds lame, but I had tons of projects to move onto once this one blew up in my face, and I was ready to just take it apart and move forward.
Apparently, that was not to be! Check it out: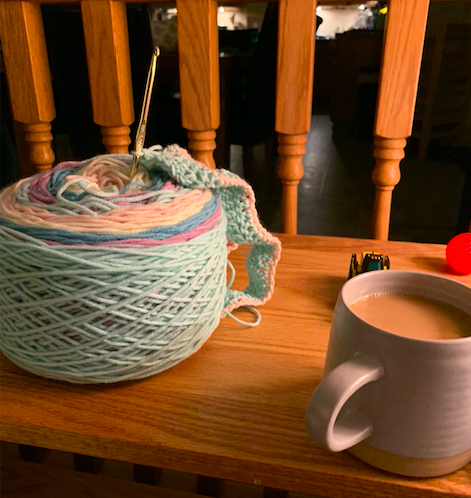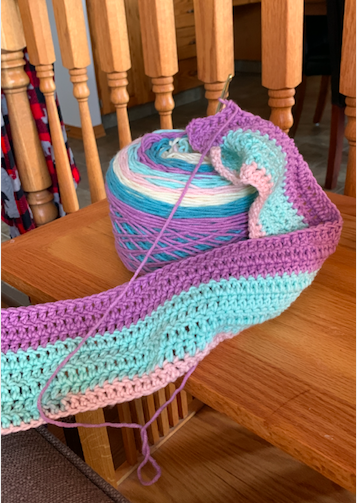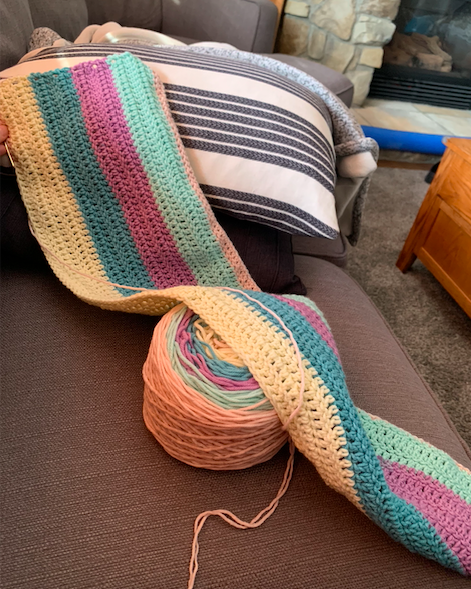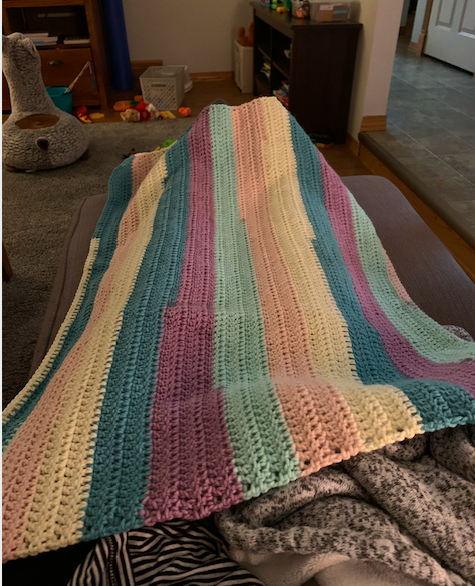 So as you can see, it is turning, somehow, into a fully formed blanket shape. So here's what I'm taking away from my inclination towards this bigger project and moving away from my initial progression plan:
It's easier for me right now to do a larger, repetitive project than many little ones using different skills for each.
This pattern was a very low-risk project where mistakes and learning could happen.
I definitely feel like I am building muscle memory as I'm going row by row, which I think is making me better in the long run, like these crochet skills will stick better because I am getting lots of practice just repeating the stitches over and over. Moving in this direction is helping give shape to where I will move to next, which has been very helpful.
I am also making many mistakes along the way (we'll need a separate post on the edging of this blanket and what the heck I can do to make it look decent), and I've found that many mistakes one could make in crochet are much easier to fix than in knitting. I am liking that a lot as a beginner.
The mindful peace that comes with returning to a project over and over and repeating patterns and stitches is not to be taken for granted in our current climate. There's a lot of emotion in my household right now with 1) having a two year old, 2) having a new baby arriving in a month and a half, 3) the pandemic, 4) being super pregnant and everything that comes with that and, 5) the pandemic. This project has been very therapeutic for me to have on the go and be able to return to when I need to just make something for a minute and breathe. Knowing this is for our little girl that will be with us soon, in whatever world we're living in, is a tiny bit of control that I can have when everything feels very out of my control right now.
I also have to mention, crocheting a blanket and being cozy right now is very #fall, and it's helping me appreciate the seasons at this moment and enjoy the present.
Ok! I'm sure you didn't think someone could write this much about crochet, did ya?